Nicki Minaj Pulls Out Of BET Awards After Tweet Says She Was 'Pulled by Her Lacefront' After Cardi B's Grammy Win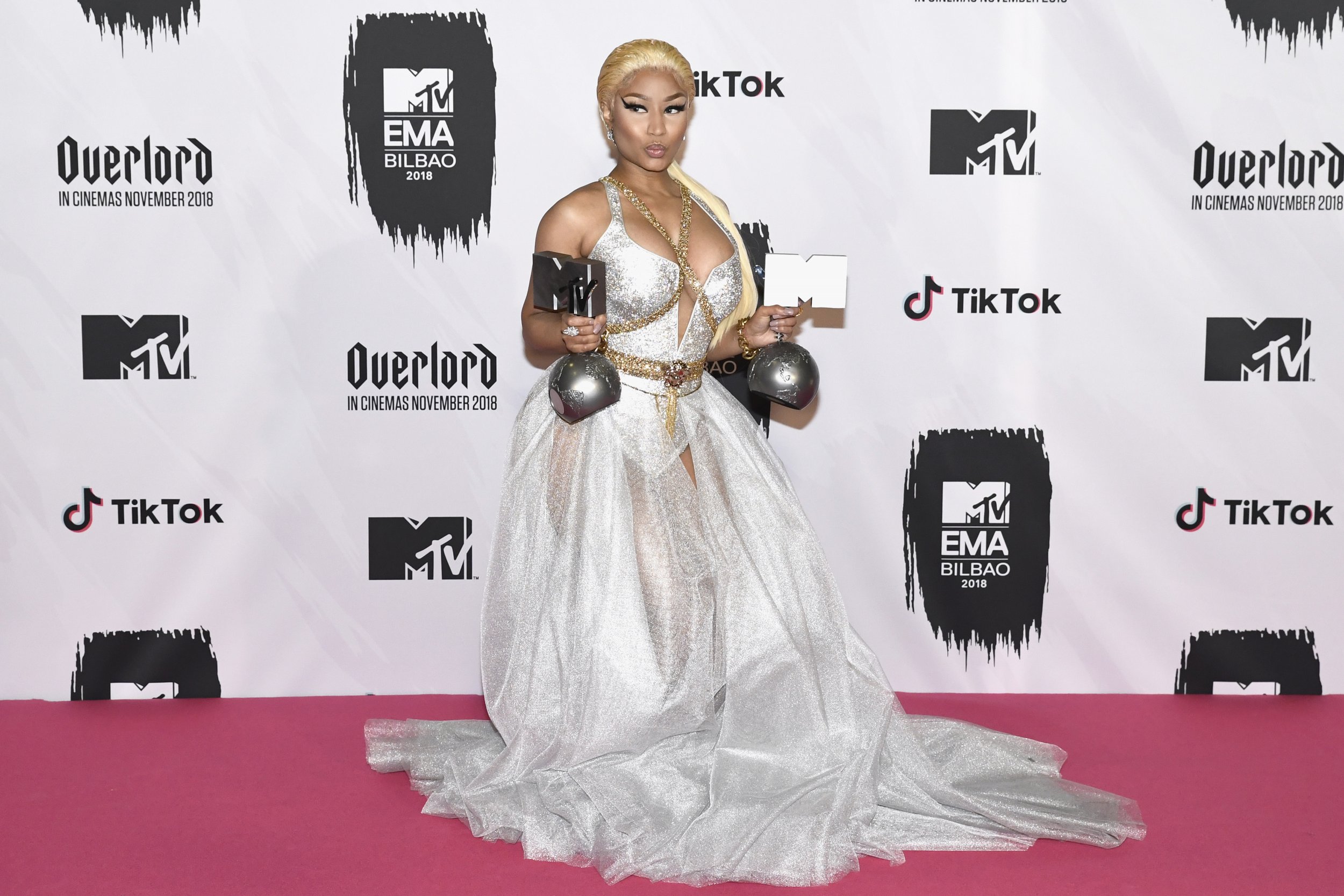 Nicki Minaj will no longer be appearing at the BET
Awards in June after the channel's Twitter account shared a diss about Minaj on Grammy night. The Twitter account shared their own article about Cardi B's Best Rap Album Grammy win with a jab at Minaj. "Meanwhile, Nicki Minaj is being dragged by her lacefront," the tweet read.
Cardi B is the first solo, woman artist to win best rap album. Minaj shared she wouldn't be appearing at the BET awards on Monday via her own Twitter account. "Young Money will no longer be apart of the BET Experience or award show," she wrote, adding new Summer tour dates would become public soon.
Minaj's fans stood up for her in a series of Twitter and Instagram comments against the entertainment giant. Minaj responded: "Meanwhile, BET is being dragged by their lace front," she said in a tweet, which shared a selection of fan reactions on Monday.
BET swiftly apologized to Minaj in a statement published by TMZ. "BET loves Nicki Minaj. We have supported her from the very beginning of her career and will continue to do so moving forward," the channel wrote. "Nicki has paved the way for so many performers and has solidified her place as one of the most powerful figures in the music industry."
The entertainment company also claimed the tweet was unauthorized. "Unfortunately the respect we have for Nicki was violated by this post that should never have been written. The post does not reflect how we feel about Nicki. And further does not reflect our company values," they explained.
"We deeply apologize for the hurt, disappointment and confusion that this post has caused. We are committed to doing everything we can to address the situation. We are also conducting an internal audit to assure these types of posts are not published again. We have apologized to Nicki and her team. The post has been removed and we have taken additional appropriate action. We understand Nicki's position and look forward to continuing our dialogue with her. Finally, we apologize to all of her fans. This should have never happened."
If what Minaj is said and Young Money does pull out, this means a series of artists will also not appear at the awards. One who was scheduled to perform already is Lil Wayne.
Minaj and Cardi B have a volatile history. Cardi B threw a shoe at Minaj during a New York Fashion Week party in September. Cardi was taken out of the Harper's Bazaar event by security.
Through the Monday comments of support to Minaj, many of her fans attacked Cardi. It caused the Grammy winner to address the situation on her Instagram account, which she deleted in full just after. "It's not my style for people to put other people down to uplift somebody else," she explained, as recorded by Cosmopolitan. "That's not my style and that's not what I'm with. I don't support that. However, I've been taking a lot of sh*t today. I'm seeing a lot of bullsh*t today and I saw a lot of sh*t last night, and I'm sick of this sh*t. I work hard for my motherf*cking album."