Nicki Minaj has revealed that she has pulled out of her planned appearance at this weekend's MTV Video Music Awards.
The rap superstar made the announcement on Twitter on Thursday—within hours of the news that her husband, Kenneth Petty, is facing a possible prison sentence.
When one of the "Anaconda" hitmaker's followers asked whether she would be performing at the VMAs, set to take place in New York City on Sunday, Minaj responded: "I just pulled out. I'll explain why another day."
The Trinidad-born star, whose real name is Onika Tanya Maraj-Petty, went on to praise VMAs producer Bruce Gillmer, writing: "But I love those guys at MTV. Thank you Bruce. I love you so much. Next year we there baby."
On the same day, it was revealed her husband had pleaded guilty to failing to register as a sex offender in California.
According to court records obtained by People, Petty, 43, entered the guilty plea during a virtual hearing on Thursday with the U.S. District Court for the Central District of California.
Petty, who has an 11-month-old son with Minaj, now faces a maximum sentence of 10 years in prison and a lifetime of supervised release. Us Weekly reports that minimum sentencing would be five years of supervised release and a $100 court assessment fee.
His sentencing has been scheduled for January 24, 2022.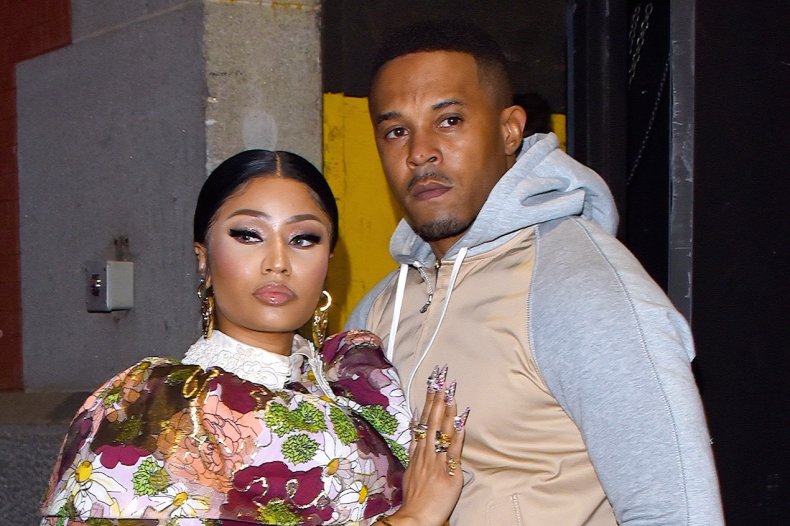 Petty was convicted of attempted rape in 1995. On November 15, 2019, when he was pulled over for a traffic stop, the Beverly Hills Police Department determined that he was registered as a sex offender in New York but not in California, where he now lives, per TMZ.
In March 2020, Petty was arrested after being indicted for the failure to register. According to People, he pleaded not guilty and posted $100,000 bail.
Petty was sentenced to 18 to 54 months for the attempted rape, which took place in 1994 when he and his victim were both teenagers. He spent about four-and-a-half years in prison, according to inmate records.
In 2006, he pleaded guilty to first-degree manslaughter after shooting a man in New York four years earlier. Petty was sentenced to 10 years in prison and served seven, according to The Blast.
In August, the woman that Petty was convicted of attempting to rape, Jennifer Hough, filed a lawsuit against him and Minaj. She has accused the couple of attempting to intimidate and bribe her into recanting her accusations.
Childhood friends Minaj and Petty, who married in October 2019, were also accused of intentional infliction of emotional distress. Hough's lawsuit states that she was offered as much as $500,000 to recant.
"If I lie now and say that I lied then, you know what that does?" Hough was quoted by The New York Times as saying in an August interview. "Do you know what that's going to say to my two little girls, or even my sons?"
According to the lawsuit, Hough "has not worked since May of 2020 due to severe depression, paranoia, constant moving, harassment and threats from the defendants and their associates."
Newsweek has contacted representatives of Nicki Minaj and Kenneth Petty for comment.