Nicki Minaj Reveals Her Baby's Gender, Calls Out Fake Facebook Post Claiming to Know His Name
Nicki Minaj just welcomed her first child, a baby boy, to the world, and her celebrity friends didn't let the occasion go by uncelebrated. The "Super Bass" musician posted an Instagram slideshow with a list of "Congratulations" cards from her pals, including Beyonce.
The first photo in the series was from "B," who Minaj clarified was "Queen B" in the comment. "Onika, welcome to motherhood," Beyonce's note read. "God bless you and your family."
The pair have been friends for some time, even collaborating on each other's songs. In 2016, Minaj explained how their friendship is empowering to more than just them. "Every time Bey and I do something together, I see how women are inspired, and it has nothing to do with how we look," she explained to Marie Claire. "It has to do with how we are owning who we are and telling other women you should be the boss of your own career and the brains behind your life or your decisions or your art. I just love that feeling."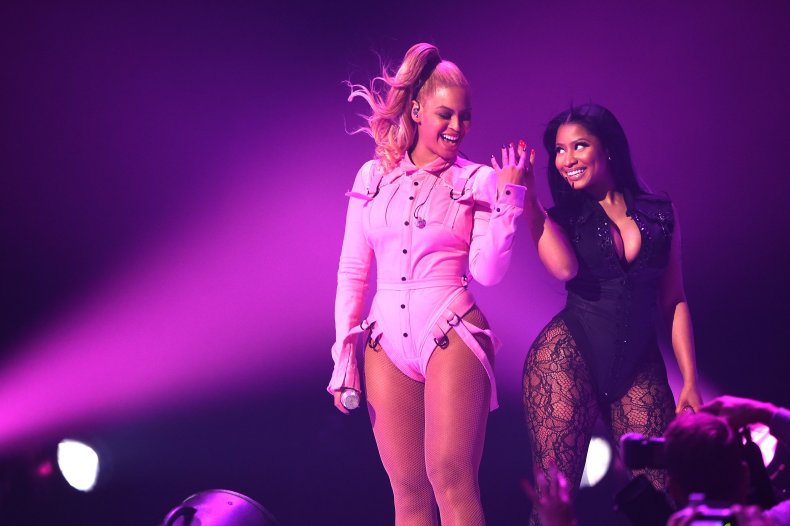 It's unclear what Beyonce sent Minaj and her baby boy, whose name Minaj has yet to reveal. Other celebrities sent gifts and well wishes too, including Kim Kardashian West and Kanye West, Riccardo Tisci, Winnie Harlow and "Karol."
Minaj thanked the crowd for their gifts and kindness. "Thank you to Queen B, Kim & Ye, Riccardo Tisci, Winnie, Karol & everyone who sent well wishes during this time," she said. "It meant the world to me."
Her Instagram caption continued to share a small bit about her new child and explained her current emotions. "I am so grateful & in love with my son. Madly in love. My favorite liddo boy in the whole wide world."
Minaj has yet to otherwise comment on the birth of the baby and her feelings on new motherhood. She did call out social media platform Facebook on Friday via a now-deleted Twitter post for apparently posting a photo they claimed was Minaj's son.
"116K likes. Not my baby. Not his name," Minaj wrote in a now-deleted Tweet. "Imagine doing this. Pls delete this person's child from your page." It appears the post from Facebook has also been deleted.
Minaj revealed her pregnancy publicly 12 weeks ago, according to her Instagram. To announce her first child, she posted a series of pregnancy photos that focused on her baby belly. The first photo was simply captioned "preggerz."
The father of Minaj's baby is her husband, Kenneth Petty. Newsweek explored the fatherhood and possible legalities surrounding his right to custody since Petty is a sex offender. You can read the article here.
In addition to revealing her happiness about her baby boy, Minaj was part of an anticipated music release on Friday. The rapper collaborated with Sada Baby for the "Whole Lotta Choppas (Remix)."
This article was updated to include Minaj's comment to Facebook.