Nicki Minaj Gives Stephen Colbert His Own 'Barbie Dreams' Lyrics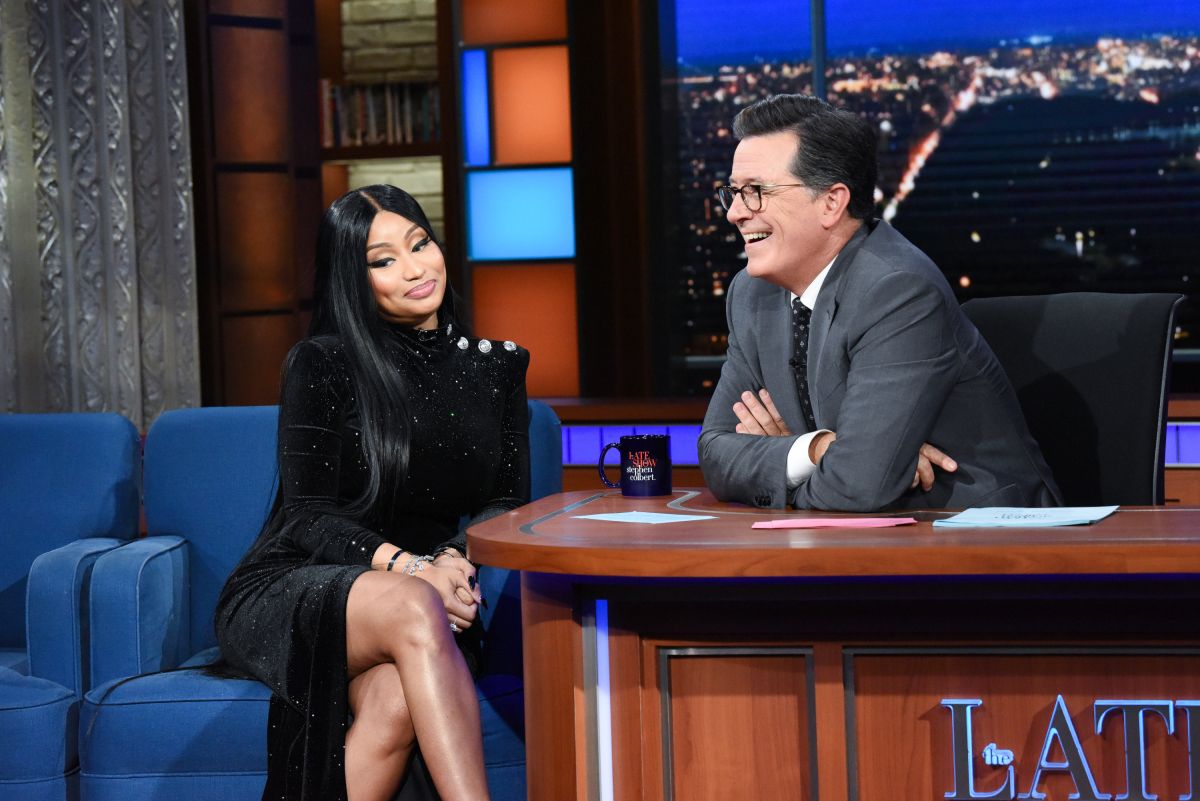 Nicki Minaj added Stephen Colbert to the list of men she dissed in her song "Barbie Dreams" on his late night talk show Monday.
The rapper dropped her new album, Queen, Friday and people are talking about that track. "This one's getting a lot of attention for some of the famous men you call out in this, and you, in no uncertain terms, describe reasons why these men would not be able to, as the kids say, get with you," the host of The Late Show with Stephen Colbert said to her before asking how she'd add him to the song.
"I might f*** Stephen after the show/he gonna come back to work with a magical glow/but when you see us please f***ing don't stare/just address me as Queen Nicki Colbert," she rapped.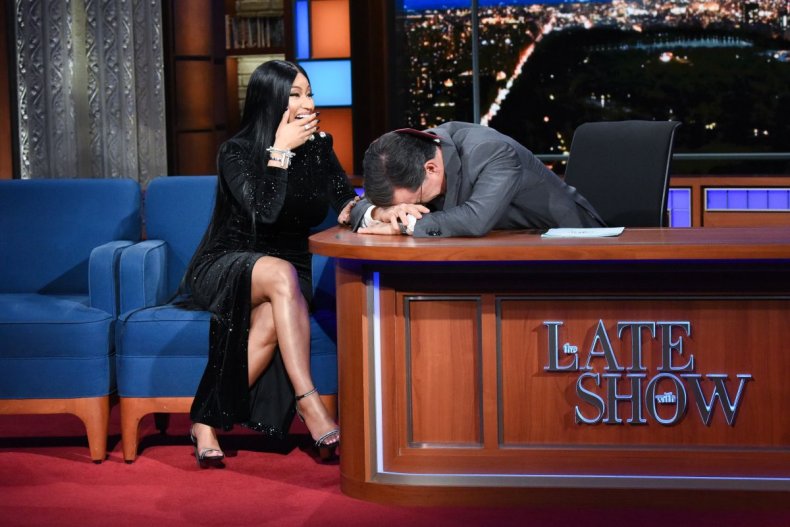 After, Minaj asked Colbert if he was married and did a "shout out" to his wife when he said he was. "It's all show business," he said.
Some of the men she named in "Barbie Dreams" include Drake, Meek Mill, Eminem, DJ Khaled and 50 Cent. Colbert asked if anyone from the song is mad at her and she said she got a call from one person she wouldn't name. She did say it wasn't Drake.
"Two people on that list approached me about it," she told the Late Show host. "Only one person so far got a little irritated, but then I explained to him how much I love him and he understands now, and then one person, he was just laughing. He was texting me a mix between cursing me out and laughing at it. I just kept putting the laughing crying face emoji … [because] I figured that would pacify him and it did."
Before the album's release, Minaj provided commentary for each song in an Apple's Beats 1 radio show interview Friday. "'Barbie Dreams' is not a diss," she said. "It's just some funny s***. I love them. I said things about people who I know can take a joke and won't be emotional about it."
The rapper went on to say she found the reactions to the song, "F****ing hilarious. Everyone is saying how disrespectful 'Barbie Dreams' is, and that's why I f***ing love it."
She repeated the song "isn't a diss" in a tweet Friday. "This is culture, this is BIGGIE!!!!! New York!!!! This is FUN," she wrote. "Light hearted fun FUN."