Nicki Minaj To Sit Near Kylie Jenner At 2018 VMAs Despite Twitter Slam?
Tension may be high at the MTV Video Music Awards (VMAs) Monday night. Nicki Minaj will be seated in front of Kylie Jenner and Travis Scott, Cosmopolitan reported. This could be contentious since Minaj targeted Jenner on Twitter Sunday, claiming she was the reason for Scott's No. 1 album. Scott's latest release, Astroworld, beat out Minaj's Queen this week for the leading spot.
Minaj asserted her album is the real No. 1 and Scott's album only beat hers out on the charts because of Jenner. Jenner and Scott had daughter Stormi in February.
"I spoke to him. He knows he doesn't have the #1 album this week. I love my fans for the #1 album in AMERICA!," Minaj tweeted.
She followed up with another tweet and noted Stormi and Jenner as the reason Scott's album is in first place.
"I put my blood sweat & tears in writing a dope album only for Travis Scott to have Kylie Jenner post a tour pass telling ppl to come see her & Stormi," Minaj tweeted. "lol. I'm actually laughing. #Queen broke the record of being number 1 in 86 countries. Thank Jesus & thank you to my fans."
Minaj will be seated next to friend Ariana Grande, who currently has the number one album on iTunes after its release Friday. Minaj, Scott and Grande are all scheduled to take the stage and perform at the VMAs, according to CNN.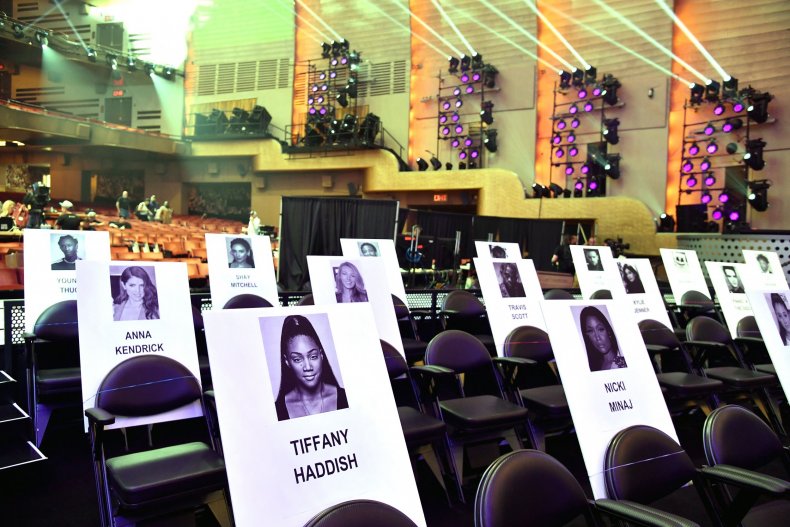 Minaj made headlines Tuesday for a Twitter fight aimed at ex-boyfriend of 12 years, rapper Safaree. Safaree alleged Minaj cut him with a knife during their relationship, sending him to the hospital. His tweet spoke directly at Minaj though she was not tagged. He allegedly told police he tried to kill himself to keep Minaj out of jail.
Safaree claimed he broke up with Minaj, but she tweeted he "begged" to travel to Europe with her for an awards show.
"U stole my card & told me you thought it was an account with 'free money' that I didn't know about. On God. God will strike you down & more for lying. Ha! Stop saying u packed & left ! On Jesus, u came to my house CRYING BEGGING to go w|me to Europe to the EMA's. I said NO DUMMY," she tweeted.
The VMAs are considered a controversial award show and have resulted in live drama before. In 2015, Minaj called out host Miley Cyrus during an acceptance speech. "Miley, what's good?" she said, insinuating Cyrus spoke poorly of her in the press.
The VMAs will air live Monday night at 9 p.m. ET on MTV.