Earlier this year, writer-director Panos Cosmatos unleashed Mandy, an instant cult classic starring Nicolas Cage as a lumberjack out to avenge himself on a cult with crossbows, chainsaws ("I realized the modern equivalent of a broadsword duel would be a chainsaw battle," Cosmatos told Newsweek) and a hand-forged, mystic sword.
Shudder, the ultimate in streaming horror, has since acquired the exclusive streaming rights and will debut Mandy Thursday, Nov. 29… in the early morning. So while the dictionary entry for Midnight Movie may as well be accompanied by a picture of the Mandy poster, here's your chance for something entirely different. So get together a big ol' plate of eggs and skip the coffee, because Mandy brunch will be more than enough to wake you up, especially when Cage's character, Red Miller, chugs what Cage described to us as the "supernatural skull juice" that transforms him into an unstoppable juggernaut modeled after Jason Voorhees.
"It's me drawing from various influences, but I try and process them and abstract and mutate them," Cosmatos said, comparing the Mandy vibe to a Black Sabbath album.
Situated somewhere between fantasy, heavy metal, horror, Adult Swim and Conan the Barbarian paperbacks, Mandy opens in the comparative calm of a blissful relationship. Red and Mandy (Andrea Riseborough) live in the woods, hiding out from Reagan's America. But when Jeremiah Sand and his Children of the New Dawn show up, their bucolic existence is torn apart.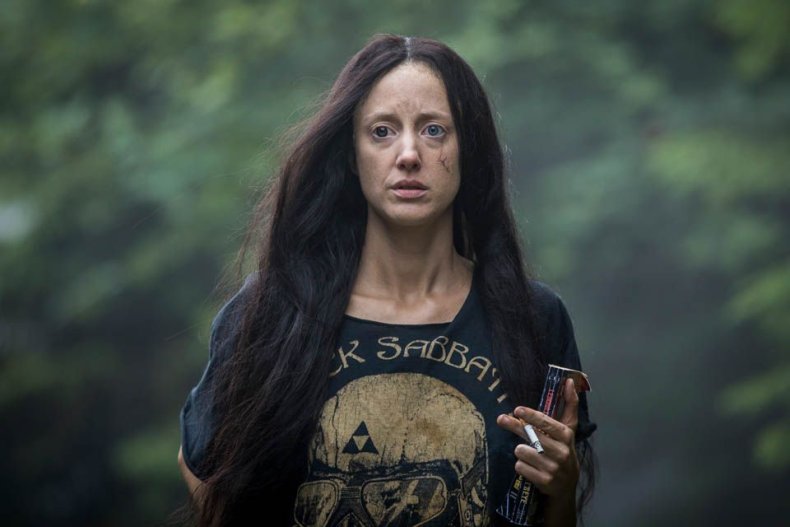 Mandy only gets stranger from there, especially after Sand summons a gang of demonic bikers.
"Though set in 'our' world, Mandy is a fantasy movie, with horror elements ripped straight off the side of a heavy metal roadie's van. Jeremiah's cult bears demonic relics like the 'the tainted blade of the pale knight, straight from the abyssal lair.' Cenobites on ATVs are summoned to do his bidding. Heavy Metal animation guides Red on his rampage against Jeremiah and his Children of the New Dawn.
Mandy embraces everything rad, both in its sludge metal authenticity and hair metal silliness, Cosmatos and co-writer Aaron Stewart-Ahn balancing cosmic grief, extreme violence and counter-tonal oddities (like the 'Cheddar Goblin' spewing all over the kids on Red's TV screen), with such mastery it's hard to look away from the kaleidoscope of color filters and hazy slow-motion. Every shot is composed with a directorial conviction heavy with hermetic knowledge and occult power."
And just wait until you meet that Cheddar Goblin.
Mandy joins other Shudder Exclusives and Originals, including Mayhem and the French vengeance shocker Revenge (our review).