How Nicolas Cage and Panos Cosmatos Conjured the Alchemical Power of 'Mandy'
Mandy is a revenge movie alchemized into a fantasy epic, transforming the backwoods roads of Ronald Reagan's America into an Under-earth kingdom of demon bikers, magic weapons and LSD seers. Director Panos Cosmatos' dark realm bears the hallmarks of influences both sublimated and obvious. In describing Mandy, Cosmatos invoked Black Sabbath, Dungeons & Dragons modules, Masters of the Universe and Phantasm 2 when he discussed the film with Newsweek. But with Mandy, Cosmatos and his lead, Nicolas Cage—who plays the vengeful Red Miller, out to kill Jeremiah Sand and his Children of the New Dawn cult—are after far more than homage.
"Fortunately, Panos and I are both film enthusiasts. Neither of us are snobs and we're both not genre-biased," Cage told Newsweek, describing movies as a lingua franca they shared in building out his character Red. Cosmatos and Cage built Red out of a Frankensteinian assemblage of Bruce Lee, Charles Bronson, Jason Voorhees (especially his appearance in Friday the 13th Part VII: The New Blood, in which he fights a psychic young woman) and the golem of Jewish folklore. Red takes on different aspects as he transforms from subdued logger to wrathful demigod, with help from what Cage describes as "supernatural skull juice."
But the key to Mandy's power was not in referencing fantasy and horror movies of the past, instead using them as a grimoire, pulling from cinema a lexicon of mystic associations to forge a powerful spell, just as Red smiths a silver battle axe of glimmering chromium, inspired by the arcane Glaive from 1983's cult fantasy epic, Krull (released the same year Mandy is set). Even Red's weapon—barbaric, but elegantly curved—has a double symbolic valence, serving as both blade and what Cosmatos describe as a "crystallization of Red's grief."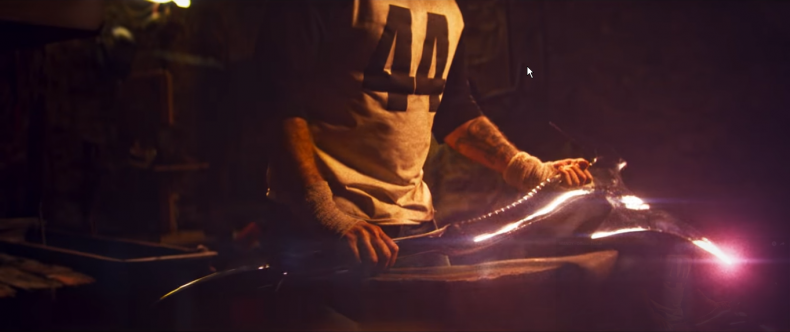 Nowhere is this captured better than in the relationship between Red and Mandy, played by Andrea Riseborough. "We had a lot of laughs together, but there's something very profound about her and that comes through on film," Cage said. "There was something about Andrea that really communicates on camera, almost like a gothic poetry."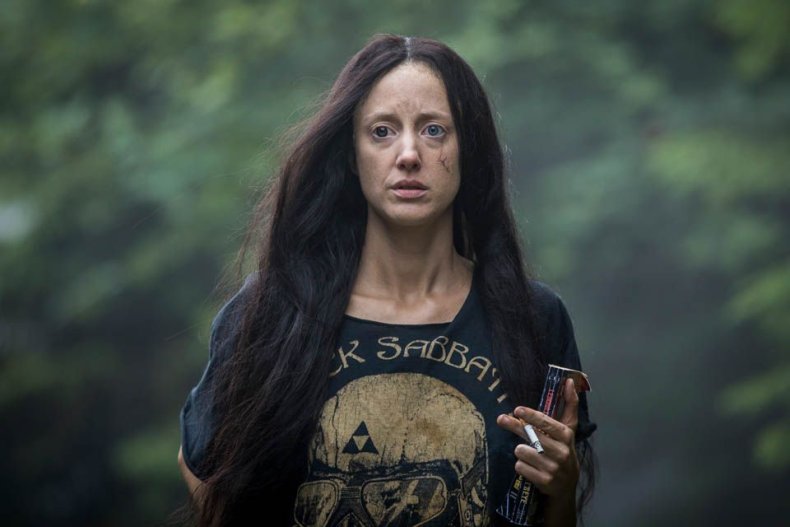 "The whole sort of concept of the film is to make a revenge movie that was like a love song in a way. Have the essence of a person drive the psychic scenery," Cosmatos tells Newsweek, comparing Mandy to a concept album about Mandy, who is kidnapped by Jeremiah, but still appears in Heavy Metal-esque animated sequences, guiding Red toward his revenge.
"The villains are the ones who try and control and quantify belief, whereas Red and Mandy are pure creatures of the universe," Cosmatos says, describing Red as pagan and primal.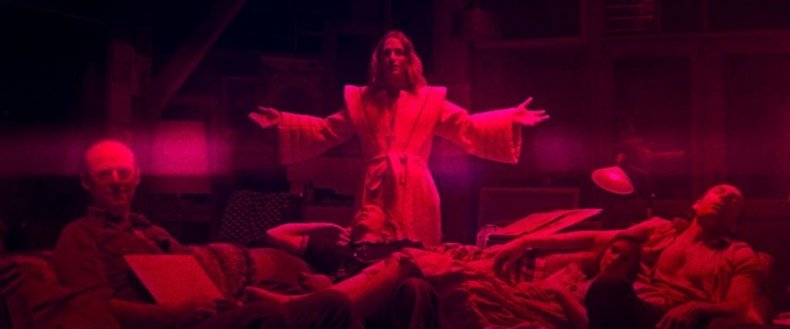 "I like to think of it as she's dictating or guiding Red from this unearthly planet and he's become her demigod or golem, enacting her will," Cage says. "It was very important to Panos that there was a real emotion there."
Like everything else in Mandy, the relationship between Red and Mandy is designed to play across multiple layers simultaneously, as something both supernatural and mundane. "In those scenes I'm trying to draw on my relationship with my wife," Cosmatos says. "When they're watching TV with each other and eating, that's kind of the core of a relationship to me. I don't know anybody who goes horseback riding at sunset, but everybody watches TV and eats."
In Mandy, even vegging out on the couch takes on dark fantasy aspects. Soon after Mandy is kidnapped, Red is taunted by the leering Cheddar Goblin, who vomits mac and cheese all over laughing children in a fake commercial (shot on a $1,000 budget by Too Many Cooks creator Casper Kelly). "It's like the universe is just slapping you in the face with a nightmare absurdity at the worst possible time," Cosmatos says.
The dizzying mix of horror, fantasy, heavy metal and Adult Swim absurdity would make any other movie feel like a hollow stylistic exercise or an elaborate joke. Mandy is neither. Its emotional seriousness—more is invested in Mandy and Red's relationship than in any other revenge movie I've seen—combines with Cosmatos' unforgettable use of psychedelic color and slow-motion to create an entrancing quality, like if John Wick had the occult power of Holy Mountain.
"I was internally plumbing the depths of my own cauldron to find the emotional resources with which to tell the story," Cage said, citing the break-up of his third marriage and the death of his father as life experiences that provided him an emotional anchor in the fantastical world of Mandy. "You can't enter the world with those feelings of, 'Oh, I should wink at the audience.' You have to enter the world wholeheartedly."
Still, I couldn't help but wonder, didn't he ever feel silly swinging around a weapon that looked custom-made for the hands of Kevin Sorbo?
"I didn't feel silly about it at all, I was too under the water," Cage said, describing his immersion in his Mandy role as a "trance," with his trust in Cosmatos' vision and control giving him the freedom to fully submerge himself in Mandy's strange world.
"We were in step and I could do something alchemical with that," Cage says. "I wanted to be a part of that dreamscape."
Mandy is in theaters and availabe VOD.