Nicolas Cage Is The 'Tiger King': 5 Other Actors Who Could've Nailed The Role
Hey all you cool cats and kittens. Nicolas Cage has been selected to portray Joe Exotic in the Tiger King scripted adaptation. According to Variety, the eight-episode series will be produced by Imagine TelevisionStudios and CBS Television Studios. Dan Lagana, the showrunner of American Vandal, will serve as writer, showrunner, and executive producer.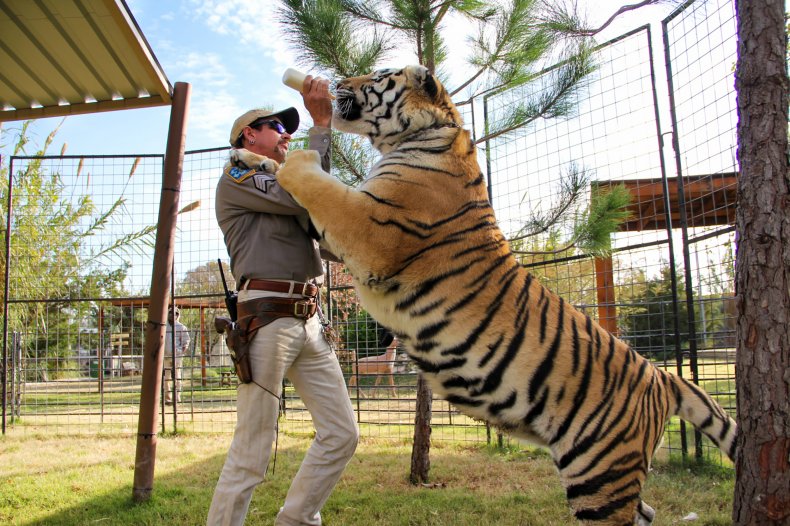 The show will be based on the Texas Monthly article "Joe Exotic: A Dark Journey Into the World of a Man Gone Wild," by Leif Reigstad. After Tiger King dropped on Netflix and became a media sensation, many spoke about who they'd love to see cast in a scripted version of the docuseries. And unless you've been living under a rock, you definitely have mentally cast your own version of the Netflix juggernaut.
Although Cage is an excellent choice to play Joe Exotic, there are definitely other actors who would have nailed the role. Here are the top five Joe Exotics that could have been:
Danny McBride
Danny McBride was personally my top pick to portray Joe from the get. He's hyper masculine, can pull off a good mustache, and isn't afraid to take on a weirdo role (Eastbound & Down, Pineapple Express, Thirty Minutes or Less). If not Joe, McBride could definitely be part of the scripted adaptation since there are so many other interesting characters to cast.
David Spade
David Spade was Joe Exotic's first choice to play him (along with Brad Pitt). However, the Saturday Night Live alum isn't too wild about the idea. "I read this, I think, I don't know...I thought it's just a funny idea," he told Ellen DeGeneres during a virtual interview. "It's more fun just to think who the casting would be just for something to do." He also noted that the role would be very similar to his in Joe Dirt and is more interested in branching out.
Rob Lowe
Rob Lowe recently cosplayed the reality star in a hilarious photoshoot, complete with wild hair, expressive eyebrows and enough piercings to rival the real tiger king. He also teased that an adaptation from him and Glee's Ryan Murphy was on the way. After seeing the pictures, it's hard to not imagine the West Wing alum as a spot-on Joe.
Johnny Depp
Johnny Depp has had his fair share of bizarre roles (Charlie and the Chocolate Factory, The Lone Ranger, Alice In Wonderland, Edward Scissorhands, just to name a few). Joe Exotic would have the potential to be his wildest role yet. It could also help revive his career.
Woody Harrelson
Woody Harrelson nailed the gun-toting, cowboy hat-wearing zombie slayer in Zombieland and would look awesome with a bleached mullet. The actor has the right swagger to take on the zookeeper role, and is about the same age as the tiger king.