Nicolas Cage's Improvised Lines in 'The Unbearable Weight' Revealed
The unbearable weight of Nicolas Cage's talent is clear to see in his new action comedy movie, out in theaters now.
Written by and pitched to the Hollywood actor by Kevin Etten and Tom Gormican, and directed by the latter, The Unbearable Weight of Massive Talent sees Cage play a fictional version of himself in a far-fetched but hilarious European adventure.
The movie is filled with references to Cage's movie career, from the hits to the flops, and also shines a light on Cage's self-awareness within Hollywood.
Discussing the origins of the concept, the additions made by Cage, and some potential spin-offs, Newsweek spoke to Etten and Gormican.
Convincing Nicolas Cage
The ability to front his own movie as himself, is not something that initially enticed Cage. It's been well-documented that he actually turned down the project several times. Without him onboard, Etten and Gormican concede that there's no way the movie could have happened, although they did try and make a plan B.
"We thought about the fictional movie star angle at some point and it was just way less interesting to us," Gormican told Newsweek, "The only real thing we discussed in earnest with our producer Kevin Turen was having either Daniel Day Lewis or Christian Bale in full Nic prosthetics, playing Nicolas Cage."
In the end, the pair were able to convince Cage to take part in the project by writing him a personalized letter.
"Basically, the letter was just to provide Nic with some context," Etten told Newsweek, "And to set clear our intentions, which was that we are huge, huge fans, and that this really was a celebration of his life and his work.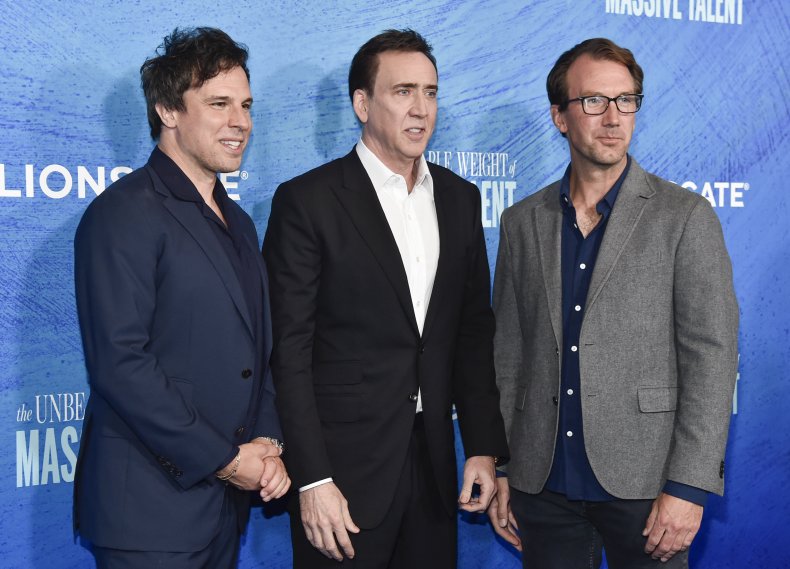 "We framed it as a challenge. It was an idea that he could, on a really large scale, play around with people's perceptions of who he really is, as we all do on social media, but on this grand scale." Etten added, "Also, if we did it right, it could be this kind of weird performance art piece where we could draw up things from his real life and blend it with fiction."
"We also said to him," Gormican continued, "you've done every genre of movie, and this movie is an opportunity to blend every genre within the same film.
The Unbearable Weight of Massive Talent sees Cage begrudgingly accept an invitation to attend the birthday party of a billionaire in Majorca, Spain. Pedro Pascal wonderfully plays his wealthy fan, Javi, and the two develop a sweet friendship which has touching, hilarious, and eventually deadly consequences.
Nicolas Cage's additional dialogue
A slight spoiler alert is in affect here for some of the movie's punchlines.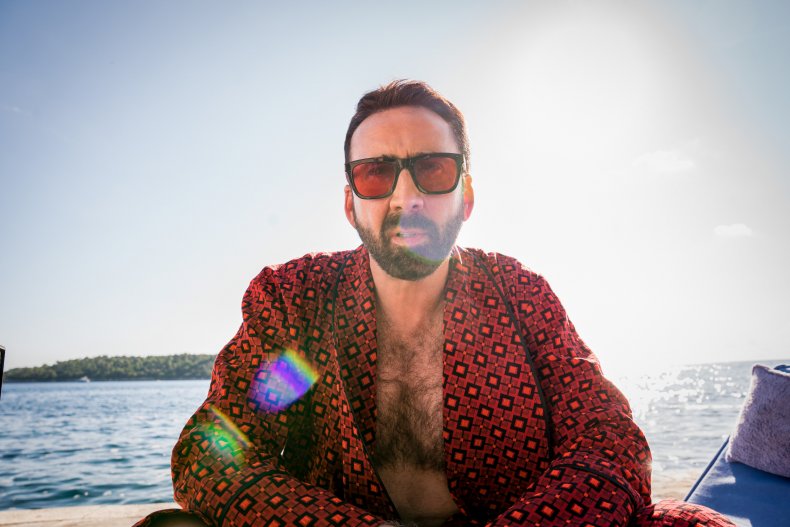 While Etten and Gormican together are huge Cage fans, and they filled The Unbearable Weight of Massive Talent with dozens of movie and career references to their favorite actor, Cage himself provided some self-referential zingers.
Cage not only plays a fictional version of himself, he also plays Nicky Cage. Nicky appears within Nicolas' psyche to discuss his internal issues. One scene featuring the two at a hotel bar was supposed to end with a scripted peck on the cheek from Nicky to Nicolas. Instead, Nicky went much further.
Nicky grabs his older counterpart by the phase and gives him a long kiss on the lips. He proclaims, "Nic Cage smooches good."
"When we met with Nic early in the script phase at the Hard Rock Hotel in New York, he had a couple of lines that he wanted to add and that was an early one," Etten recalled. "'You tell them Nic Cage smooches good' and when he pitched it, I texted several friends who are Nic Cage fans and told them, 'You're not gonna believe what Nic Cage just pitched to me'."
"By the way, we had so many moments where we're texting friends saying, 'You're not gonna believe what Nic Cage just pitched us,'" Gormican added, "It's a constant thread.
"He came to us on the morning of that shot and said to us, 'I have an idea guys. I think I'd like to have Nicky deeply French kiss Nic, what do you think?' and we were like 'Oh my God. Yes. Yes please'," Etten said.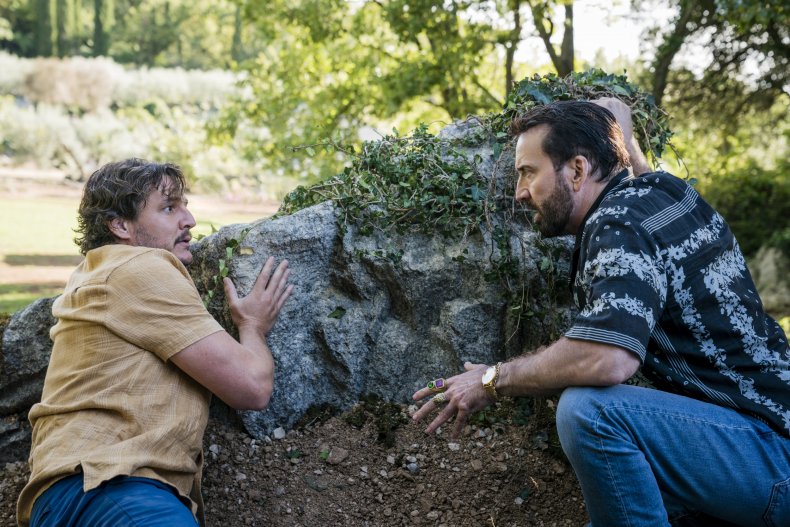 Another example of Cage's contributing to the movie comes in an early therapy session Gormican explained. After the therapist asks what's wrong with Nic, he starts saying things like, "You make too many movies, Nic. You're working too hard, Nic. Make the audience miss you more. You're annoying, gosh." This was all added by Cage himself.
"I think the most interesting moments were like that," Gormican said. "That's a moment where Nic comes through in the script, and I think that scene was particularly hard for him to do, because he's talking about where he is and forced to have a little bit of perspective on himself which may or may not be real where he is. But that is Nic saying, 'Stop giving me so much s*** for working', you know?"
An Unbearable cinematic universe
The reviews are in for The Unbearable Weight of Massive Talent and the twisted tale of a fictional Nicolas Cage looks set to be a hit. Pleased with the final result and the reaction so far, Etten and Gormican admit they have had conversations about trying the same trick again with a different celebrity.
"We could create the Unbeara-verse? The Unbearable-verse? What do we call it?" Gormican questioned. "But yeah, we could 100 percent make that and we've actually been talking about it for a while.
"We've been thinking about which actors we could put in which situations and we have a list of things that we'd like to do. I don't know whether we should or if we're allowed to talk about them."
So as not to ruin the potential for an Unbearable-verse, the two didn't reveal the extent of the list of actors they'd like to play with, though they did admit Meryl Streep and Daniel Day-Lewis would be amazing choices for two fantastic movies.
The Unbearable Weight of Massive Talent, starring Nicolas Cage, Pedro Pascal, Sharon Horgan, Tiffany Haddish and Ike Barinholtz, is out in movie theaters nationwide now.