'Nicole and Cody Are Playing Everyone!': 'Big Brother' Feeds Down After Fan Yells...Again
Nicole Franzel and Cody Calafiore's secret final two alliance is out in the Big Brother house, and it's all because of another fan. Someone brought a megaphone to the Big Brother set on Sunday and caused the live feeds to shut down when they yelled game secrets to the backyard.
Big Brother fans know the show has incredibly tight security for this reason exactly. The strategy game relies on secret alliances and a general lack of information from the outside world. So how, exactly, the Big Brother All-Stars game has been interrupted by two yelling fans, now, is unknown.
The fan's attempt to spoil the game happened while the live feeds were rolling. Christmas Abbott, Memphis Garrett and Kaysar Ridha were sitting in the backyard when the fan's reveals were heard over the fence.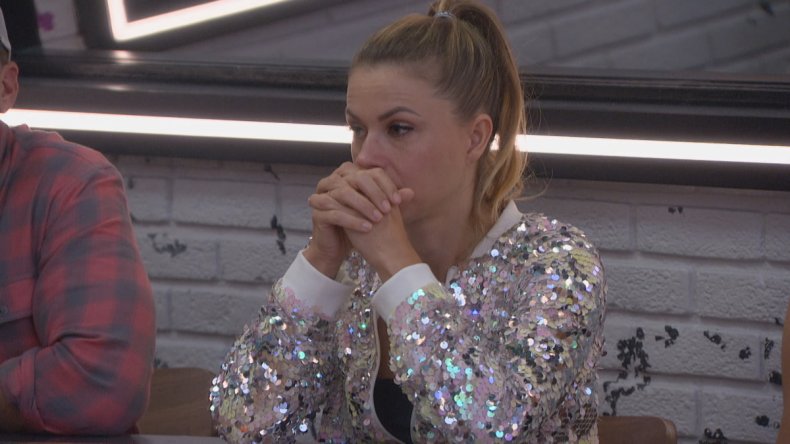 "Nicole and Cody are playing everyone," the voice, which seemed to be amplified by a megaphone, said twice. You can watch the video below.
As viewers of the game, we can't be certain that Cody and Nicole really are playing everyone. We know, from CBS's editing, that the pair are working closely inside the house, and may have one of the strongest alliances. But early in the game, the pair seem to be acting as moving parts of bigger alliances, rather than pulling strings on their own.
That being said, the fan announced a giant secret when they linked the two players. How Christmas, Memphis and Kayser, along with any other houseguests they tell, respond should be interesting.
A week ago, another fan attempted to bring outside drama into the house. The first fan also yelled over the wall, though the actual point they hoped to make was unintelligible. Most listeners seemed to believe they mentioned Nicole, too, CinemaBlend reported, though nothing appeared to come from the reveal. Newsweek reached out to CBS after the first incident to ask how fan spoilers could impact the game, but received no response.
There may still be time for a shakeup this week if the house really does find the odd encounter as a reason to target Nicole and Cody. Enzo Palumbo is the Head of Household this week, though he hasn't set things up for any giant moves. Kaysar and Kevin Campbell are on the block, and Kaysar is the main target.
There's always time for a backdoor plan, which could see Nicole, Cody or someone else go home as a major surprise. It all depends who wins the Power of Veto later in the week and if they decide to use it to save either Kayser or Kevin.
'Nicole and Cody Are Playing Everyone!': 'Big Brother' Feeds Down After Fan Yells...Again | Culture