When Nicole Curran offered Beyoncé and Jay-Z drinks during the third game of the NBA Finals on Wednesday, she had no idea her hospitable act would prompt immense harassment and criticism online.
ESPN shared a clip of the couple sitting courtside at during the third game of the Finals series between the Golden State Warriors and Toronto Raptors. Initially, Beyoncé appears smiling from ear to ear, but when Curran leans over the singer to converse with Jay-Z, Beyoncé's expression changes to a frown.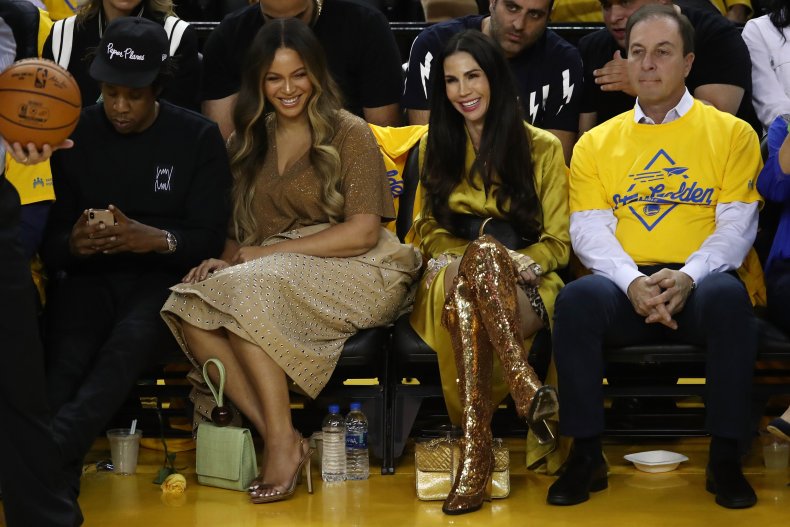 When Beyoncé's legion of fans—referred to as the Beyhive—caught wind of the clip, they flooded social media with harsh words for Curran regarding her seemingly disrespectful act of invading Beyoncé's personal space. Curran, who is the wife of Golden State Warriors owner Joe Lacob, even received death threats over the act, which she told ESPN's Ramona Shelburne was a completely innocent exchange.
"Just spoke to Nicole Curran, the wife of Warriors owner Joe Lacob, about the 'incident' with Beyoncé last night. She was in tears. Said she had been getting death threats on social media all night this morning she disabled her IG account just to make it stop," Shelburne wrote on Twitter on Thursday.
Turns out, Beyoncé and Jay-Z were at the game as guests of Curran and her husband. She told Shelburn she was merely asking what the couple wanted to drink when cameras captured her speaking to them. Curran noted she had difficulty hearing Jay-Z over the loud arena, so she leaned over Beyoncé to hear him.
Curran wasn't aware of the Beyhive's response until she received text messages from friends warning her about the outpouring of negative comments and bumble bee emojis fans were directing toward her on Instagram.
"[Curran's] invited Jay Z and Beyoncé to the game 3-4 times before. Last night she says she asked if they wanted drinks. Beyoncé asked for water," Shelburne wrote. "Curran says Jay Z asked for a vodka soda. She asked if he wanted lime with that. But it was loud in Oracle and she couldn't hear, so she leaned over. That's where the photos of Beyoncé looking askance at her come from."
Curran told Shelburne "there was no hostility" between the women when the alleged incident occurred. "I was trying to be a good hostess," she said, adding that she has "never experienced cyberbullying like this."
"I can't believe our players go through this. That kids go through this," Curran added.
Following fans' outrage, Beyoncé's longtime publicist Yvette Noel-Schure issued a message on Instagram asking the Beehive not to "spew hate" in the entertainer's name.
"I am looking back today at the start of The OTRII tour, one year ago. It was a place of joy, unimaginable entertainment from two of the best performers in the world, and a place of love. Every single day on that tour I saw love. Which is why I also want to speak here to the beautiful BeyHiVE. I know your love runs deep but that love has to be given to every human. It will bring no joy to the person you love so much if you spew hate in her name. We love you," Noel-Schure wrote alongside a photo of Beyoncé and Jay-Z on Thursday.