Who Sat Next to Beyoncé During Game 3 of the NBA Finals? Woman Is Giving Many 'Becky With the Good Hair' Vibes
Game 3 of the NBA Finals made a lot of headlines. From a billionaire pushing Warriors star Klay Thompson and the Raptors' surprising lead, one clip is getting a lot of attention. No, it's not a jaw-dropping three-point shot, but the one and only Queen Bey.
A clip of a woman leaning over the Lemonade singer has gone viral to talk animatedly with Jay Z. While many were quick to make "Becky with the good hair" references, people are still wondering who this mysterious dark-haired woman is.
Her name is Nicole Curran, and she is the wife of Warriors owner Joe Lacob.
Since the backlash from the Beyhive Wednesday night, Curran posted on her Instagram: "We should all help and support each other." As of Thursday afternoon, her Instagram is set to private after thousands left bee (Bey) emojis in her comment section.
Senior ESPN.com writer Ramona Shelburne tweeted Wednesday that Curron "was in tears" after the Beyoncé incident.
"Just spoke to Nicole Curran ... about the 'incident ' with Beyoncé last night," Shelburne prefaced. "She was in tears. Said she had been getting death threats on social media all night this morning she disabled her IG account just to make it stop."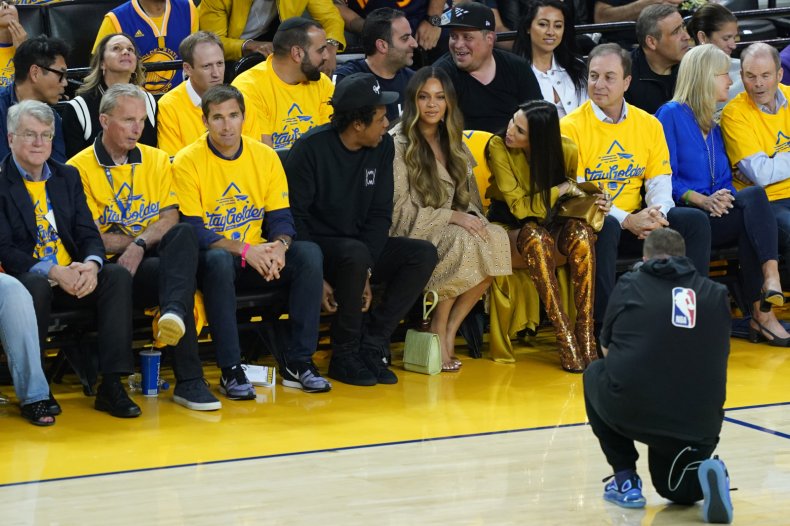 "Curran said she had no idea anything was even amiss until she got home and started seeing texts from friends and checked her social media," Shelburne continued. "She's invited Jay Z and Beyoncé to the game 3-4 times before. Last night she says she asked if they wanted drinks. Beyoncé asked for water."
"Curran says Jay Z asked for a vodka soda," she added. "She asked if he wanted lime with that. But it was loud in Oracle and she couldn't hear, so she leaned over. That's where the photos of Beyoncé looking askance at her come from."
"There was no hostility. I was trying to be a good hostess," Curran told Shelburne. "I've never experienced cyberbullying like this. I can't believe our players go through this. That kids go through this."
Following ESPN's initial clip of Jay Z and Beyoncé Wednesday, the tweet has garnered nearly 60,000 likes and over 9,000 retweets.
"The Jay Z and Beyoncé courtside video is making me SO UNCOMFORTABLE why did security not REMOVE that woman," one Twitter user questioned.
"Beyoncé doesn't like that girl beside her at all," @JasonRoseEh wrote.
"Hive gonna make sure she's not an issue by the 3rd quarter at the latest," @kibirdie added.
"Bey doesn't like that girl so I don't like that girl either," another Twitter user said.
Curran isn't considered a household name but became involved with the Warriors owner in 2006 when the couple met at a Pebble Beach golf tournament.
"She is very direct. No hidden agendas. She is tough. She can be pretty volatile. But she is outgoing naturally. She's got a million friends. Always ready to go to a party, go to an event. Me you have to drag," Lacob said, per the Mercury News at the time.