Nicole Kidman Hong Kong TV Show Being Used by China as 'Soft Propaganda'
Nicole Kidman is currently at the center of a COVID controversy after it was reported that the actress was permitted to skip quarantine in Hong Kong to film a TV show.
The Australian star, 54, is starring in an upcoming series set in the region that has been described as "soft propaganda."
Expats is based on the novel "The Expatriates" by Janice Y. K. Lee that follows the personal and professional lives of a tight-knit group of expatriates living in Hong Kong.
The Big Little Lies actress was allowed to skip Hong Kong's mandatory hotel quarantine of up to three weeks in a move that is said to have sparked public anger.
And the series itself is being described as "sugarcoating" the reality of the Chinese-ruled territory in 2021 following months of anti Government protests.
"I think this whole project will be run by the Hong Kong government as a soft propaganda program that will sugarcoat the lies in Hong Kong," said artist Badiucao to The Syndey Morning Herald.
Badiucao is a Chinese political cartoonist, artist, and rights activist based in Australia.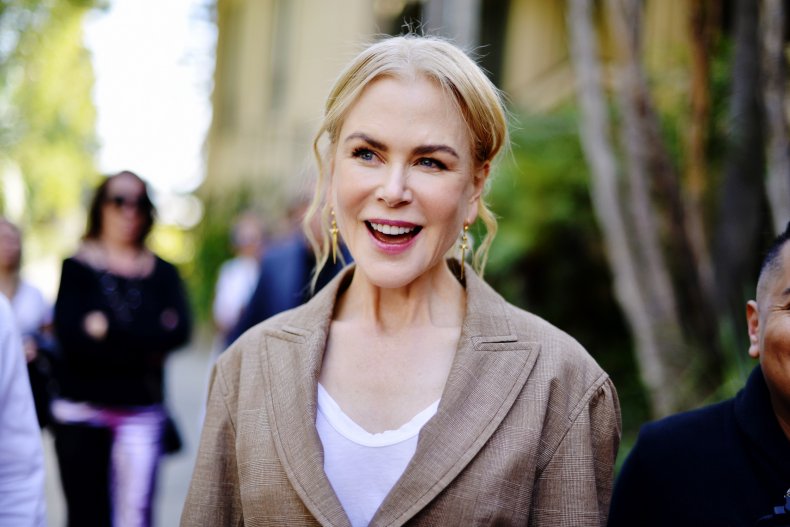 "We've seen artists arrested. We've seen full-on censorship of all cultural departments, art, education, universities, you name it," he added.
The book on which the show is based was published in 2016—three years before the Hong Kong pro-democracy protests took off on a large scale.
"Even though it was released in 2016, there's still no excuse for avoiding all the political turmoil that has been going on in Hong Kong," Badiucao continued. "You don't have to insert protests, but we must know that this movement across the entire city shocked everyone's daily life."
He added that the show could "potentially be a great artwork because it is caught in-between a lot of the struggles in this rapidly changing city now."
He added: "If it wants to, it can show the impact of how Hong Kong has changed."
The Chinese government released a statement on Kidman's exemption from the mandatory quarantine, without identifying the actress by name.
"[T]he case in discussion has been granted permission to travel to Hong Kong with a quarantine exemption for the purpose of performing designated professional work, taking into account that it is conducive to maintaining the necessary operation and development of Hong Kong's economy," it reads, per The Guardian.
The government also said that "[The work] is conducive to maintaining the necessary operation and development of Hong Kong's economy."
Newsweek has reached out to a representative for Nicole Kidman for comment.