Did '90 Day Fiancé' Star Azan Make Nicole Lose Weight? Nafziger Instagrams Fitness Picture
90 Day Fiancé star Nicole Nafziger is ready to get healthy. The TLC reality star wanted to make it clear that she loves herself just the way she is, but that she wants to feel more comfortable in her skin moving forward. Her fiancé, Azan Tefou, said previously said that he would like his fiancée to lose weight, but the self-love advocate told her 185,000 Instagram followers that she was getting healthy for herself.
"This is my Instagram fitness post," she wrote. "I want to be healthy for ME. I want to be comfortable in my own skin. Don't get me wrong, I love myself. But being bigger you aren't always comfortable in your own clothes. I'm ready for a change. I have posted about me trying to get healthy on and off even before being on the show. It's something I have struggled with. This time I want it to be for sure thing. I know that if I fall off again that I just have to get right back on it and stay focused!"
Nafziger isn't on her journey alone. She sought the help of motivational Instagram account @fatgirlfed up. The IGer, who has a following of nearly 100,000, lost more than 300 pounds through diet and exercise over the course of two years. "One of the things I'm doing to stay focus and accountable is doing @fatgirlfedup fall DietBet!" the 90 Day Fiancé star revealed. "This is my first diet bet and I'm gunna see how it works out for me! Let's get to it!"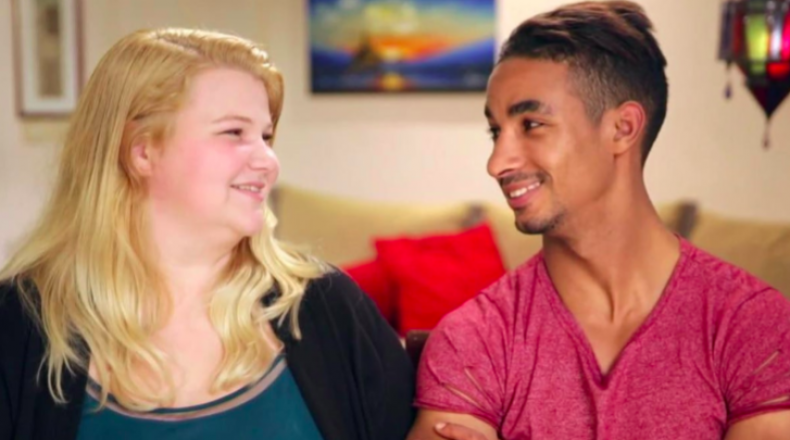 The social media diet coach regularly posts inspiring messages. "I want you to know if you're struggling that there is hope and you're not alone. I want you to know that just like you for 25 years I tried to lose weight, only to feel like a failure every time," she wrote Monday. "I questioned if I would ever change or die at an early age because I couldn't get a grip on eating healthy or my emotional overeating. I suffered from fatigue, shortness of breath, joint pain, and even chest pain occasionally I feared could be a heart attack…"
Previously, Nafziger posted a photo that showed her in Morroco with her mother, daughter and Tefou. "It was so great having my mom in Morocco and meeting my fiancé! lol at the day me and Azan accidentally matched," she wrote.
In earlier seasons of 90 Day Fiancé, Tefou said he was only 55 percent attracted to Nafziger. "I want to be healthy, but I don't think I need to change myself for a man for him to love me," she said at the time. "Because if he loves me, he should love me for who I am."
Did '90 Day Fiancé' Star Azan Make Nicole Lose Weight? Nafziger Instagrams Fitness Picture | Culture