'90 Day Fiancé' Star Nicole Nafziger Instagrams Weight Loss Update Picture
90 Day Fiancé star Nicole Nafziger took to Instagram on Tuesday to share an update on her fitness journey. She was previously criticized for her weight by fiancé Azan Tefou. Nafziger, however, said she made the decision to get healthy for herself.
Nafziger shared a beautiful picture of herself in a floral dress, which showed flowers in the background. "I am so happy to be on this fitness journey with all of y'all," she captioned the photo. "There are some who say I inspire them to start their fitness journey and that really means so much that I can help others by jump starting my own journey! Seeing all the messages y'all send is just amazing! I'll continue to share my journey with y'all and show my progress."
Nafziger didn't reveal how much weight she lost, but invited her 196,000 IG followers to join her on her journey to wellness. "Guess what?! I'm gunna be starting my own dietbet game in December!" she wrote at the bottom of her post. "I'm so excited to be hosting my own dietbet that all of y'all can join in with me! A dietbet is where you bet $30 on yourself to lose 4% of your weight in 4 weeks. Meet your goal at the end of the 4 weeks and you split the pot! It's a great motivator and has an awesome community within the app. I'm so ready to get this started! Are you gunna join me in my December dietbet?"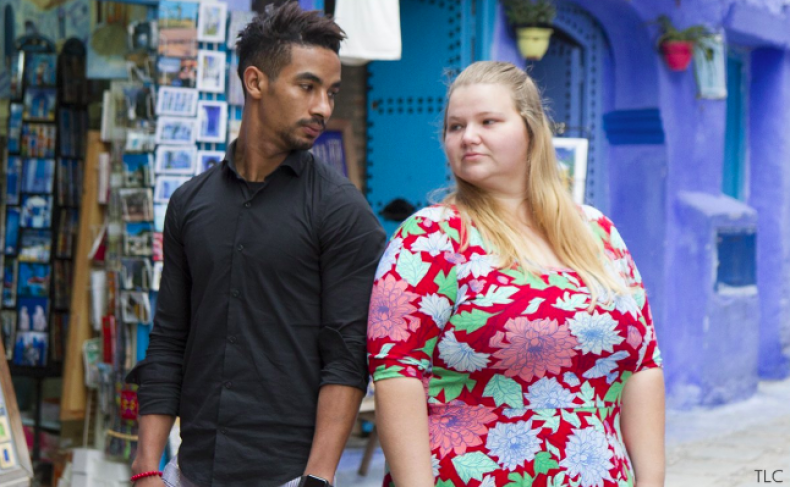 Nafziger announced her new journey in a post on October 23, saying she wanted to be "healthy for me." "I want to be comfortable in my own skin. Don't get me wrong, I love myself. But being bigger you aren't always comfortable in your own clothes," she wrote. "I'm ready for a change. I have posted about me trying to get healthy on and off even before being on the show. It's something I have struggled with. This time I want it to be for sure thing."
On Halloween, the TLC reality star admitted that she indulged in some of her daughter's trick-or-treating candy, but she revealed she was back on the right path the following day. "As a kid, I didn't get to go trick or treating so being able to take my daughter out and have a great time is such an amazing feeling. It makes me so happy that she's enjoying herself," she said about May.
Despite there being various rumors that Nafziger and Tefou split since he's currently living in Morocco and she's in the U.S., Nafziger slammed the gossip. She even mused that she would like to have two children with her fiancé.
Season 6 of 90 Day Fiancé airs Sundays at 8 p.m. ET on TLC.