Niecy Nash-Betts Talks 'Dahmer' Victims Debate and Her 'Niecyssance'
Niecy Nash-Betts, star of Netflix's Dahmer, has entered her Renaissance period. The Emmy-nominated actress—known for her work on shows like Claws and Reno 911!—plays Glenda Cleveland, the neighbor who repeatedly tries to warn police about serial killer Jeffrey Dahmer, in the new limited series.
The real Dahmer is believed to have murdered 17 men and boys, many of whom were queer and people of color, between 1978 and 1991. Nash-Betts' powerful performance has earned her heaps of praise, but she's also aware of the backlash the show has received, with some arguing that it's worked to retraumatize victims' families.
"I understand why some people may think that or see it that way, but I can only speak for myself," Nash-Betts said. "And if it were me, and one of my family members had met their demise at the hands of Jeffrey Dahmer, I would already not only be traumatized every day, but I would want the world to understand what I experienced."
The actress has had one heck of a busy year. She currently stars as Simone Clark, the oldest rookie in the FBI, on ABC's The Rookie: Feds. And she'll be returning to Comedy Central as Deputy Raineesha Williams in what's advertised as "all-new episodes" of Reno 911!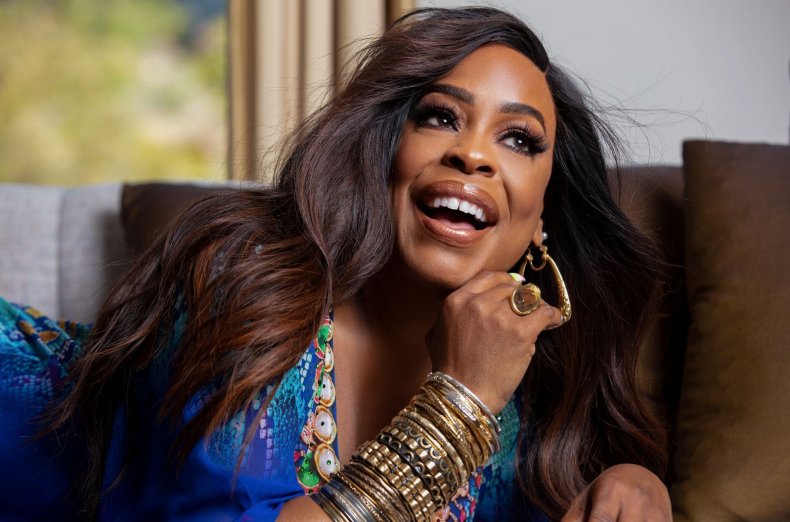 Nash-Betts took great care when preparing to play Glenda Cleveland; she understood the responsibility of taking on a role based on a real person. In 2019's When They See Us, she depicted Delores Wise, the mother of a teen wrongfully convicted of raping a jogger in 1989's Central Park Five case. The performance landed Nash-Betts an Emmy nomination for outstanding lead actress in a limited series or movie.
Her industriousness is continuing to reap rewards. Critics have called her work on Dahmer "the performance of her career."
Nash-Betts told Newsweek that she hopes the show will help shift attitudes surrounding marginalized communities. Much of the homophobia and racism underpinning American society back then is still around today.
Maybe the next time viewers encounter a white man with blond hair, they won't automatically give him the benefit of the doubt. And the next time they see a Glenda Cleveland? Maybe she won't be dismissed.
"Because had either of those happened in reverse," Nash-Betts said, "a lot of the people who were murdered would still be alive."
The actress's filming schedule is active, to say the least. Nash-Betts told Newsweek that she'll start her day "at the crack of black" and is usually in the car between 4:30 and 5:30 a.m. She's putting in 16 hours of work on some days, but her dedication to the craft has undoubtedly paid off.
Nash-Betts recalled starting her career as a mom of three. She'd have to take her kids with her as she went to auditions and callbacks.
Even though she was initially seen as a "funny girl," Nash-Betts worked hard to make sure the industry knew that she possessed a broad range.
"I need people to know that I am a multi-hyphenate. The same people who can make you laugh can make you cry, but the reverse is not always true," she said. "You're not going to see somebody who has been a dramatic actor their entire career coming to a sitcom in the fall."
Off-screen, the actress is basking in an extended honeymoon phase. She married singer Jessica Betts in 2020 ("I lovingly call her my 'hersband'"), and enjoys spending time with their new maltipoo, MJ, which stands for Michael Jae Betts.
Nash-Betts has been twice married before—both times to men—so she wasn't sure how her new partnership would be perceived. Some may believe that she must have lived a sexually repressed life, but the actress insists that's "not [her] story." Others may believe that she's in her Renaissance phase, a period of self-discovery.
Regardless of what people think, Nash-Betts seems pretty content.
"I am living my best life," she gushed. "Someone coined it the other day that I am in my 'Niecyssance.' I'm in my own Renaissance.
"And I think part of that is because I do what I want to do," she continued. "When you are younger, the decisions you make are filtered through what other people are going to think, believe, accept, and you get to a point in your life when you say, 'I'm not going to make a decision that's based on that. I'm only going to do what I want to do.' And you end up curating a very beautiful life."
Aside from trying to do good through her art, Nash-Betts said she wants to "make love all around the world" with her hersband. Next up on the happy couple's itinerary?
"We want to go to Italy, Greece. We want to go to Africa together, Dubai," Nash-Betts said. "I mean, we got a lot of stamps in our passports, but there's a lot of stuff missing."