"I was looking for my billboard on Times Square," says Niecy Nash when I eventually get her on the phone. Nash is clearly reveling in this new stage of her career. "It's around here somewhere," she says with infectious enthusiasm. "I wanted to find it and be a weirdo and take a picture in front of it." Nash has spent much of her 20-plus-year career in supporting roles, including a twice Emmy-nominated turn in HBO's darkly comical Getting On , but now it's her turn to be front and center as the star of TNT's new dramedy, Claws .
The actor and comedian has come a long way from her first role—an inauspicious part as "Woman at Diner" in 1995 movie Boys on the Side starring Whoopi Goldberg and Drew Barrymore. In the last few years, several talented black actors, like Viola Davis, Gabrielle Union and Kerry Washington, have commanded starring roles on television; in Washington's case, she was the first black woman to spearhead a primetime drama on U.S. network television in nearly three decades when Scandal premiered in 2012.
Related: Inside the 'Orange is the New Black' season 5 riot: Taystee is ready to die, says Danielle Brooks
"I'm always happy for other people," says Nash. "Then, right after that, it becomes about being happy for my community. And then, right after that, it becomes about understanding that the world is still bigger than just black and white women. There are a lot of women whose stories are not being told on television right now. There are African women, Asian women, there's more to the world than black and white. Sometimes there's a perception that if African-Americans are getting a nod then that settles it. I'm saying there's a lot [more] going on in the world."
While Davis ( How to Get Away with Murder ) and Washington ( Scandal ) made Thursday nights must-watch for ABC, Nash was certainly not short of work. Her acclaimed role as nurse Denise "Didi" Ortley in 2015's Getting On , starring opposite Roseanne 's Laurie Metcalf, had more of a dramatic edge than the comedy she had done before. Nash also played Cedric the Entertainer's wife in five seasons of TV Land comedy The Soul Man and, most recently, wrapped two seasons as security guard Denise Hemphill in Ryan Murphy's outlandish horror-comedy Scream Queens .
But Claws is the reason that Nash is hunting for a billboard bearing her likeness in Times Square. Does she feel like it's her time at last? "I guess I would have to lean into that," she says coyly. "My husband says all the time, 'Timing is everything.' I love the career I've been able to walk in up until this point, I've worked on some amazing projects, but this one feels a little more personal—a little more custom."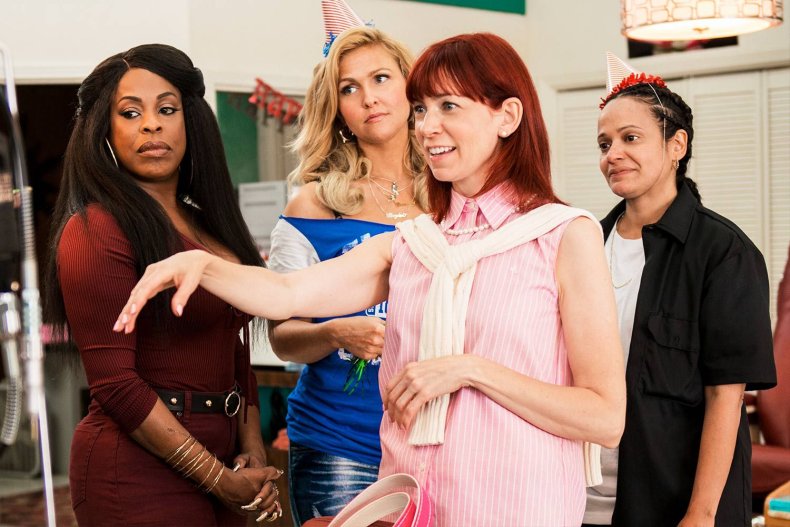 Claws is set against the backdrop of South Florida and, aesthetically, looks like a rap video. It's bright and full of color, highly produced with a glossy finish that suits its nail salon setting. The dramedy follows Desna Simms, played by Nash, the proprietor of the bustling salon, and her diverse group of employees. But they aren't making all their money from fresh coats of lacquer and mani-pedis. Desna's side hustle as a money launderer for the pharmacy next door entangles the group in a dark web of criminality that becomes increasingly complex.
Rounding out Desna's crew are Carrie Preston, who shone as frazzled lawyer Elsbeth Tascioni in The Good Wife , playing Polly, a recently released convict; Jenn Lyon as mother-of-two and Desna's right-hand woman Jennifer; model Karrueche Tran as ambitious Virginia; and, in a role as far from Scrubs ' Carla as it gets, Judy Reyes is the shop's bullish lesbian enforcer Quiet Ann.
Claws also has an impressive cast of male actors. Breaking Bad 's Dean Norris, the DEA agent foil to Bryan Cranston's Walter White in that show, breaks bad himself here as bisexual gang boss Uncle Daddy. Lost 's Harold Perrineau plays Desna's autistic brother Dean.
The show really excels because—like Orange is the New Black and HBO's Issa Rae-starring comedy Insecure —it subverts the archetype of a show of its ilk. Here, the women are in the thick of the drugs, crime and guns. "In any other universe, if you replaced all of these women with men, you'd be watching The Sopranos or Breaking Bad . I love the fact that we are badass," says Nash.
Nash knows a project like Claws is rare. "I love that all of the women are just about the south side of 40, but all are complicated, flawed and sexual. This script was coveted on the streets of Los Angeles when it came out."
There is silence on the other end of the phone now—followed by a squeal. "I just found my billboard," Nash says. "O.M.G., there it is. Let me just take a picture of it."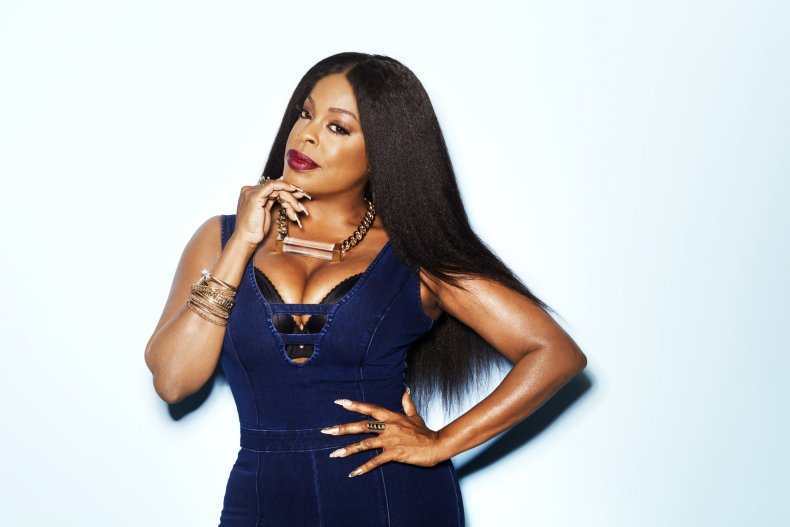 A few minutes later, Nash is back on the line, elated. "I got the picture!"
You must be so happy, I say. "I'm proud of myself," Nash responds. "I was with my makeup artist a few weeks ago and she asked me: 'Are you proud of yourself?' and I said, 'I'd never really thought about it.' I move around in an industry that very politely told me that I have a lane, which was broad comedy. That's it. You do broad and you do sassy. That's all.
"I was like, I would love to try to play something else. It took a long time get an audition for the role that I booked on Getting On . Once I got a chance, I ended up becoming a two-time Emmy nominee because of it. It opened up so many doors, including this one, because the creators of Claws loved my work on Getting On . I can finally answer her: Yes, I'm proud of myself."
Nash should be proud— Claws is bawdy, bright and outrageously entertaining.
Claws airs Sundays at 9 p.m. on TNT from June 11