Nigel Farage Urges Boris Johnson to Heed Donald Trump's Call and Team Up: 'Together We Would Smash Labour'
A day after U.S. President Donald Trump said his two friends would "work well" together and achieve "tremendous things," Brexit Party leader Nigel Farage urged Conservative Party leader and new U.K. Prime Minister Boris Johnson to team up and "smash" the left-wing Labour Party.
Johnson, who won his party's leadership election on Tuesday, is promising to deliver Brexit by October 31 with or without a deal, despite Parliament voting repeatedly against any "no deal" scenario in Britain leaving the European Union (E.U.). The Conservatives have a majority of just two in the House of Commons.
Populist leader Farage wants a no-deal Brexit, which he refers to as a "clean break," but believes this is not achievable with the current Parliamentary arithmetic. Therefore, he is calling for a general election this fall before the Halloween deadline.
As it stands, the Brexit Party, which triumphed in the recent European Parliament elections as the Conservatives slumped down to fourth place, might cannibalize votes from Johnson's party in any general election if Brexit is not resolved.
But Farage says he does not trust Johnson or the Conservative Party to follow through on an October Brexit, despite repeated assurances from the new PM in recent weeks that this is the final deadline and Britain will leave no matter what.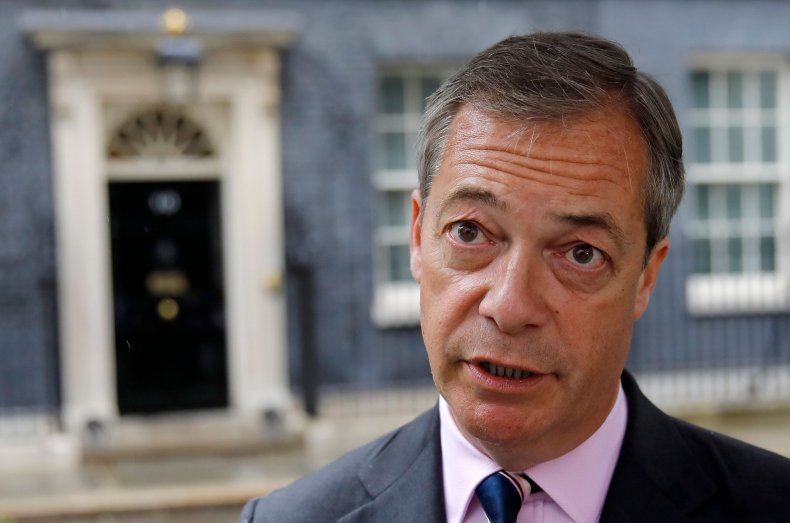 Writing in The Telegraph, Farage said the "inescapable truth" is that Johnson's party is divided in Parliament on both him and Brexit, meaning he will need a fall election to reset the benches and deliver on his promise and also to defeat Jeremy Corbyn's Labour Party.
"For this strategy to work, he will need the support of the Brexit Party. But it is far from straightforward. I genuinely struggle to understand where he stands on many of the great issues of the day," Farage wrote.
"If he is able to convince us, then together we would electorally smash the Labour Party, he would assume a big working majority, and he would go down as one of the great leaders in British history. All this is possible, but is Boris Johnson brave enough?"
Gawain Towler, head of press for the Brexit Party, said he did not know if there had already been discussions with Conservatives about an electoral pact, or any talks between Farage and Johnson in recent weeks. "If I did, I doubt I would share it," he told Newsweek.
Speaking on Wednesday to BBC News, Farage said there had so far been no formal talks with Johnson's team, but that Conservative MPs were "openly chatting and speculating" about a deal.
"[Johnson] thus far has said he would not do a deal of any kind with us. I understand that because if he was to contemplate it, it would lead to resignations from the Conservative Party," Farage said.
The Conservative Party did not respond immediately to Newsweek's request for comment.
Tim Bale, a professor of politics at the U.K.'s Queen Mary University of London, doubted that Johnson would take up Farage's offer, and believes he will instead do battle with the Brexit Party.
"I think it is far more likely that Boris Johnson will attempt to win back Brexit Party supporters by getting Brexit over the line than by putting together some sort of pact with Nigel Farage," Bale told Newsweek.
"A pact, possibly involving some kind of standdown arrangement, would run the risk of allowing large numbers of Brexit Party MPs into the House of Commons—something that no sensible Tory could ever contemplate. They'd be cuckoos in the nest."
Speaking after Johnson's victory in the Conservative leadership competition, Trump told an audience of high school student conservatives in Washington D.C. that the new prime minister is being referred to as "Britain Trump."
"A really good man is going to be prime minister of the U.K. now, Boris Johnson. A good man. He's tough and he's smart," Trump said. "They're saying 'Britain Trump.' They call him 'Britain Trump.' And people are saying that's a good thing."
Trump then spoke of Farage, who was also sitting in the audience at the conference: "I know he's going to work well with Boris and they're going to do some tremendous things."
Farage told BBC News that Trump is a "numbers man," and sees that it makes sense for the Conservative and Brexit parties to work together in an election. "If only life was so simple," Farage said.
This article was updated with more comments by Nigel Farage.