Trump's Friend Nigel Farage Defends 'Crass' Remarks President Has Made About Women: 'Men Say Dreadful Things Sometimes'
The Brexit Party leader Nigel Farage tried to excuse "crass" comments President Donald Trump has made about women in the past during a U.K. general election debate.
At the TV debate between U.K. political party leaders and senior representatives broadcast by ITV on Sunday night, Farage said "men say dreadful things sometimes" when asked if he had seen footage of the president "boasting" about "assaulting" women.
But the Trump-supporting British politician went on to compare the comments to being "caught out... on a night out after a drink" and called his questioner a "purist" when pressed on his response.
He also called other British political party leaders "anti-American" when they continued to push for his thoughts on some of the president's other controversial past remarks.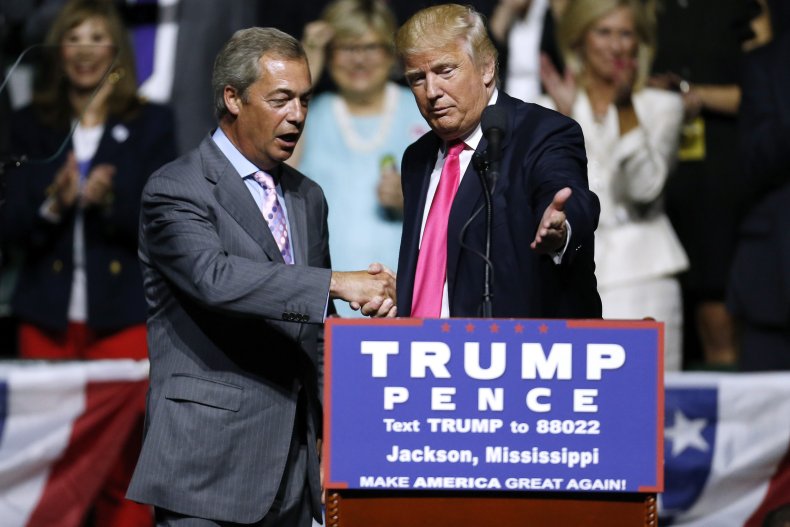 In October 2016, The Washington Post published a hot mic Access Hollywood tape in which President Trump bragged to TV presenter Billy Bush about grabbing women "by the pussy." The then-candidate for the presidency said the comments were "locker-room banter" and apologized at the time.
In the recording, he said: "You know I'm automatically attracted to beautiful — I just start kissing them. It's like a magnet. Just kiss. I don't even wait. And when you're a star, they let you do it. You can do anything. Grab them by the pussy. You can do anything."
Speaking on the ITV Election Debate show yesterday, Liberal Democrat leader Jo Swinson asked Farage whether he had seen the footage of President Trump "boasting about sexually assaulting women."
"I have and it was crass, and it was crude and it was wrong," Farage replied. "And men say dreadful things sometimes."
After being challenged on the point by fellow party leaders, the Brexit Party leader said: "If all of us were caught out... on a night out after a drink, none of us would be here."
"Is that what you do on a night out after a drink?" Swinson repeatedly asked.
Farage replied: "I'm sure you've lived the purist life of anybody and never said a word wrong about anything anywhere."
The Green Party leader Sian Berry then quizzed Trump's friend on the president's racist comments about four congresswomen known as "the squad," who Trump told to "go back" to the countries they "came from" despite the fact three were American-born and the fourth, Rep. Ilhan Omar, had lived in the country since she was 6.
"American politics is in fact more divided in many ways than our politics," Farage said. "But all these false claims. You make not like him, he is President of the U.S.A and that relationship matters."
He added: "You are so anti-American, you're prepared to put your hatred of Trump above our national interests, and that's a big mistake."
Approached for further comment, a Brexit Party spokesperson told Newsweek Farage "doesn't say anything he doesn't mean."
A Liberal Democrat spokesperson confirmed that Jo Swinson was referring to the Access Hollywood tape in her question to Farage. The White House has also been approached for a response.
Nigel Farage and Donald Trump have a longstanding relationship, with the Brexit Party leader speaking at one of the president's 2016 rallies in Mississippi and Trump remarking that British Prime Minister Boris Johnson and his friend could "work well" together and achieve "tremendous things" if they teamed up.
In a recent appearance on Farage's LBC radio station show, the president again said he would like to see the two party leaders "get together." His spot on the show led Labour Party leader Jeremy Corbyn to accuse Trump of interfering in the U.K. election.
The U.K. will vote on who it wants to be its prime minister and ruling party on December 12 in its second post-Brexit general election. The Financial Times' general election poll tracker puts the Conservative Party on 43 percent, with Labour in second on 32 percent.
By comparison the Brexit Party led by Nigel Farage is only polling at around 3 percent on average, according to the tracker. Indeed, the graph below, provided by Statista, shows how much the Brexit Party's standing has collapsed in recent polling.