Piers Morgan's Trump Interview a 'Disgraceful Stitch-up,' Nigel Farage Says
Nigel Farage called Piers Morgan's trailer for his interview with Donald Trump "disgraceful" and a "stitch-up", as he reflected on the backlash.
The former leader of Britain's Brexit Party released a video on his YouTube channel and said reports of the former president storming out of the interview were "fake news."
The trailer of Morgan's interview with the former president, that has gone viral on social media, appears to show Trump get up and leave. However it has been met with condemnation from Trump and his team.
"The clip that they are showing is Trump saying 'turn off the cameras', getting up from his chair and walking out," Farage said in the video.
"The interview had been concluded, it was finished, it was over, they had said their thank yous and Trump got up to go on to his next appointment," he added.
"He is being completely and utterly stitched-up by Piers Morgan. It is disgraceful, it is disgusting.
"I bet Rupert Murdoch is absolutely fuming, why would Trump now trust Fox News or any Murdoch media empire?"
Farage, who is now a presenter on GB News, a U.K. network, also addressed claims made by Morgan, on the ITV show Lorraine, that he had tipped off Trump about the critical things Morgan had said about the former president in the past.
"Here is the truth, a few days before Morgan did the interview I was at Mar-a-Lago, I met with Trump and we went out for dinner afterwards," Farage said.
"I said to him 'Morgan has gone around boasting in U.K. media, telling everybody that he is your friend and he has got special privileged access when in fact, behind your back, he has been stitching you up for a long time.'
"'If you do this interview, here is the truth' and I gave him the document.
"Trump clearly was extremely displeased, the interview because of that wasn't perhaps the friendliest it ever could have been."
Morgan responded to Farage's video on Twitter and criticized him for handing Trump the dossier.
"Actually, Nigel, the only stitching up was done by you when you sent him that dossier of my criticisms (which I stand by) in a pathetic attempt to ruin my Trump interview," Morgan tweeted.
"Especially graceless after I congratulated you after yours. Fortunately, it backfired and I got a corker!"
Trump also issued a statement after the trailer began circulating on social media. He alleged that the video had been deceptively edited and accused Morgan of being a member of the "fake news media".
"Piers Morgan, like the rest of the Fake News Media, attempted to unlawfully and deceptively edit his long and tedious interview with me," Trump said in the statement.
"He wanted to make it look like I walked out on the interview when my time limit of 20 minutes went over by an hour.
"The good news is that the interview was taped by us as a means of keeping him honest. The interview was actually very strong on the 2020 Election Fraud, with me calling him 'a fool' if he truly believed those results."
Trump continued: "The evidence is massive and irrefutable (check out Truth the Vote and the Dinesh D'Souza documentary, which will all be coming out soon). For those who want to make Piers look bad, compare his video promo and how it was doctored to the real thing.
"Hopefully they will now be doing some big changes to their final product. It just shows, however, what I have to deal with in the Fake News Media. He went out of his way to deceptively edit an interview and got caught. That is a big story, isn't it?"
Although Trump has tried to distance himself from rioters who claimed the election was stolen and stormed the Capitol on January 6, 2021, he has continued to assert that he won the 2020 election. But the former president has also admitted defeat in a number of public comments.
Morgan's full interview is set to air on his new show, Piers Morgan Uncensored, that launches next week on TalkTV, a subsidiary of Murdoch's News Corporation.
Newsweek has contacted TalkTV for comment.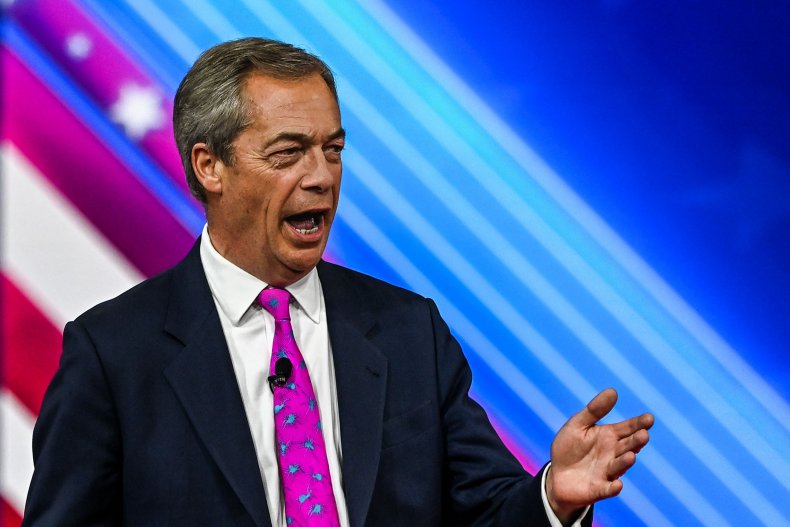 Update 04/21/22 at 10:00 a.m. ET. This article was updated to add comments from Nigel Farage, Piers Morgan and Donald Trump.