Nigel Farage Intends to Campaign for Homophobic Alabama U.S. Senate Candidate Roy Moore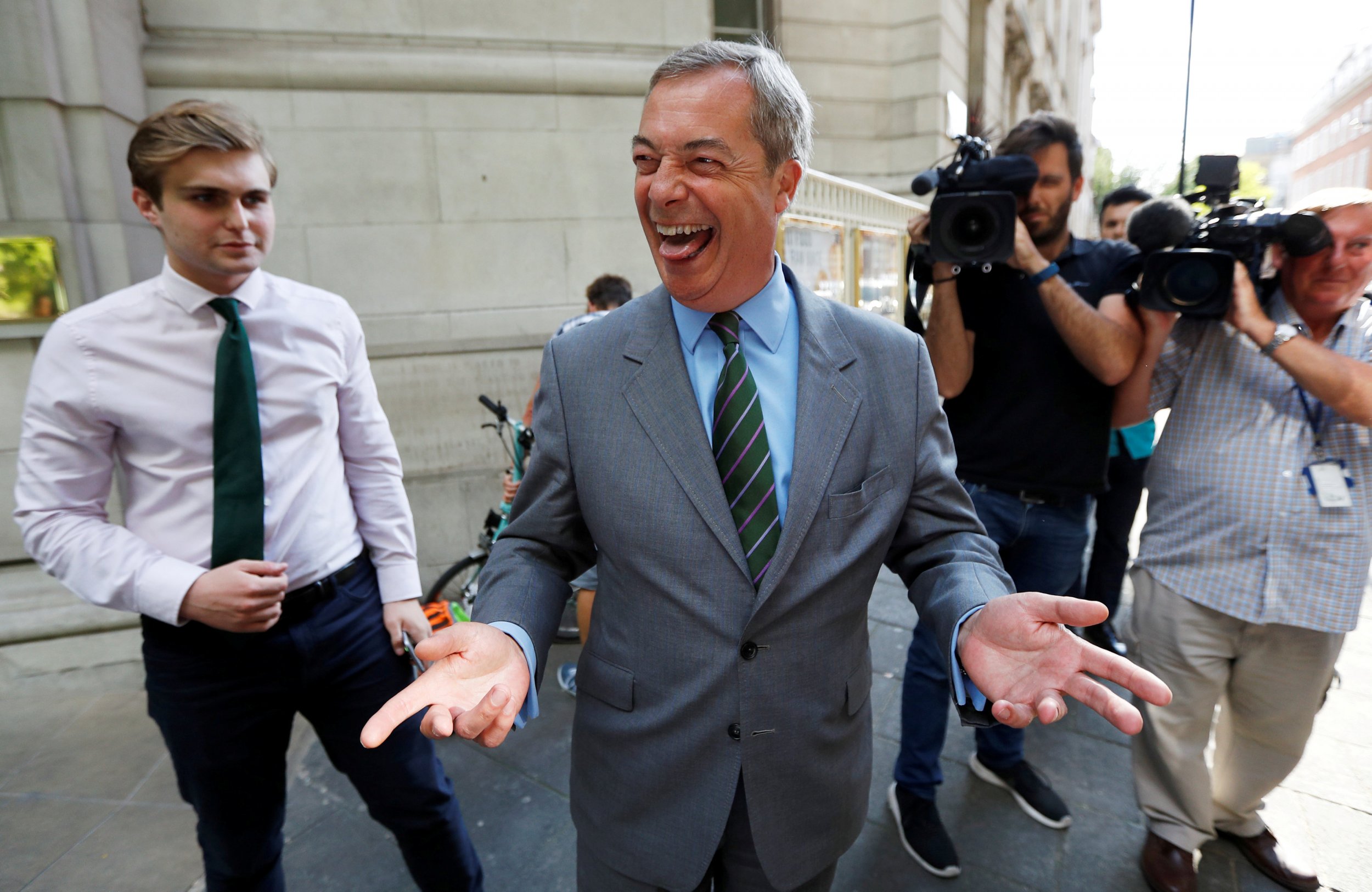 Former leader of the UK Independence Party (UKIP) Nigel Farage has announced he will campaign for Steve Bannon-backed Alabama U.S. Senate candidate Roy Moore.
The Brexiteer and outspoken Donald Trump supporter will pit himself against the president by supporting Moore, who is facing off with Trump's preferred candidate Luther Strange.
The Guardian reported Farage intends to attend a rally for Moore along with Bannon and former Duck Dynasty star Phil Robertson, who will be supporting the controversial candidate on the eve of the Tuesday election.
A Farage ally told the newspaper: "Nigel has lots of experience in repelling establishment figures who have tried to take over his populist nationalist agenda."
But it is a surprising move for Farage, who has long supported Trump, with the president even suggesting Farage should be the U.K.'s ambassador to the U.S.
Not only has Moore hit headlines because the race sees Trump face off with his former White House adviser Bannon in terms of which candidates they have backed, but the man who was removed as Alabama chief justice on two occasions has also proved to be a divisive figure after making a number of homophobic comments.
Moore said in a 2005 interview that he believed "homosexual conduct" should be illegal, asserting once again that he holds homophobic beliefs after telling a crowd at a campaign rally that he thought people should "turn to God" over "perverse sexual behavior" including sodomy.
And recently, Moore also used derogatory terms in a campaign speech while discussing Native American and Asian people.
"We were torn apart in the Civil War; brother against brother, North against South, party against party. What changed?" Moore told the crowd in comments carried by The Hill.
"Now we have blacks and whites fighting, reds and yellows fighting, Democrats and Republicans fighting, men and women fighting. What's going to unite us? What's going to bring us back together? A president? A Congress? No. It's going to be God," he added.
Trump has openly stated that he is backing Moore's opponent Strange, most recently tweeting: "The NRA strongly endorses Luther Strange for Senator of Alabama. That means all gun owners should vote for Big Luther. He won't let you down!"
However, the president appears to have acknowledged he may have backed the less popular candidate in the race, stating he will campaign with Moore if he wins the election.