Fraud with postal voting in the U.S. election will come to light soon because it happens around the world, U.K. politician and Donald Trump campaigner Nigel Farage has said, without any evidence.
Farage, who is a Newsweek columnist and senior editor-at-large of "The Debate," also said Trump was likely to win and refused to condemn him for declaring victory before any clear result had been reached.
"It looks like Trump has won but it's not certain," he told the BBC from the Trump Hotel in Washington. "I think his comments [about victory] are out of frustration and I'm not surprised. To think that America in the 21st century is incapable of counting votes state-by-state and coming to a result is a pretty bad thing for America."
Farage said he was against postal voting because of the potential for voter fraud, despite there being no evidence of widespread voter fraud in the U.S.
"I'm personally very anti-postal voting in totality but I get it—during a pandemic, that option had to be offered," he said. "The evidence of fraud with postal voting is there for all to see. We know it ourselves on our side of the pond [in the U.K.]... but because it [postal voting] is so new, it [fraud] hasn't come to light yet.
"There is no evidence of fraud at this stage but we know from our own miserable experience over 20 years of massively extending postal voting that not only is there fraud, there's intimidation. We've seen it again and again. I think what you're seeing tonight is a president who's frustrated that we haven't got a clear result."
Farage's comments follow Trump calling the election a "fraud on the American public" and suggesting that counting votes had stopped.
"Millions of people voted for us tonight," Trump said. "A very sad group of people is trying to disenfranchise that group of people. And we won't stand for it."
Trump called the election "an embarrassment to our country. We were getting ready to win this election. Frankly, we did win this election."
"We want the law to be used in a proper manner so we'll be going to the U.S. Supreme Court. We want all voting to stop. We don't want them to find any ballots at four o'clock in the morning and add them to the list. This is a very sad moment."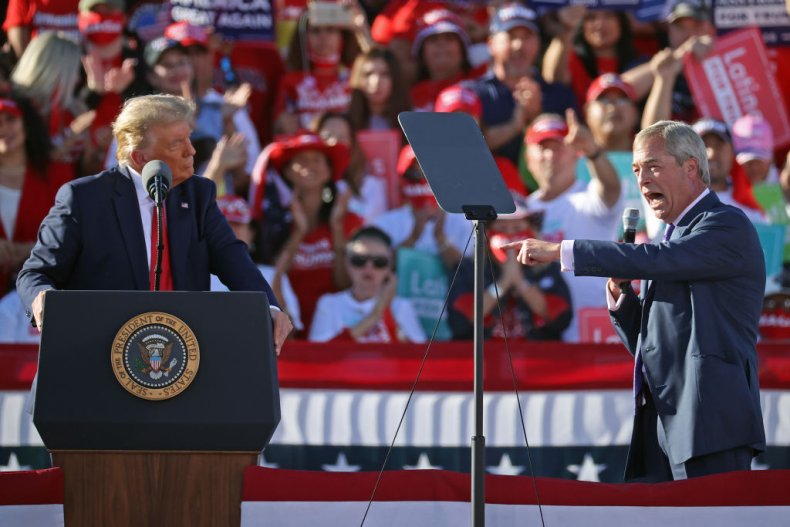 Farage echoed this same worry, despite there being no current evidence fraud is taking place.
"Let's hope that when all the votes are counted, they're votes that were cast before the polls actually closed and not those that came in afterward," he said. "We know that postal voting is open to fraud and crucially intimidation as well. I understand it's different because of the pandemic. We don't have evidence of fraud yet because it's the first time it's been used on this scale.
"If the votes have been legitimately done and postmarked correctly, we will get a legitimate result but I have no doubt that in the weeks and months to come, we will find because of postal voting, there will be all sorts of problems because it's the same everywhere else."