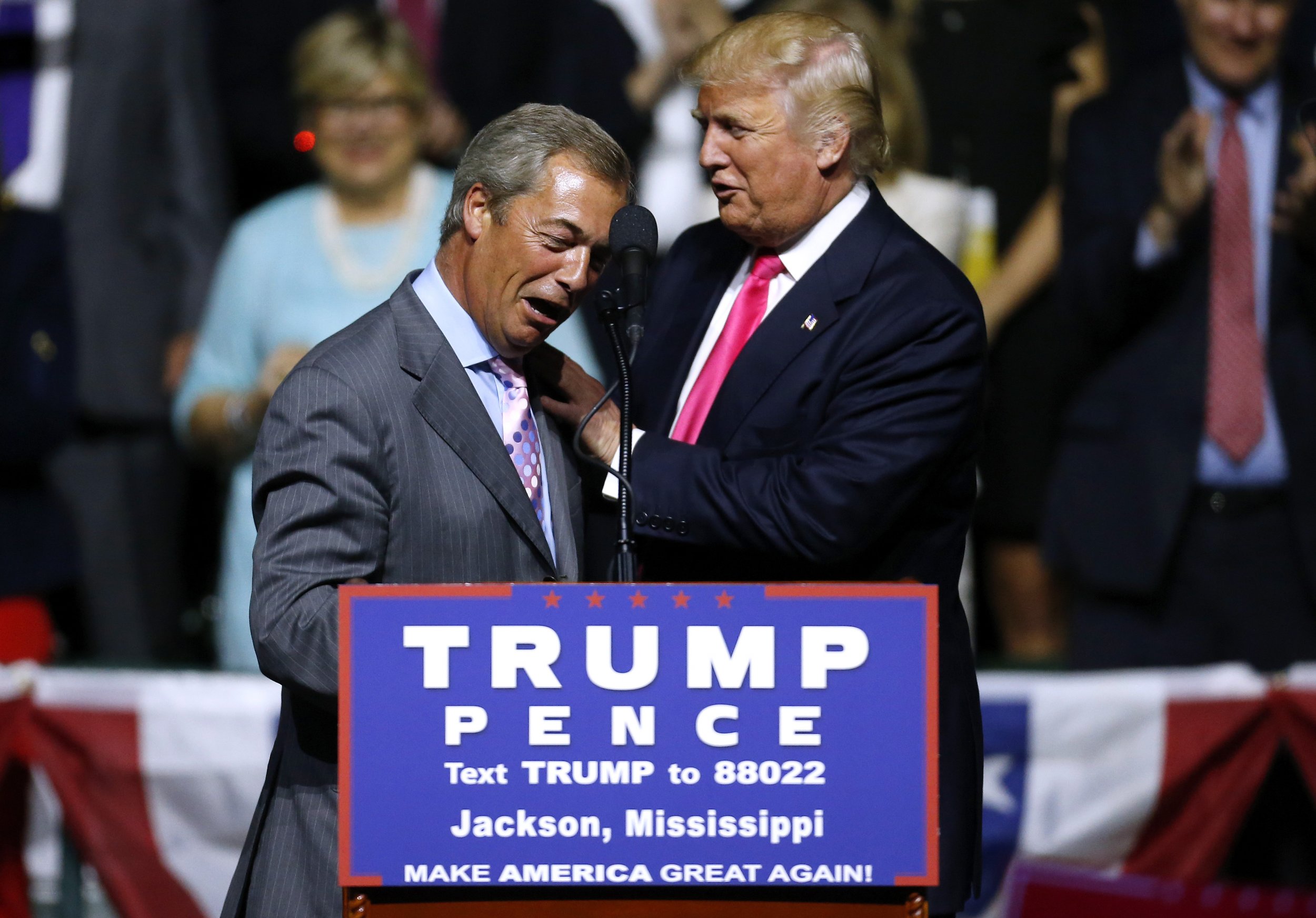 Nigel Farage's trips to the U.S. to meet President Donald Trump and address the Republican National Convention were funded by an insurance millionaire who bankrolled a Brexit campaign and is under investigation amid claims some of his money may have come from Russia.
That is according to a report by the U.K.'s Channel 4 News, which alleged that Arron Banks, a wealthy ally of Farage who funded the unofficial pro-Brexit campaign Leave.EU during the referendum, is raining money on the Trump-supporting British populist.
The U.K.'s National Crime Agency is investigating Banks over the sources of the £8 million he pumped into Brexit campaigning after the country's Electoral Commission raised concerns that election laws were broken.
The Sunday Times reported in June 2018 that Banks met several times with Russia's ambassador in London and was offered a business deal involving Russian gold mines. One of those meetings was arranged by a suspected Russian intelligence officer.
Critics of Banks suggested that Russia was the source of at least some of the money that made its way to the Leave.EU to campaign for Brexit. In June 2016, Britain voted by 52 percent to 48 percent to leave the European Union. The Brexit process is still ongoing.
But Banks has rejected suggestions of wrongdoing and that any money came to him from Russians. He told the BBC's Andrew Marr Show in November: "I'd just like to say absolutely for the record, there was no Russian money and no interference of any type. I just want to be absolutely clear about that."
Channel 4 News reported that Banks paid for Farage's business class flight tickets to the Republican National Convention in July 2016, which the Brexit Party leader addressed.
He also allegedly funded a "Nigel Farage Brexit Policy Luncheon" with lobbyist Goddard Gunster, which included paying for Fox News host Tucker Carlson to interview Farage at the event.
While there, Farage met Republican Senator Bob Corker at the RNC and John Bolton, Trump's current hawkish national security adviser. In August 2016, Banks and Farage flew to Jackson, Mississippi, to meet Trump via Governor Phil Bryant. Farage then spoke at a Trump rally.
Banks reportedly paid for several more U.S. trips for Farage—who was the first British politician to meet with Trump after his election victory—including the costs of attending the president's inauguration in 2017.
On Twitter, Banks called the Channel 4 report a hit job and told the broadcaster in a statement that its reporting was a smear. Farage, pursued by Channel 4 News reporter Matt Frei while out campaigning for The Brexit Party, did not want to comment on the funding from Banks.
Banks later confirmed to BBC News that he had helped fund Farage and was "honored to do so," adding: "This was all designed to help Nigel get out of politics."
This article was updated with additional commentary by Banks.