Is Niger Trump's Benghazi? Four U.S. Soldiers Died and It Took Him 12 Days to Respond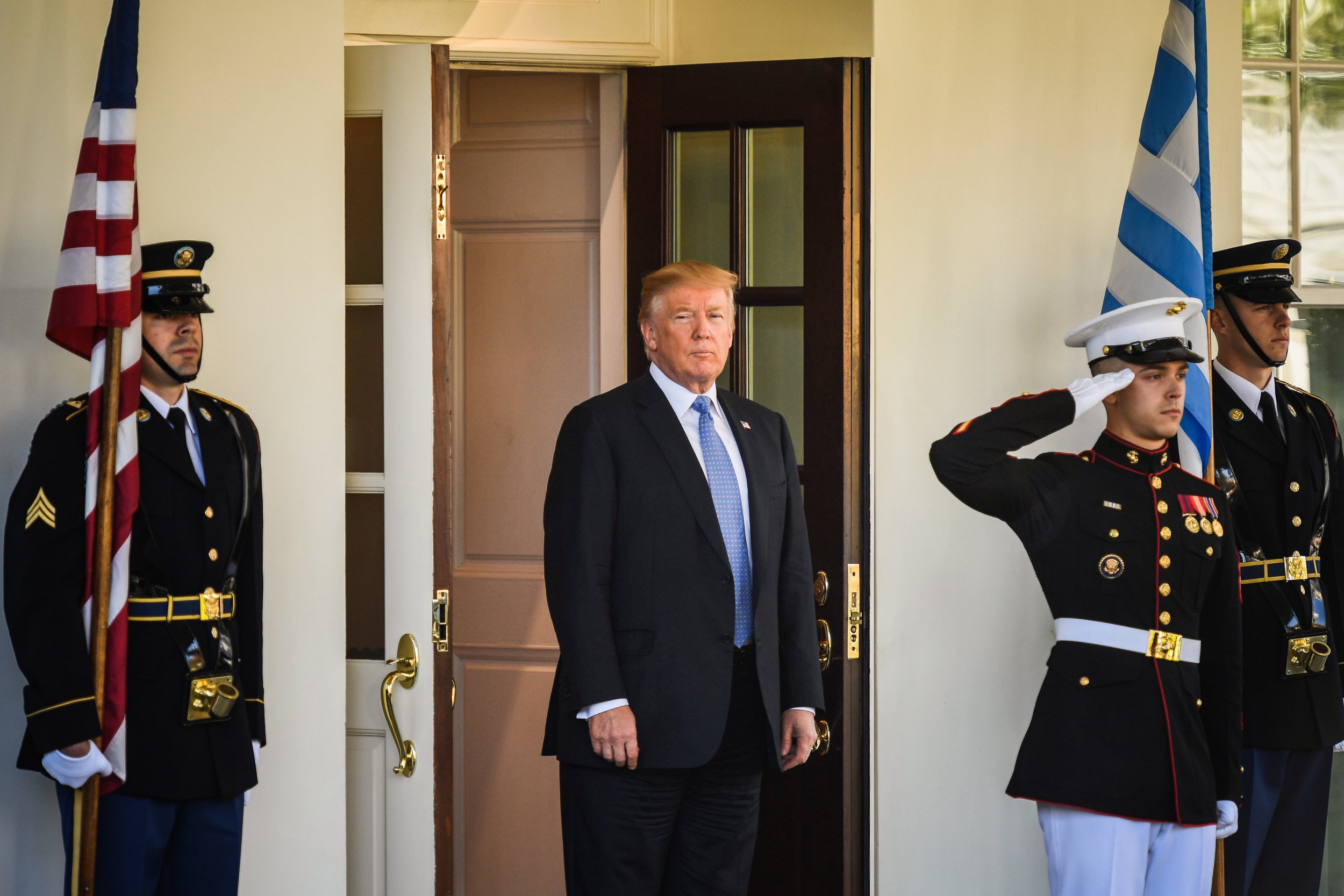 "This might wind up to be Mr. Trump's Benghazi."
Those are the words of Congresswoman Frederica Wilson, a Florida Democrat who was present during a controversial phone call between President Donald Trump and the widow of one of the four U.S. special forces soldiers killed in Niger on October 4.
The soldiers died in an ambush near the Niger-Mali border believed to be perpetrated by an ISIS-linked group. The president's reaction to the deaths is being widely criticized as questions remain about U.S. involvement in Niger and Africa more generally.
Republican Senator John McCain, widely regarded as the top authority on military matters in the Senate, said Wednesday the Trump administration is not being upfront about what happened in Niger.
This is somewhat reminiscent of rhetoric surrounding what happened in Benghazi under the Obama administration.
Indeed, some are suggesting there's more to the Niger story. And Congresswoman Wilson isn't the only one who's begun to draw parallels between this situation and Benghazi.
Neera Tanden, president of the left-leaning Center for American Progress, tweeted hyperbolically on Wednesday: "We had about 4000 Benghazi hearings. Why isn't there a single one on the deaths of soldiers in Niger?"
Joy Reid, national correspondent for MSNBC, echoed these sentiments: "Where are all the Benghazi obsessives now that we have lost four special forces troops in Niger? Anyone? Hearings? Any interest at all?"
What happened in Benghazi?
On September 11, 2012, four Americans were killed in an infamous terror attack on a U.S. diplomatic compound in Benghazi, Libya. Christopher Stevens, the U.S. ambassador to Libya at the time, was killed.
The incident prompted an extensive, costly investigation and was a source of controversy for Hillary Clinton, who was Secretary of State when the attack occurred. It was still around as a thorn in her 2016 presidential campaign.
The Obama administration's initial explanation of the attack, which was based on faulty CIA intelligence, led to accusations of a cover-up from Republicans. Some also accused the administration of withholding military assistance to the Benghazi compound.
Clinton and the Obama administration were widely criticized, but no evidence of a cover-up was ever found, and House Republicans even released a report that cleared Clinton of any wrongdoing over Benghazi in June 2016.
Still, Benghazi remains controversial and a talking point for conservative news outlets, especially Fox News.
What happened in Niger?
The soldiers killed in Niger were part of a 12-man team of Green Berets, training Nigerian soldiers in a remote part of the country. These soldiers belonged to the Third Special Forces group based out of Fort Bragg, North Carolina.
As they were leaving a meeting with local community leaders on October 4, they were ambushed by roughly 50 fighters believed to be linked to ISIS (Al Qaeda in the Islamic Maghreb, or AQIM, is also active in the surrounding region).
The soldiers were driving unarmored pickup trucks and immediately returned fire. The firefight reportedly lasted roughly 30 minutes. It was eventually broken up via French air support and the soldiers were evacuated with helicopters.
Initially, the government only confirmed three had been killed and two wounded in the incident, along with two. But it was eventually reported a fourth soldier had gone missing during the ambush. His remains were found by Nigerien forces roughly 48 hours after the ambush.
The Department of Defense at first withheld information about the missing soldier. The circumstances of how he was separated and the nature of his death are unknown.
Many questions about what occurred remain, especially regarding why intelligence apparently didn't indicate the soldiers would meet such heavy resistance.
Are there any legitimate parallels between Benghazi and Niger?
Beyond the fact four Americans were killed in the respective incidents in Niger and Benghazi, the only parallel is the botched initial responses by both the Obama administration and Trump — responses that only led people to ask more questions about what went down.
It took Trump 12 days to respond to the deadly incident in Niger and he only did so after questioned by a reporter. In his response, Trump falsely claimed past presidents, including President Obama, didn't call the families of fallen soldiers. He then called the widow and mother of one of the soldiers, Sgt. La David Johnson, only to end up disrespecting the family on Tuesday night. The president allegedly said Johnson "knew what he signed up for" during the call.
Trump denied it, but Cowanda Jones-Johnson, the fallen soldier's mother, told The Washington Post, Trump "did disrespect my son and my daughter and also me and my husband."
Johnson was the soldier who was separated from the 12-man team during the ambush. The circumstances of Johnson's death and the fact he was missing for two days is perhaps the most curious aspect of the incident in Niger. Specific details on why he was left behind have not yet emerged, hence the questions that have followed Trump's controversial treatment of this deadly incident.
The other three soldiers killed in the ambush have been identified as Staff Sergeant Bryan Black, 35; Staff Sergeant Jeremiah Johnson, 39; and Staff Sergeant Dustin Wright, 29.
Why is the U.S. in Niger?
Many Americans may not have known the U.S. was present in Niger until this incident, which is another parallel to Benghazi.
The truth is the U.S. military has been involved in a broad effort to combat terrorism across Africa for years and Niger is just one of many countries the U.S. is currently present in. This started far before Trump — the U.S. military has had a presence in Niger since 2013, when Obama was still president.
The U.S. military is also active in Chad, Somalia, Libya and Cameroon, among other countries in Africa. In May, a U.S. Navy Seal was killed in a raid on an Al-Shabab compound in Somalia. This was the first combat death involving a U.S. soldier in Somalia since the well-known "Black Hawk Down" incident in 1993, which resulted in the deaths of 18 American service members.
At the moment, there are roughly 800 U.S. troops in Niger, and the U.S. is in the process of building a major drone base in the city of Agadez, located in central Niger. The four U.S. soldiers killed on October 4 were training Nigerien forces in the broader counterterrorism effort.
The Department of Defense announced Tuesday it was launching an investigation into the incident in Niger. But is this "Trump's Benghazi"? Only time — and maybe a congressional investigation or 4,000 — will tell.