Nigeria, Africa's Largest Nation, Backs Trump Despite Black Lives Matter Hostility
When President Donald Trump wanted to stop immigrants coming to the U.S. from "s***hole countries," as he reportedly described them, he imposed a travel ban on countries including Nigeria, the most populous Black nation in the world.
The African Union made up of 55 nations said the remarks were "clearly racist." The restrictions, arriving just before COVID-19 took the world's attention, were widely criticized. It followed a concerted campaign to limit Nigerian entry into the U.S., with visa price-hikes and bans.
Despite Trump's strong line against Africa, and anti-Black Lives Matter-protest rhetoric more generally, the Nigerian population still love him and would welcome a second term. Around 60 percent of Nigerians think Trump will "do the right thing regarding world affairs," according to the Pew Research Center.
"The perception of Trump as tough, no-nonsense, blunt, pro-religion and entertaining could be in part why a majority of people in this deeply religious and most populous country in Africa like him," Nigerian journalist Adaobi Tricia Nwaubani said.
"It's like watching an action movie, or the best reality show Nigerians have ever seen—expressions of wonderment and wild laughter can be heard when people gather to discuss him."
Economists argue that Nigeria has more to gain from a Joe Biden presidency, with borders likely to be more open and a less hawkish approach to the oil industry. Crude oil still accounts for around 80 percent of Nigeria's exports and is hurt by Trump's desire to keep prices low, but Nigeria is going through a turbulent time anyway.
Biden has been drawn on the recent protests against Nigeria's Special Anti-Robbery Squad (SARS) as people were shot dead, saying that the U.S. "must stand with" protesters. Trump has so far not been drawn on this issue but it is unlikely to change the support for him, coming from the belief in the president's conservative values, his image of speaking bluntly from the heart and views on religious issues.
Nigeria does not allow or recognize LGBT+ rights, does not allow abortion unless the mother's life is in danger, a majority believe that a man is the head of the household and stringent drug laws with long prison sentences are in place, familiar views for the more traditional end of the Republican party and a number of Trump's policy aspirations.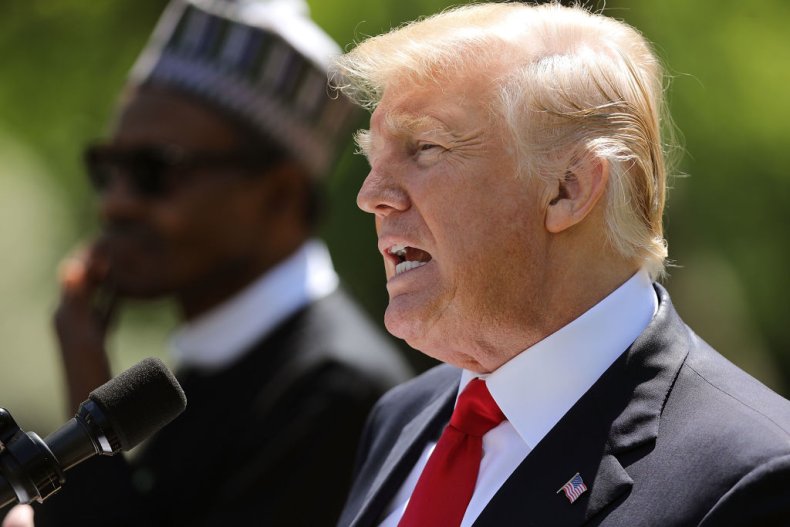 Nigeria has one of the largest Christian populations in the world, behind only the U.S., Mexico, and Brazil and on a par with Ethiopia and the Philippines, depending on which population study you read. This includes a large number of Evangelical Christians. One of its biggest Christian denominations, Evangelical Church Winning All, reportedly has around 10 million members alone, a number which cannot be independently verified.
"I pray for Trump because I see him as the almond tree," Venerable Emeka Ezeji, a vicar and archdeacon in the Missionary Christ Anglican Church in Nigeria's south-eastern Enugu state, tells Newsweek by email. "This means he's a sign. If he wins this election, God is giving America and the world more time. If he loses, it means there is no time and speaking apocalyptically, looking at the political ideology of the Democrats, you discover they are working against the inerrant word of God - they promote abortion, same-sex marriage while the Republican Party are pro-life purely conservative."
Of course, there is no "one" opinion in Nigeria, particularly with the country being split so evenly between Muslim and Christian communities. But most stand behind Trump, even defending some of his criticism of their own country.
"Some think that Trump has used very hard words on Nigeria and Africa but are they not true?," Ezeji says. "In African nations, the leaders are selfish, corrupt and presidents who want to remain in power till they die with nothing to show for it. If they had transformed the african nations, I dont think the president of any coutry will refer to African countries in a derogatory manner. A former British prime minister [David Cameron] said Nigeria is fantastically corrupt."
Other evangelical figures agree that Donald Trump was put in his position to do God's work.
"He's [Trump is] chosen by God," said theologian and evangelical preacher Rev. Juliet Eyimofe Bintie, who is based in Lagos, Nigeria. "He [God] told me he was looking for a bulldog, a man of audacity, because there are certain assignments nice people cannot carry out. He is against a global movement who want to control peoples' lives. We need somebody who defends the rights of believers."
She has previously talked about how the world has tried to discredit Trump and she has seen this media coverage as the devil's work, criticizing CNN and praising Fox News in particular.
"There are many in Fox News who are not on Trump's side; but they know they must stay on the FACTS and not sell lies," she posted to social media. "How does a President survive with 95% BAD PUBLICITY? But he did and he has by God. As Blacks; be careful that we do not allow the spirit of Jezebel free movement. Watch and Learn."
Rev. Bintie did not respond to further requests to comment.
When Nigerian head of state Muhammadu Buhari became the first president from sub-Saharan Africa to visit Trump's White House, Trump made a promise that the Nigerian tourist board could only dream of: "I'd like very much to visit Nigeria," Trump said. "It's an amazing country and in certain ways I heard from the standpoint of a beauty of a country, there's no country more beautiful, so I would like to."
Buhari will be hoping that Trump wins and visits before the Nigerian president steps down in 2023. With the current protests and instability in the country, it is unlikely that whoever wins the presidency will be visiting any time soon.
The White House has been contacted for comment.
Updated 10/28/2020 10:00 EST: This piece has been updated to include quotes from Venerable Emeka Ezeji which were provided after initial publication