Nigeria Captain's Father Kidnapped Before World Cup Tie Vs Argentina
The father of Nigeria's captain was kidnapped just hours before the Super Eagles faced Argentina in their crunch final game of the group stage at the World Cup.
Mikel John Obi made the startling revelation during an interview with The Guardian on Tuesday, in which he explained he was only made aware of the circumstances as he traveled to the stadium in Saint Petersburg last week.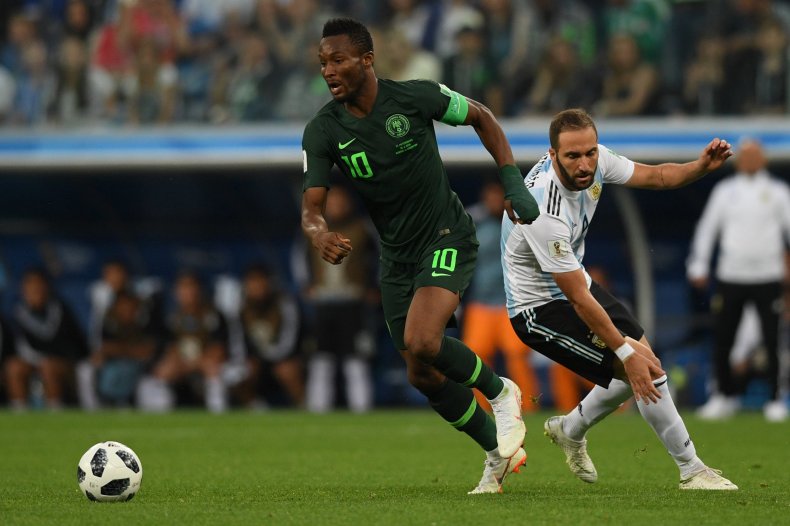 Pa Michael Obi is now receiving emergency treatment in hospital, after being released on Monday afternoon. It has since emerged he was tortured by his kidnappers during a week-long ordeal, which began when he was abducted on his way to a funeral,.
A goal from Marcos Rojo four minutes from time saw Nigeria knocked out, but the captain had far more pressing matters in his mind.
Mikel, who spent 11 seasons in the Premier League with Chelsea before moving to Chinese side Tianjin TEDA in January last year, explained he was contacted by a family member, who instructed him to get in touch with the kidnappers on a number the family was given.
When he did so, Mikel was told to pay a ransom and warned his father would be killed if he tried to contact the police.
"I was told that they would shoot my dad instantly if I reported to the authorities or told anybody," Mikel was quoted as saying by the The Guardian.
"I also did not want to discuss it with the coach [Gernot Rohr] because I did not want my issue to become a distraction to him or the rest of the team on the day of such an important game. As much as I wanted to discuss it with the coach, I could not. "
Mikel added he chose not to disclose the matter with anyone at the Nigerian soccer federation (NFF), as he did not want to be distracted before such a crucial game.
I did not know what to do but, in the end, I knew that I could not let 180 million Nigerians down," he added.
"I had to shut it out of my head and go and represent my country first. I could not even inform the coaches or NFF staff and only a very tight circle of my friends knew. "
Mikel's father had previously been kidnapped in August 2011, when he failed to return home from work in Jos, the capital of Nigeria's Plateau state.