Nigeria Eradicates Ebola, but Disease Still Threatens Region's Economy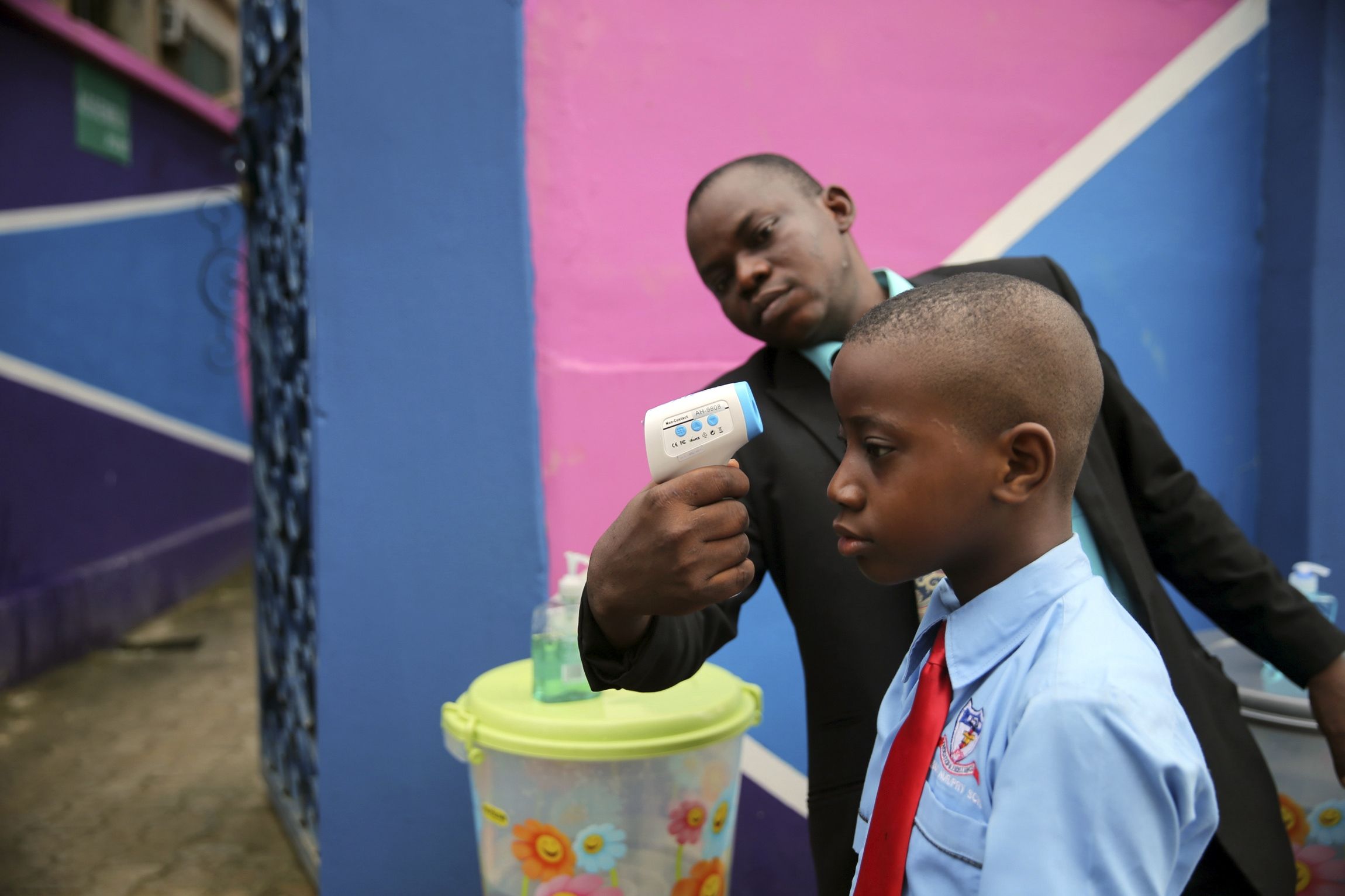 Updated: This story has been updated to include information about an unconfirmed and shaky truce between Boko Haram and the Nigerian government.
Nigeria, Africa's largest economy, may have been declared free of the Ebola virus Monday, but the country as well as the rest of the sub-Saharan African region is at risk from the financial fallout of the outbreak, according to the International Monetary Fund (IMF).
The World Health Organization (WHO) said Nigeria no longer had the disease after no new cases were reported in 42 days, twice the virus's maximum incubation period of 21 days. Nigeria, along with Senegal, Spain and the United States, had cases "imported," according to the WHO, meaning a patient was diagnosed with the virus after becoming infected outside of those countries. There were 19 cases of Ebola in Nigeria and seven deaths reported between July and September, according to the WHO, which gave Nigeria a 40 percent fatality rate, compared with the 70 percent average experienced by Guinea, Sierra Leone and Liberia, the countries most affected by the outbreak.
"This is a spectacular success story that shows that Ebola can be contained," the WHO said in a statement Monday. "The story of how Nigeria ended what many believed to be potentially the most explosive Ebola outbreak imaginable is worth telling in detail."
Nigeria—Africa's most populous country, with more than 177 million residents—confirmed its first Ebola case on July 25 after Patrick Sawyer, an American citizen who was traveling from the Liberian capital city of Monrovia, died of the disease. He was quarantined in a Lagos hospital with symptoms on July 20 and died five days later.
Sawyer was quarantined in Lagos, Nigeria's capital and a city of 21 million, when he fell ill with vomiting and diarrhea, symptoms typical of those infected with Ebola. Nigerian authorities scrambled to track down patients who might have been on the same flight as Sawyer, who was reportedly en route to Minnesota to visit his children.
Ebola appeared in Port Harcourt, an oil hub in the south of Nigeria, after a patient who had close contact with Sawyer flew there at August 1 for medical attention. The patient, a doctor, developed Ebola symptoms and died on August 23.
The WHO attributes Ebola's eradication in Nigeria to swift response coordination; a "first-rate" virology laboratory in Lagos and "high-quality" contact tracing, which helped to stop the virus's spread in its tracks. A media campaign featuring stars from Nigeria's hugely successful "Nollywood" film industry appearing on TV to talk about Ebola facts also contributed to the success of the eradication, the WHO said.
While Nigeria has managed to contain the virus, Africa's largest economy could still see an economic fallout from the disease. In an new look at the sub-Saharan Africa's economy, the IMF said that while growth in the region "is expected to remain strong," at around 5 percent in 2014 and 5.75 percent in 2015, this positive outlook was "overshadowed by the dire situation in Guinea, Liberia and Sierra Leone, where the Ebola outbreak is exacting a heavy human and economic toll."
Nigeria's economy is expected to grow at least 7 percent from 2014 to 2015, but risks seeing a poor economic spillover from neighboring countries, including an undermining of confidence and a drop in tourism and trade activities if the Ebola outbreak spreads to more countries, the IMF said. The agricultural, mining and service economic sectors of Liberia, Guinea and Sierra Leone have already been affected by Ebola. Nigeria's economy is also threatened by a fragile security situation in the north, where Islamist terrorist group Boko Haram continues to wield power. An apparent truce between Boko Haram and the Nigerian government, and the release of more than 200 kidnapped schoolgirls, was cast into doubt on Sunday after more violent attacks by the group, Reuters reports.
Ebola has also been contained in Senegal, which was declared Ebola free by the WHO last week; Senegal had one case of Ebola and no deaths.
The deadliest Ebola outbreak in history has infected nearly 9,000 and killed at least 4,500, predominantly in the three West African nations of Guinea, Liberia and Sierra Leone, according to the WHO.