Nigeria's Freed Schoolgirl Likely Boko Haram Escapee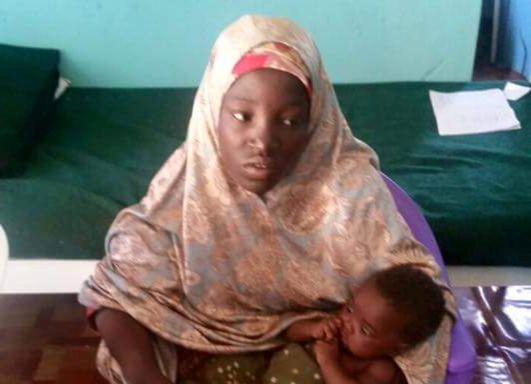 This article first appeared on the Council on Foreign Relations site.
As has been the case since Boko Haram kidnapped hundreds of school girls that had been concentrated in Chibok to take their final examinations two years ago, there must be questions about Amina Ali Darsha Nkeki.
According to Western and Nigerian media, she was found in the bush by members of the Civilian Joint Task Force (CJTF), a vigilante group that assists the official security services in the fight against Boko Haram. She had with her a baby and a man.
Aboku Gaji, according to The New York Times, is a vigilante commander. He said that the vigilantes took Nkeki to her home village where she was positively identified as a Chibok victim by her mother, a school teacher and villagers.
The vigilante commander identified the man she was with as a fellow Boko Haram captive, and said that the two had married while in captivity.
An army spokesman, however, claimed that Nkeki was among those rescued by the military, though he gave her a different name. Subsequently, a spokesman said her name was indeed Amina Ali, and that she had been rescued by the military "in conjunction with" the CJTF. He also said that her husband is a suspected Boko Haram terrorist.
The Guardian reports that Nkeki and her husband had in fact been trying to hide from the CJTF. It also reports that she was scheduled to see President Muhammadu Buhari on May 19. If so, that would be a good indication that the Nigerian authorities are convinced that Nkeki is one of the Chibok schoolgirls, and the first to escape since the immediate aftermath of the kidnapping two years ago.
It has been assumed that most of the Chibok victims are Christians, and Boko Haram "face" Abubakar Shekau said that they had been forced to convert to Islam and had been given "husbands." Thus far, the media has not reported on Nkeki's religion.
The media has reported her as saying that most of the Chibok girls are in the Sambisa Forest, and that six have died. This is contrary to the assumption that the Chibok girls had been widely scattered.
Bottom line: her mother and village's positive identification of Nkeki is credible evidence that she is, indeed, one of the Chibok schoolgirls. The precision of her statement that six of the girls have died is a good indication that she may be knowledgeable about her fellow victims.
Remaining unclear are the circumstances of her escape and the identity and affiliation of her husband.
John Campbell is the Ralph Bunche senior fellow for Africa Policy Studies at the Council on Foreign Relations.