Nigeria Frees More Than 1,000 Hostages From ISIS Ally Boko Haram
Updated | The Nigerian army has rescued more than 1,000 captives of the Boko Haram militant group.
The country's military announced Monday via Twitter that troops from the 22 Brigade conducted an operation with support from the Multinational Joint Task Force—comprised of Nigeria, Benin, Cameroon, Chad and Niger—to rescue hostages being held in the villages of Malamkari, Amchaka, Walasa and Gora, located in the Bama area of northeastern Borno State, where Boko Haram is known to be active.
Related: Nigerian President Buhari: Relationship With U.S. Crucial to Success for Africa's Biggest Economy | Opinion
"The hostages consisted mainly of women, children as well as some young men who were forced to become Boko Haram fighters. Speaking with one of the rescued victims, Alhaji Gambo Gulumba from Amchaka village, thanked the Nigerian military for showing them love and care," the Nigerian army wrote on Twitter.
"We wishes [sic] to remind the public of its resolve to rout out BH & rescued all hostages. The public is also advised to report any suspicious character to the appropriate authority for prompt action. However, the rescued persons are being attended to in a military medical facility," it added.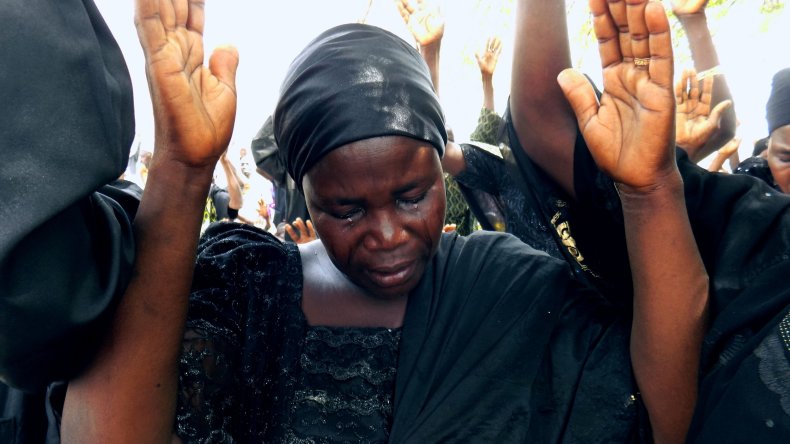 Boko Haram, which translates roughly to "Western education is forbidden," was established in 2002, and since then has kidnapped thousands of Nigerians as part of its jihadi campaign to overthrow the government and establish an Islamic state. In April 2014, it kidnapped more than 200 schoolgirls from the town of Chibok in Borno State.
The following year, it pledged allegiance to the global Islamic State militant group (ISIS), renaming itself the Islamic State in West Africa. A faction of the group, however, retains Boko Haram's original official title, which translates in Arabic to "the people of the group of Sunnah for preaching and jihad." Both splinters have utilized suicide bombing as a tactic, as well as raids against villages and military positions in Nigeria and neighboring countries.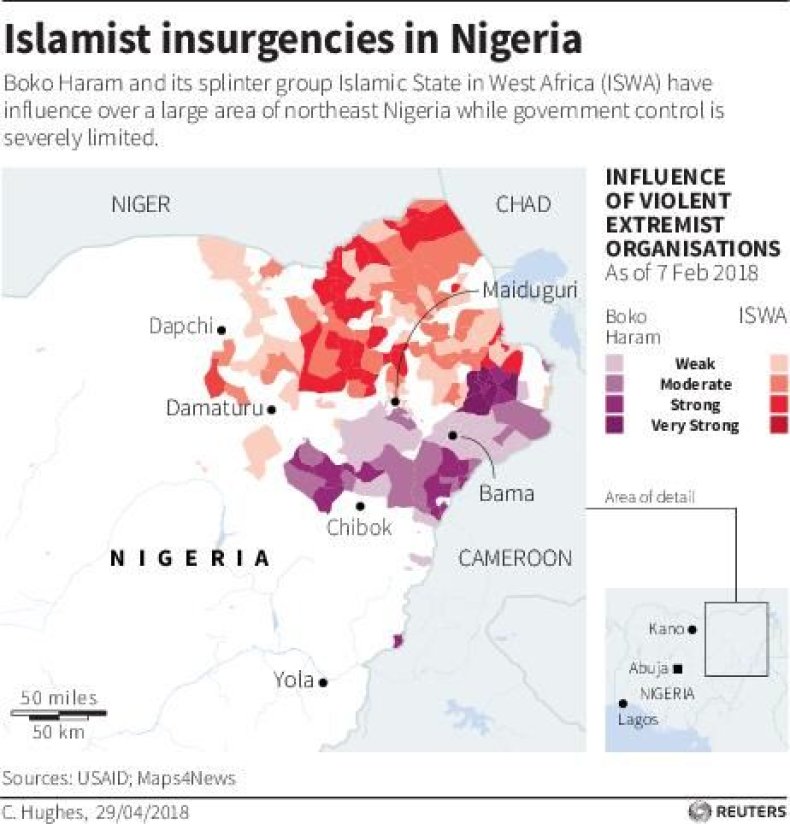 In addition to the regional allies of the Multinational Joint Task Force, the U.S. has offered Nigeria assistance in its war against Boko Haram. President Donald Trump sold $600 million worth of military aircraft to Nigeria last year, and discussed the sale last week during a joint press conference with Nigerian President Muhammadu Buhari at the White House.
Last month, Buhari secured $1 billion dollars for his country's war against Boko Haram, bringing the price of the fight to $10 billion since 2011, as BBC News Pidgin reported.
This article contains additional information about Boko Haram and Buhari's military investment.