How Nigeria Brought Back Two of Its Girls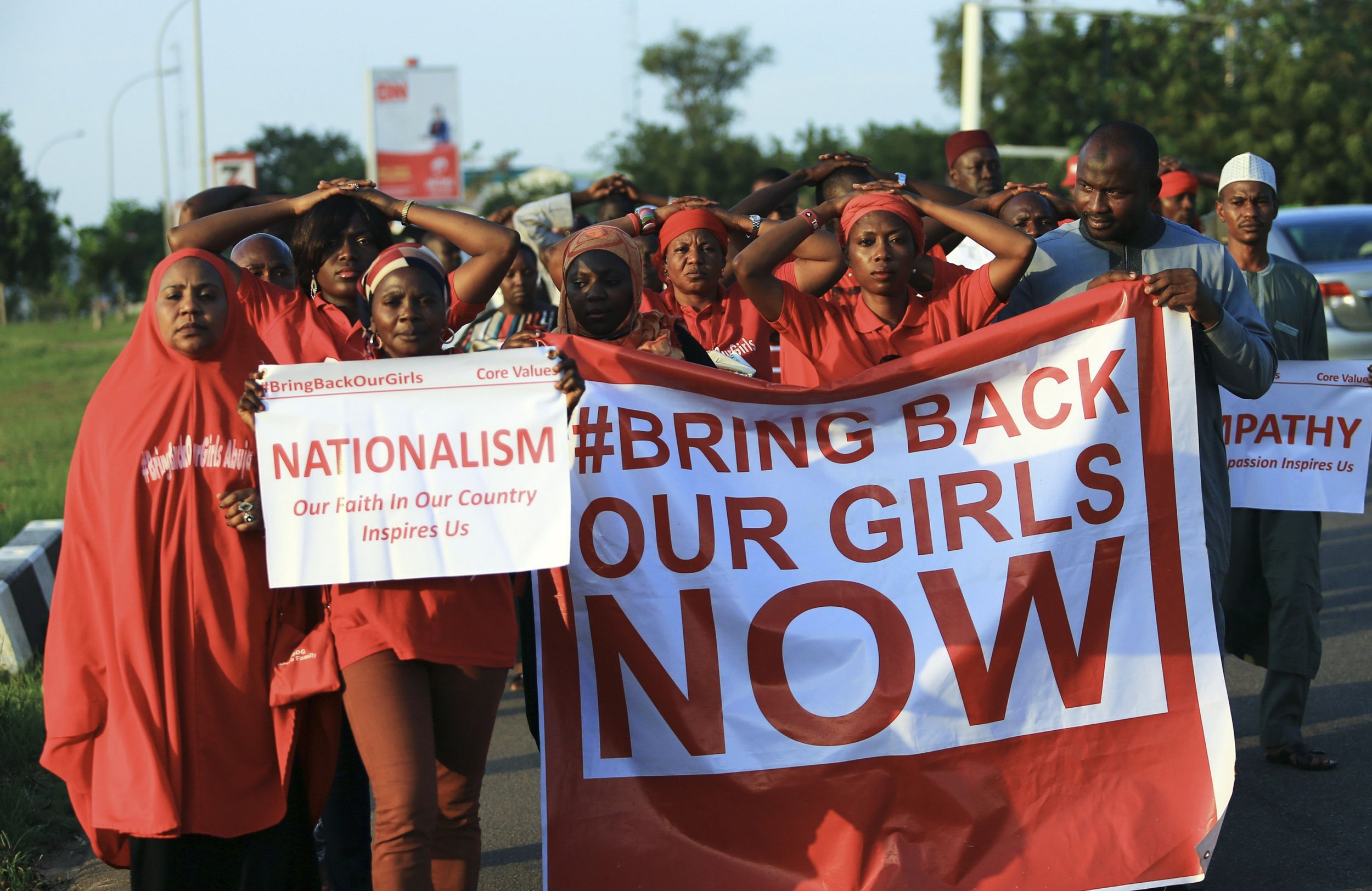 A second girl who was among more than 200 schoolgirls kidnapped by Boko Haram in a raid on their school in the northeastern Nigerian town of Chibok more than two years ago has been rescued, a spokesman for the Nigerian army said on Thursday.
Army spokesman Sani Usman said in an emailed statement that the girl was among 97 women and children held hostage by Boko Haram who were freed on Thursday morning after clashes between soldiers and jihadist militants in northeastern Borno state.
Amina Ali Darsha Nkeki, the first girl to be rescued, was found by soldiers working with a vigilante group on Tuesday near Damboa, south of Maiduguri in the remote northeast where Boko Haram has waged a seven-year insurgency to set up an Islamic state.
Officials confirmed Amina was one of 219 girls abducted from the government school in Chibok in April 2014. Late on Thursday, the army said an operation in Damboa at around 11 a.m. (6 p.m. ET) led to the rescue of nearly 100 hostages that included the second Chibok schoolgirl.
"We are glad to state that among those rescued is a girl believed to be one of the Chibok Government Secondary School girls that were abducted," said Usman, adding that she was receiving medical treatment.
He said her name is Serah Luka and she was from the northeastern town of Madagali, in the state of Adamawa, which borders Borno.
The army spokesman said it was possible that three other girls that Serah referred to as having fled and been rescued when the troops arrived may also be among the Chibok girls, adding that this was being investigated.
A photograph of Serah released by the military shows her wearing a blue jilbab, a loose Muslim garment revealing her face but concealing her torso and arms.
"She averred that she reported at the school barely two months and one week before her unfortunate abduction along with other girls over two years ago," said Usman.
Earlier on Thursday the governor of Borno state, where Chibok is located, said the army was drawing up plans and moving into a Boko Haram forest stronghold in a bid to rescue the remaining girls.
"We believe that in the coming weeks we shall recover the rest of the girls," Governor Kashim Shettima told reporters. "The military is already moving into the forest."
Previous military attempts to storm Sambisa forest have met with mixed success, with soldiers making significant in-roads but failing to finish off the Islamist militants after running into bands of well-armed guerrillas, mines and booby traps.
The #Bringbackourgirls activist group said Amina had told her rescuers the rest of the girls were under heavy Boko Haram guard in Sambisa.
The governor's comments came shortly after Amina, the first girl to be rescued, met Nigerian President Muhammadu Buhari.
"Amina's rescue gives us new hope and offers a unique opportunity to vital information," Buhari, a 73-year-old former military ruler, said during a meeting with the teenager, her mother and officials after a presidential jet flew her to Abuja.
Amina was discovered with her four-month-old baby, and the army said it had detained a suspected Boko Haram militant called Mohammed Hayatu, who said he was her husband.
On Thursday, the military released pictures of a clean-shaven man in a white shirt and cream trousers sitting beside Amina on a hospital bed holding the infant in his lap.
INSURGENCY
Amina, who was accompanied by her mother, Binta, Nigeria's defense minister and national security adviser, spent more than an hour with Buhari, who made crushing Boko Haram a pillar of his 2015 presidential election campaign.
More than 15,000 people have been killed and 2 million displaced in Nigeria and neighboring Chad, Niger and Cameroon during its seven-year insurgency aimed at creating an Islamic state in northeast Nigeria.
Under Buhari's command, and aided by Nigeria's neighbors, the army has recaptured most territory lost to Boko Haram. But the jihadist group, which last year pledged loyalty to Islamic State, still regularly stages suicide bombings.
Boko Haram captured 276 girls in a night-time raid on Chibok in April 2014, its most high-profile assault.
Some girls escaped in the melee but parents of the remaining 219 accused then-President Goodluck Jonathan of not doing enough to find their daughters, whose disappearance led to a wave of global outrage.