Nigeria: One of Kidnapped Chibok Girls 'Refused to Leave Boko Haram Husband'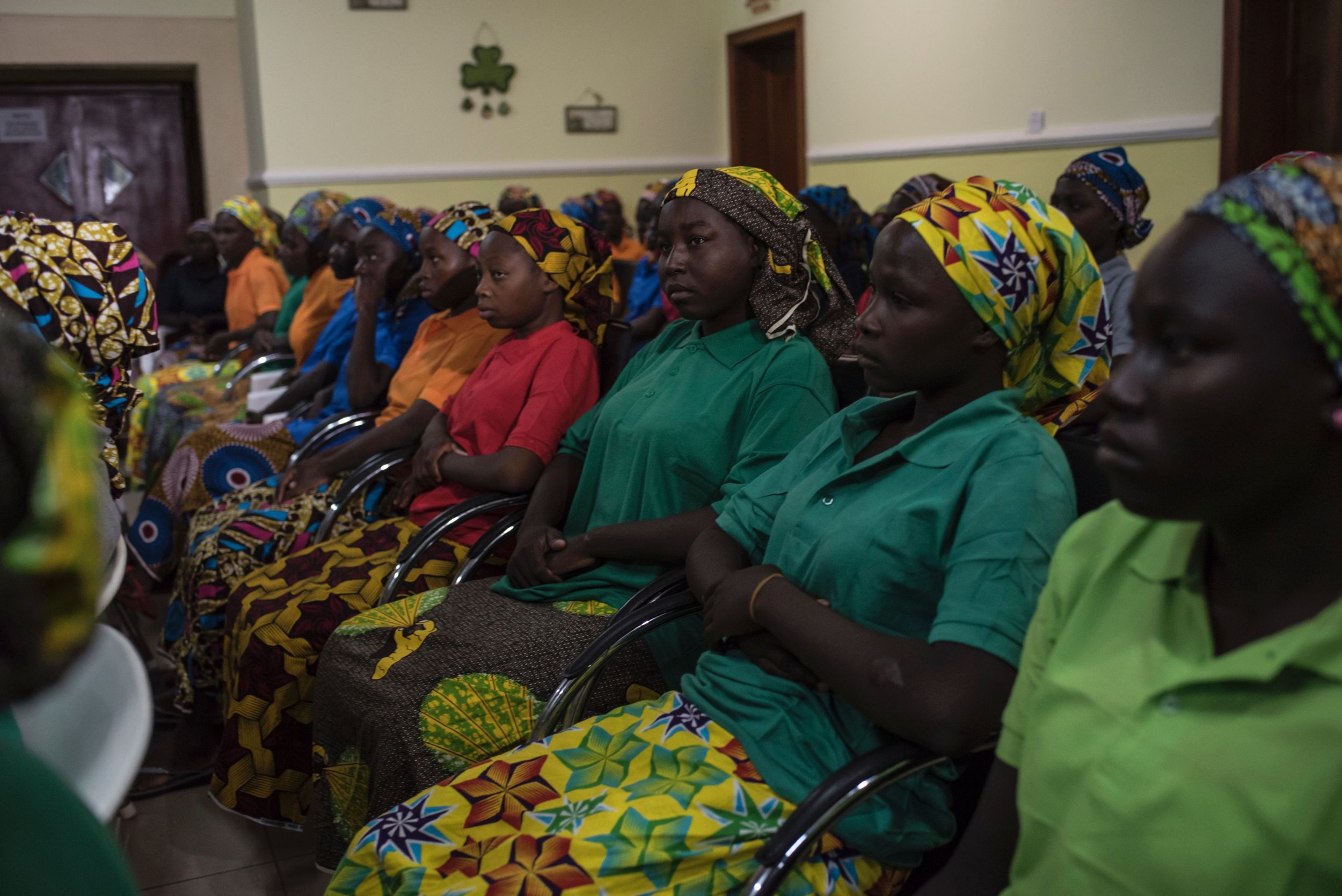 One of the Nigerian schoolgirls kidnapped by Boko Haram, known as the Chibok girls, declined to be released from the militant group's captivity, according to an adviser to the country's president.
Eighty-two of the Chibok girls, who were kidnapped by the militants in April 2014, were released on Saturday as part of a prisoner swap between the Nigerian government and Boko Haram. Five Boko Haram commanders reportedly went the other way in the negotiations, according to Shehu Sani, a Nigerian senator who has been involved in talks with Boko Haram.
A total of 276 girls were kidnapped and 113 have not escaped or been released. Fifty-seven of the girls escaped in the immediate aftermath of the abduction.
Garba Shehu, a special advisor to Nigerian President Muhammadu Buhari, told Nigeria's Channels TV that 83 girls were originally slated to be released. But one of those due to be freed told negotiators that she wished to stay. Shehu said that "one [of the girls] said: 'No, I'm happy where I am. I have found a husband.'"
Boko Haram has kidnapped thousands of others during its eight-year insurgency in northeast Nigeria, but the abduction of the Chibok girls led to worldwide attention. The militants took the girls from their school in Chibok, a small village in northeast Nigeria's Borno state, as they were preparing for their final exams.
The group's leader, Abubakar Shekau, claimed in a video released after the kidnapping that the girls would be taken as wives and sold at market by Boko Haram.
Read more: Why Nigeria's liberated Chibok girls face a long road to freedom
The release of the 82 girls followed negotiations led by the Nigerian government; the Swiss government also participated, while the Red Cross provided transportation for the freed girls. Twenty-one girls were released in October 2016 as part of the same negotiation process, and a further three girls escaped or were rescued by January.
Zannah Mustapha, a Nigerian barrister who led the negotiations, told Newsweek that negotiations were ongoing and that the government was seeking to establish a complete "cessation of hostilities" with Boko Haram, which has been beaten back by Nigerian and regional military offensives in recent years.
The released girls are currently in the care of the government's women's affairs ministry. They will likely begin a months-long rehabilitation program run by the government, which the 24 girls who already escaped are currently undergoing.
Boko Haram has killed thousands and displaced more than 2 million people across northeast Nigeria and surrounding countries.