Nigeria: Muhammadu Buhari Targets Goodluck Jonathan in War of Words Over Corruption, Boko Haram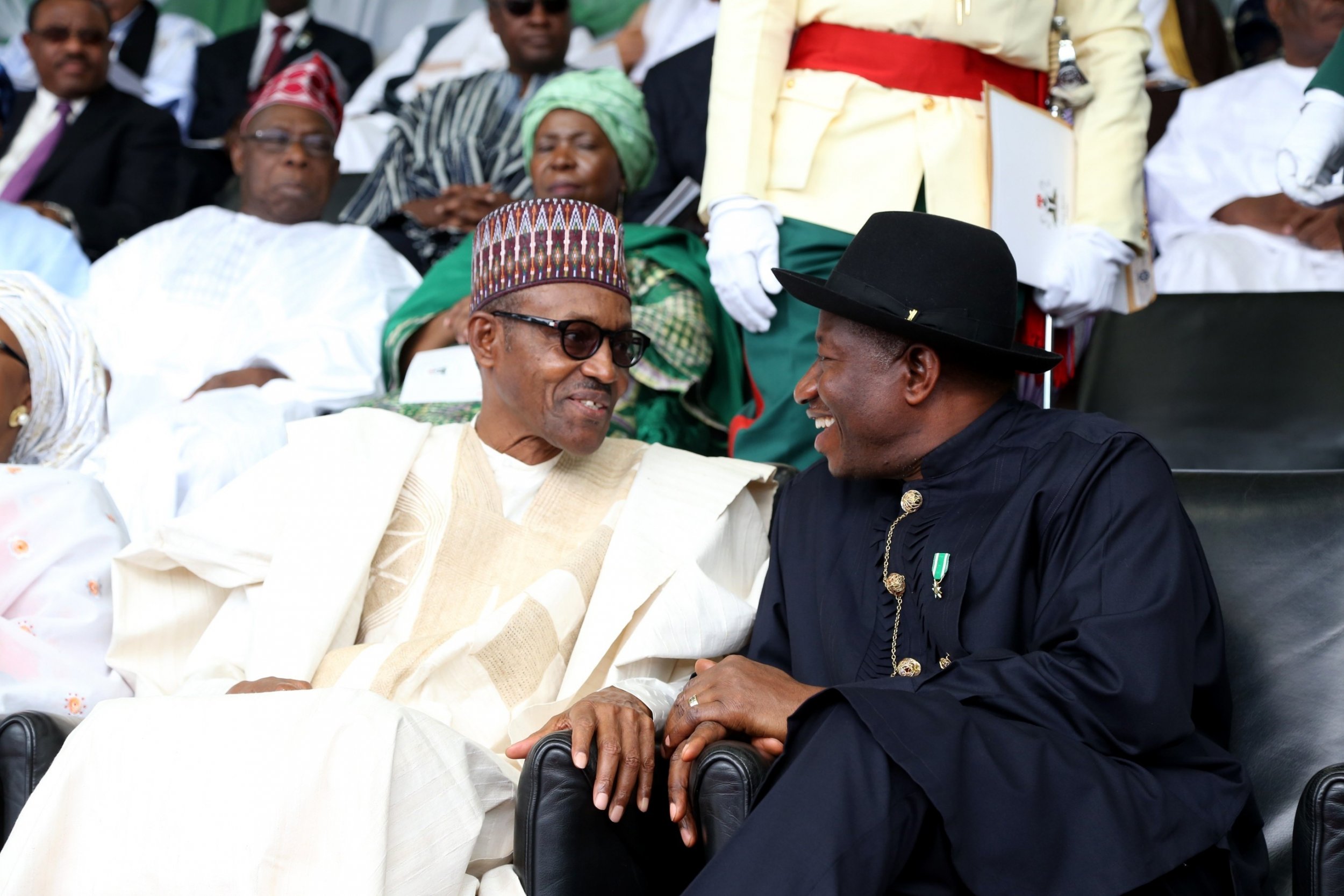 Nigeria witnessed a historic moment in 2015 when former President Goodluck Jonathan stepped aside to allow Muhammadu Buhari—who had just won the West African country's election—to succeed him.
It was the first peaceful transfer of power in Nigerian history, and Jonathan was widely praised—including by Buhari—for leaving office rather than trying to cling to power.
But in recent months, any goodwill between Buhari and Jonathan seems to have evaporated. The two statesmen have exchanged bitter accusations and recriminations through their respective spokespeople on the topics of corruption, Nigeria's flagging economy and the Boko Haram insurgency.
Now Jonathan's wife and former first lady Patience Jonathan has accused the Buhari administration of overseeing an "unjustified witch hunt" against her and her husband that she said was being led by Nigeria's anti-corruption agency, the Economic and Financial Crimes Commission (EFCC).
Patience Jonathan accused the EFCC's acting head, Ibrahim Magu, of "plotting to destroy her and her husband" and appealed to President Buhari to step in, in a statement issued by her spokesman Belema Meshack-Hart and reported by Nigerian newspaper Vanguard.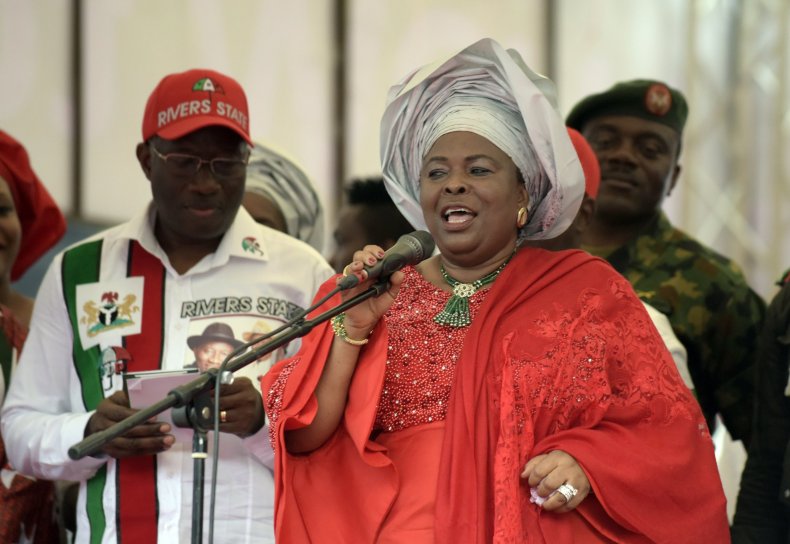 The EFCC has been probing corruption allegations against Patience Jonathan for several years: the former first lady had four accounts containing a total of $31.5 million frozen by the EFCC last year. But Patience Jonathan said that the probe was "desecrating" the office of the Nigerian presidency and suggested that Buhari was targeting her because she was Jonathan's wife.
"Michelle Obama campaigned vigorously for her husband's party during their last presidential election, but we are yet to see President Donald Trump move against her," she said.
Read more: How long will Nigeria survive as a single state?
With Buhari now more than halfway through his first presidential term, commentators have drawn comparisons with Jonathan. Nigeria's economy has been hammered by low oil prices and only recently emerged from recession, but it still needs a gross domestic product increase of 3 percent per year to keep up with population growth.
The Buhari administration has blamed the country's financial straits on mismanagement under Jonathan, despite the former president having global economic conditions in his favor.
"The oil sector boomed under [Jonathan's] tenure, with oil prices as high as $120 and peace in the Niger Delta. Nigeria earned unprecedented dollar revenues. Sadly, that is where the story turns sour," said Buhari's spokesman Garba Shehu in a statement in August. "There is nothing to show for the revenues earned; no major capital project was completed, neither power generation, road development, rail nor agriculture benefited from the windfall earnings."
Jonathan was quick to hit back, with a statement issued through his conduit Reno Omokri, saying that corruption and Boko Haram had worsened under Buhari and claimed that Buhari's spokesman was living in a "fool's paradise."
On the issue of Boko Haram, Buhari and his predecessor have also traded verbal blows. The militant group took up arms against the Nigerian government in 2009—the year before Jonathan came to power—and evolved into one of the world's deadliest militant groups. At its peak in early 2015, Boko Haram controlled territory equivalent in size to Belgium.
Since Buhari came to power, the Boko Haram's gains have been rolled back. Beset by internal divisions, Boko Haram has now been confined to the Sambisa Forest in northeast Nigeria and the shores of Lake Chad—though it still carries out regular, deadly suicide bombings.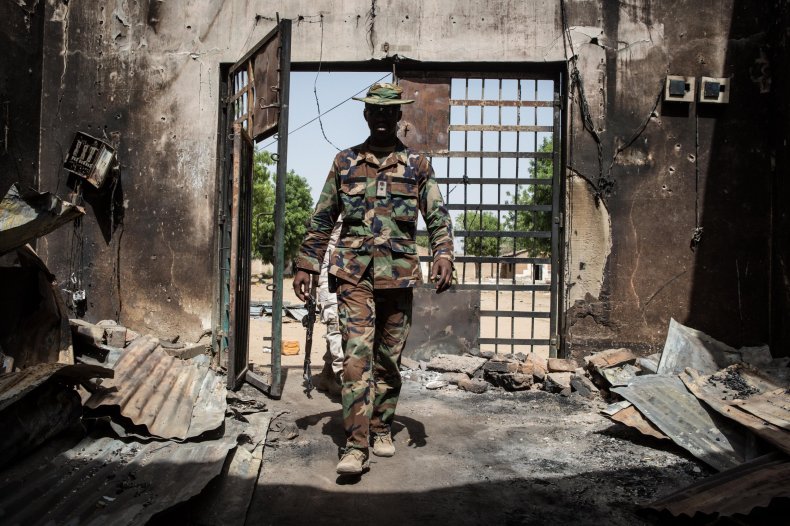 The Buhari administration said that Boko Haram grew under Jonathan due to "incompetence and misgovernance," and Shehu told Newsweek in 2016 that the abduction of almost 300 girls from their school in Chibok in 2014—which sparked a global movement known as #BringBackOurGirls—was an "inherited problem" from the Jonathan years.
Jonathan has rejected the accusations and claimed that his government seized significant territory back from the militants.
The tensions have taken on added significance given the separatist sentiment that has rocked southern Nigeria in recent months. Buhari and his administration have struggled to quell pro-Biafra separatists, who want to re-establish an independent state of Biafra in the southeast. Biafra existed from May 1967 to January 1970, when it was reintegrated into Nigeria at the end of a bloody civil war.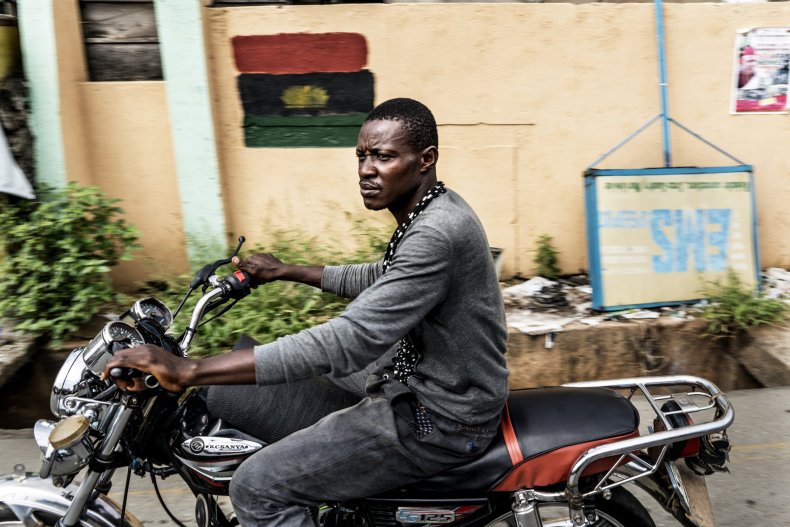 Nigeria is divided sharply along ethnic lines, and the presidency has by tradition rotated between leaders from the north and the south every eight years. Buhari, a northerner, has had little influence over pro-Biafra separatists, who are largely members of the Igbo ethnic group and from the southeast. Jonathan is not an Igbo but a member of the Ijaw ethnicity, but he hails from the southern state of Bayelsa, and his words would undoubtedly resonate with the separatists more than those of Buhari. Jonathan has called for unity in the wake of rising ethnic tensions in recent months, and he could be a valuable ally for the Buhari administration in seeking to de-escalate the conflict.
But the dispute between Buhari and Jonathan does not look like it will go away soon: An EFCC official said that it was not on a "witch hunt" for Patience Jonathan but indicated that the agency would continue to investigate open cases. The outcome could add more fuel to the fire raging between Nigeria's two biggest political personalities.