Nigeria's Muhammadu Buhari Returns From Sick Leave, Finds Out That Rats Have Taken Over His Office
Muhammadu Buhari returned to Nigeria on Saturday after a three-month medical absence—only to find his office infested with rats.
A spokesman for the 74-year-old Nigerian president, who has been in the U.K. since May 7 receiving treatment for an undisclosed ailment, said that Buhari would be working from home while renovations were carried out at his office at Aso Rock, the Nigerian statehouse.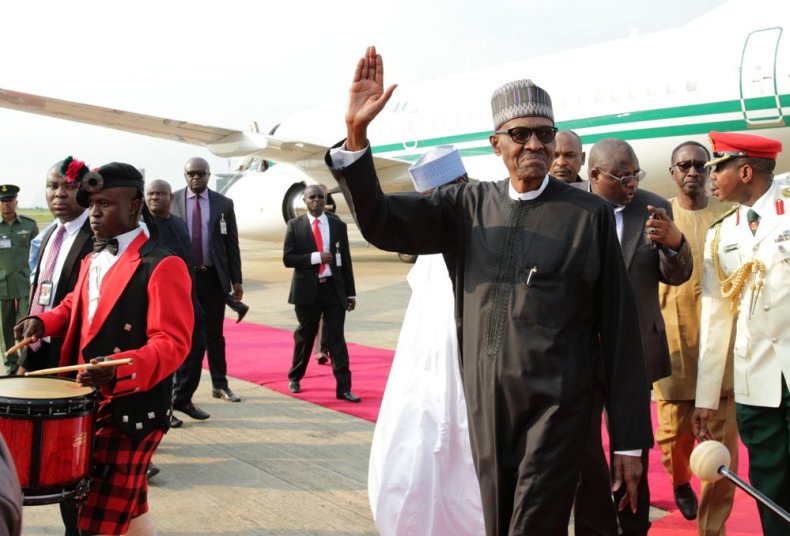 "Following the three-month period of disuse, rodents have caused a lot of damage to the furniture and air conditioning units," Garba Shehu told Nigerian news site ThisDay.
He explained that Buhari's home had an office annex and that the efficiency of his work would not be affected by the renovations.
Shehu also said that the maintenance company responsible for the work had been asked to speed up the process, though he declined to put a date on when Buhari would return to the office.
Newsweek contacted Shehu for confirmation and additional comment but received no reply.
Another of Buhari's media advisers, Femi Adesina, said that renovations were needed in the regular office because "103 days of absence affected it, there was some deterioration there." Adesina said that the office in Buhari's house was almost an identical replica of his main office and that President Buhari was not "luxuriating at home" as some media reports had suggested.
Related: How long will Nigeria survive as a single state?
The comments provoked interest from Nigerians on social media, who have constantly called on their government to be more transparent about the nature of Buhari's illness.
But some Nigerians have welcomed the president home following his extended absence, marching through Abuja, the Nigerian capital, on Tuesday to express their delight at his return, the BBC reported.
Others have continued to question whether the former military ruler is fit enough to lead the country, which is facing an economic crisis and multiple security threats. Prior to his latest absence, Buhari also spent almost two months in the U.K. between January and March to receive medical treatment. The Nigerian government has failed to provide any real information about the nature of his illness and whether it poses a long-term risk to Buhari's health.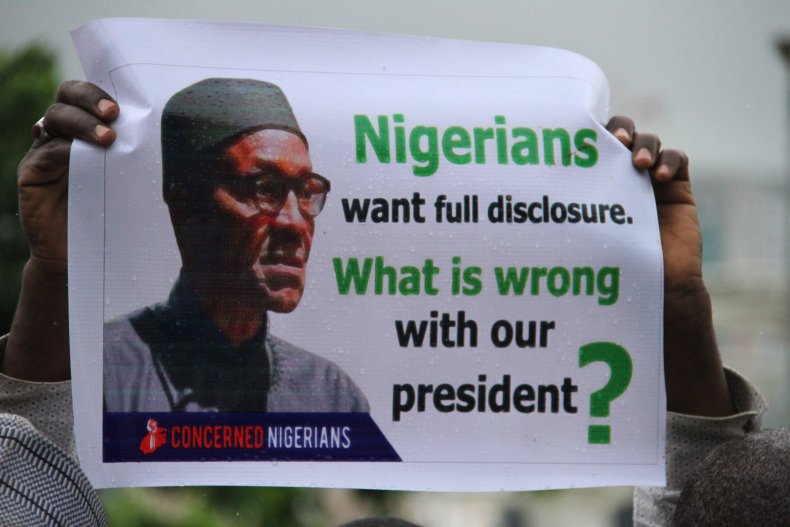 Buhari called for unity in his return speech on Monday and promised to crack down on "irresponsible elements" that had called for the dissolution of the country. During Buhari's absence, there were ethnic tensions after a northern Nigerian group called for the expulsion of Igbos, a major ethnic group in Nigeria, from the region.
Some have also continued to call for the establishment of an independent state of Biafra, which existed in southeast Nigeria from 1967 to 1970, until it was reintegrated at the end of a bloody civil war.
Nigeria is currently mired in a recession caused largely by the global downturn in oil prices and is still battling the Boko Haram insurgency in the northeast, which began in 2009 and has killed tens of thousands of people. The Nigerian government also faces security threats from militants in the oil-producing Niger Delta and clashes between farmers and nomadic herdsmen in central Nigeria.
In Buhari's absence, Nigeria's Vice-President Yemi Osinbajo has been running the country. Osinbajo met with Buhari for a briefing on Monday and has said that he is "extremely happy" that the president had returned in good health.