Nigeria: Pro-Biafra Leader Tries to Calm Tensions After Ethnic-Cleansing Call
Fifty years after a brutal civil war in Nigeria, the leader of a pro-Biafra group has sought to calm tensions in the West African country following a youth coalition's call for ethnic cleansing.
The Northern Youth Groups issued a statement on June 6 demanding the expulsion of members of the Igbo from northern Nigeria. The Igbo people are one of nation's largest ethnic groups and are traditionally based in the east.
The call came around the 50th anniversary of the Biafran War, when ex-Nigerian military officer C. Odumegwu Ojukwu unilaterally declared an independent Republic of Biafra in Nigeria's southeast, which was mainly populated by Igbos who had fled persecution elsewhere in the country.
Following the declaration of Biafra's independence in 1967, the Nigerian military blockaded the state and fought a three-year civil war against secessionist forces; at least 1 million people were killed, many because of starvation, before the war ended in 1970 with the return of Biafra to Nigeria.
The chief of the Movement for the Actualization of the Sovereign State of Biafra (MASSOB), Ralph Uwazuruike, traveled to the northern city of Kaduna on Monday to call for peace, Nigeria's Premium Times reported.
Read more: Ahead of the Biafran War anniversary, ethnic tensions are flaring up in Nigeria again
Uwazuruike also distanced himself and his group from Nnamdi Kanu, the leader of the Indigenous People of Biafra (IPOB). Kanu was freed on bail in April after almost two years in detention following his October 2015 arrest; he has been charged with treasonable felony and is awaiting trial.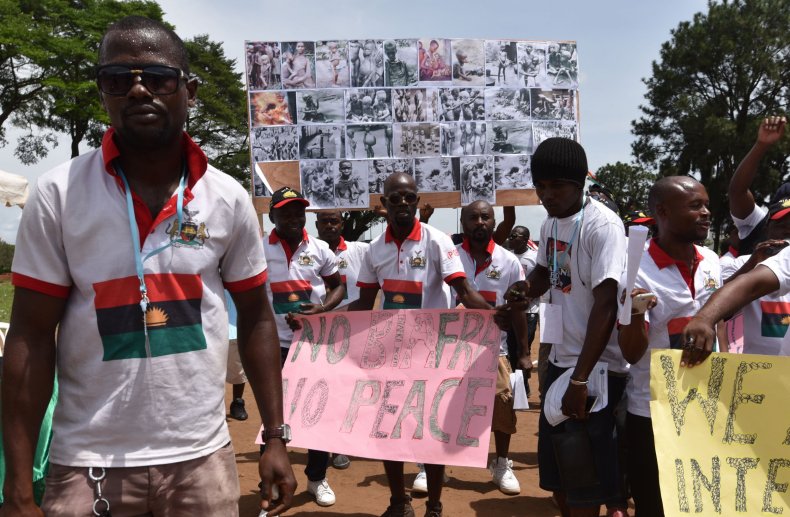 Kanu and IPOB have called for the secession of Biafra from Nigeria; the leader's arrest and subsequent detention have provided a rallying point for pro-Biafra protests, some of which have turned violent. Amnesty International said in November 2016 that Nigerian security forces had killed at least 150 pro-Biafra protesters since August 2015; the Nigerian military said it had used proportionate force to quell violent protests.
"MASSOB had existed for 18 years without violence," said Uwazuruike, "but in 2009, I went to London and opened Radio Biafra and handed it over to Nnamdi Kanu as the director. Soon afterward, politicians hijacked him, and he started working for them." Radio Biafra, based in London, is now a pirate station associated with Kanu and IPOB.
The MASSOB leader met with Hamza al-Mustapha, an ex-aide to late Nigerian military ruler Sani Abacha, in Kaduna on Monday. The pair emphasized that Igbos were welcome to remain in the north and that Nigerians should continue to go about daily life as usual in the east and southeast.
Nigeria is home to more than 200 ethnicities. The three largest ethnic groups are roughly distributed by geography: Besides the Igbo, there are the Yoruba, who are mainly based in the west and the Hausa-Fulani, who are concentrated in the north. The country is also divided between a mostly Muslim north and a largely Christian south. Religious and ethnic differences are often a source of tension.
Uwazuruike said that while pro-Biafra groups like MASSOB would continue to call for self-determination, there was no desire for another secessionist conflict. "Self-determination without violence is a fundamental right. We must strive against sowing the seeds of discord but do all that will promote peace and justice," he said.
Nigeria's Vice-President Yemi Osinbajo—who is the country's acting leader while President Muhammadu Buhari recuperates from a mysterious medical condition in London—has called for Nigeria to remain a united country.
"The most successful of the nations of the world are those who do not fall into the lure of secession, but who through thick and thin forge unity in diversity," said Osinbajo in May.