How a Nigerian Presidential Council Can Revive the Country's Ailing Economy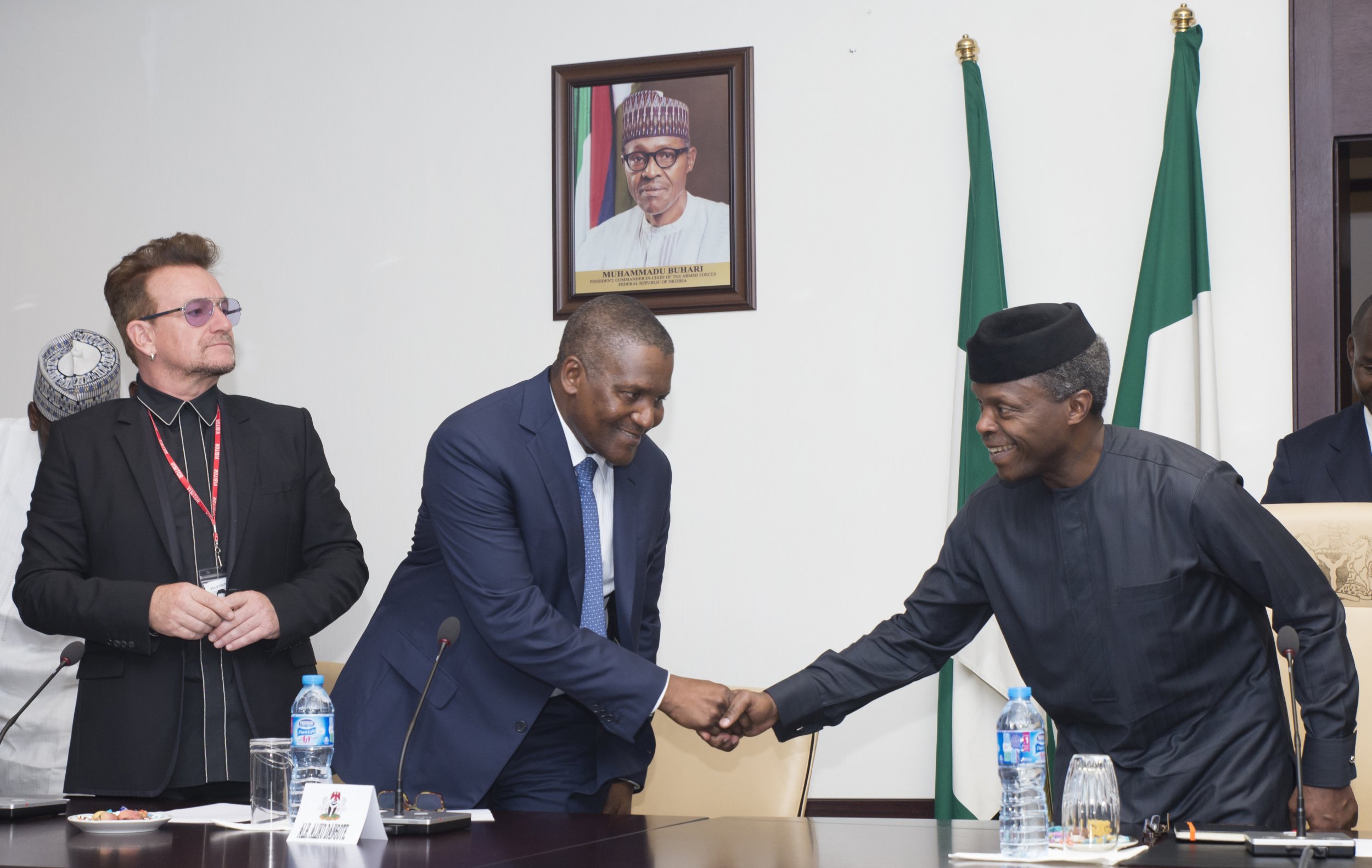 Sub-Saharan Africa has been enjoying an economic boom over the past decade, but for many of the region's economies, the near future is shaping up to be more challenging.
In October 2016, the International Monetary Fund's (IMF) regional economic outlook for sub-Saharan Africa predicted that, despite multispeed growth on the continent that would find some African countries continuing to progress well through 2017, the region would see its slowest overall growth in 20 years. At the center of the continent-wide slowdown are sub-Saharan Africa's resource-based economies, including one of the region's largest—Nigeria.
Hard-hit by low oil prices and the spillover from diminished growth in China, Nigeria can no longer afford business as usual. A year of recession and pervasive foreign exchange shortages demand that Nigerian leaders explore and implement new and creative policy solutions that unleash economic growth by attacking widespread bureaucratic inefficiency.
Some members of President Muhammadu Buhari's administration have recognized this and, in October 2016, created the Presidential Enabling Business Environment Council (PEBEC), chaired by Vice-President Yemi Osinbajo. The Council's purpose is to coordinate policy reforms that will make it easier to do business in Nigeria. It announced a 60-day plan of reforms, beginning in late February, and businesses eagerly await execution.
Nigeria's most recent presidential election in 2015— the country's first in which an incumbent was unseated by an opposition candidate through democratic processes widely accepted as free and fair—brought broad optimism for much-needed reform. In his May 2015 inauguration speech, President Buhari pledged to break with the country's long history of corruption, to defeat the Boko Haram militants plaguing its northeast, and to attack poor economic performance.
Nearly two years later, the honeymoon period is long over and the majority of Nigerians are frustrated by the slow pace of change. While the country has made headway against Boko Haram and the government has taken steps in Buhari's crusade against corruption (albeit with mixed results ), the economic situation has been dire. Even if Nigerian growth becomes positive in 2017, as predicted by the IMF, a rate of less than 1 percent falls far short of population growth and the aspirations of the country's 90 million-strong youth population. To reverse course and spur expansion this year, Nigeria must become more efficient and eliminate the obstacles facing its entrepreneurs.
Nigeria is dynamic and entrepreneurial; local businesses want and need to export now more than ever. They have been pinched by a lack of vital foreign exchange and been forced to slow their capital investments and expansion plans. Imported capital hit an unprecedented low in 2016, while inflation topped 18 percent. Inefficiencies related to trade, particularly in terms of exports, have only exacerbated the problem. The 2016 Enabling Trade Report put Nigeria's overall rank at 127 of 136. Almost 10 years ago, experts estimated that a reduction in factory-to-ship time from 41 days to 27 would create a 15 percent boost in Nigerian exports. Entrepreneurs today report similar slow timelines and are calling for a streamlining of bureaucratic obstacles to trade, particularly with regards to agricultural exports.
Reducing the time to market for Nigerian exporters from weeks to days could have measurable economic impact in the short term, and there is an example for Nigeria to follow in East Africa. The Northern Corridor Integration Project (NCIP)—an intergovernmental initiative between Kenya, Rwanda and Uganda, all of which are served by the Kenyan port of Mombasa—is a successful example of how to do so.
The leaders of the three countries have met every two months for the past two years to address longstanding bottlenecks in port processing and cargo transport by attacking a myriad of border inefficiencies. Their efforts have yielded rapid returns with no associated major investment costs. Travel times for cargo trucks driving between Mombasa and Kampala, Uganda's capital, were reduced from 18 days to four days, and between Mombasa and Kigali, the capital of Rwanda, from 21 days to six days within less than a year.
Three things combine to make the NCIP successful: political will at the highest level; clearly-defined responsibility for projects; and public accountability through transparency. At bimonthly presidential NCIP summits, the presidents of Kenya, Rwanda and Uganda listen to progress reports from their ministers and, by their presence, create pressure for continued improvements.
Although East Africa is very different from Nigeria, the principles behind the NCIP can be applied to the Presidential Enabling Business Environment Council's efforts to improve the policy environment for doing business. Time will tell if there is true political will and effective coordination between the ministries and within the myriad agencies that fall under their control. Uncertainty around President Buhari's health and the recent closure of the airport in Abuja, the nation's capital, have overshadowed the Council's work in the public eye.
What is clear is that the PEBEC needs to significantly improve the transparency around the 60-day execution plan. The plan, which includes targeted reforms in areas such as land titling, company registration and visa processing, should be accompanied by a tech platform that tracks progress in a public and transparent way. That way, businesses, citizens and civil society could create pressure for progress and feed valuable information back into the system. Such a tech platform could be created through a PEBEC sponsored hackathon—a computer programming event to align the energy and passion of the youth for innovation with the public good.
Given Nigeria's size compared to all of East Africa, it will take a strong commitment to transparency, systematic coordination and innovation to give confidence to a skeptical market. Incremental, but meaningful, progress can be made if PEBEC partners with Nigerian entrepreneurs in the name of enhancing efficiency at home.
Aubrey Hruby is co-founder of the Africa Expert Network and co-author of The Next Africa.