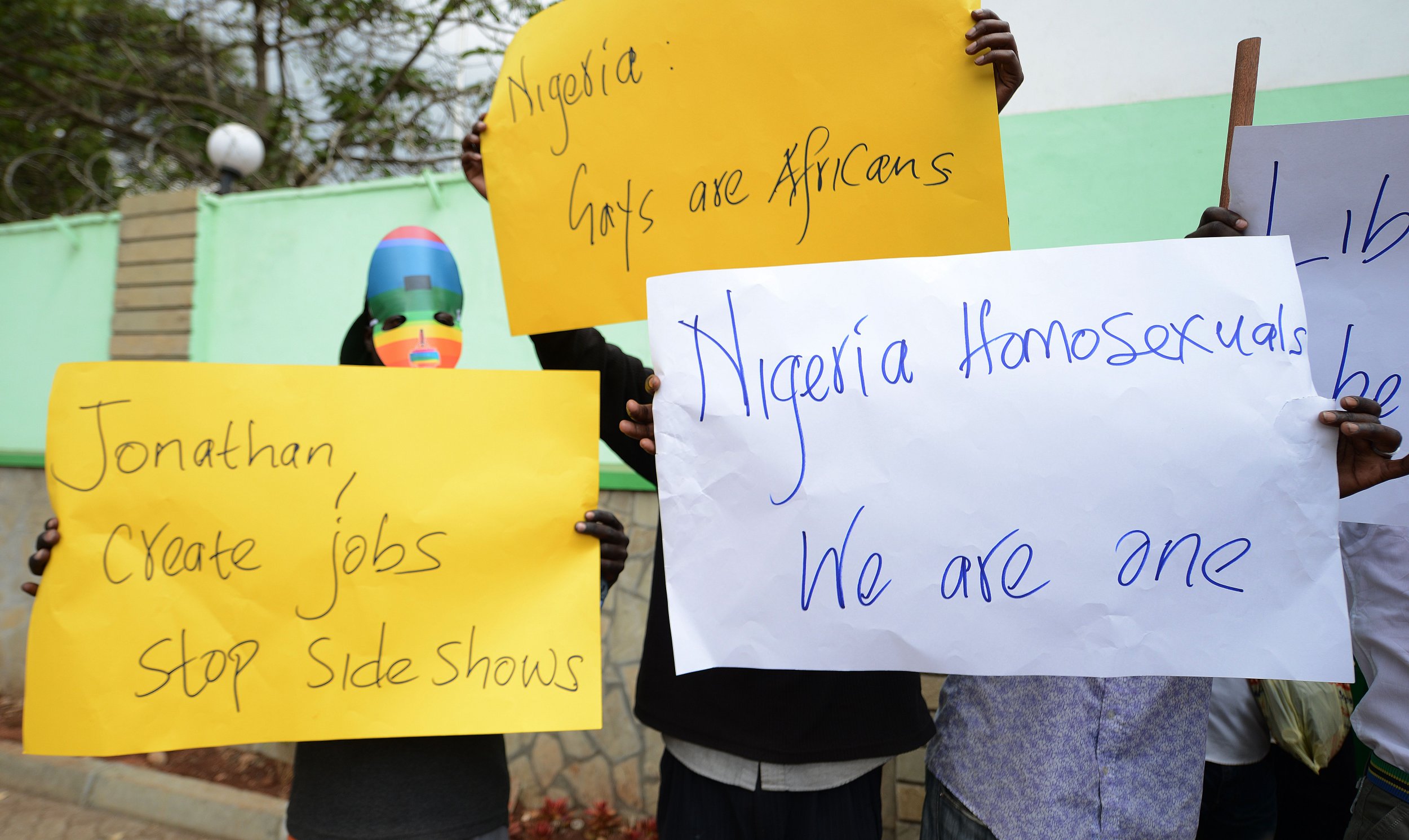 Update | Nigerian prosecutors have charged 53 people for allegedly witnessing a same-sex marriage, which is punishable by 10 years in prison in the socially conservative West African country.
Police in the northern state of Kaduna arrested the accused on April 15, Nigeria's Premium Times reported. A police prosecutor said that the persons "conspired to celebrate a gay marriage" at a motel, and that the two men who were to be married were on the run.
The 53 accused were charged with conspiracy, unlawful assembly and belonging to an unlawful society. The suspects pled not guilty and the chief magistrate set bail for each of them at 500,000 naira ($1,600).
But a human rights activist in Kaduna with knowledge of the event tells Newsweek that the gathering was actually a birthday party and there was no same-sex marriage. He says that the charges were fabricated by the police in an attempt to extort money from the arrested men.
"The charges were spurious, merely trumped-up charges," says Ben Ikeokwu, the head of Wavemakers Initiative, a human rights and health advocacy organization based in Kaduna. Ikeokwu adds that the police were "exploiting" the criminalization of same-sex marriage by labeling the event as such.
Newsweek attempted to contact the spokesperson for Kaduna's police force but received no immediate reply. The case has been adjourned until May 8.
Former Nigerian president Goodluck Jonathan passed the Same Sex Marriage Prohibition Act that criminalizes not only same-sex marriages, but also the registration of "gay clubs, societies and organizations" and also bans the public show of affection between same-sex couples.
Anyone who enters a same-sex marriage or civil union, if convicted, faces a 14-year prison sentence; anyone who witnesses or aids the marriage is liable to 10 years' imprisonment.
Bisi Alimi, a Nigerian LGBT rights activist based in the U.K., tells Newsweek that the men are being "blackmailed" by police.
"This incident is a reflection of the absurdity of the Same Sex Marriage Prohibition Act. We know that people can be blackmailed for it and unfortunately it's now the state that is using it to blackmail people," says Alimi. "We know that there was no wedding taking place but the police have used the SSMPA to arrest these people."
Alimi, who says he has spoken to the defense lawyer, says that all of those arrested are above 18 years of age. He says that some of the boys are HIV-positive and do not have access to medication, and that the bail had been set at an "unmeetable" level.
Nigeria is a highly religious society that is roughly divided between a majority-Muslim north and a largely-Christian south. Kaduna state, where the incident allegedly occurred, is one of 12 states in northern Nigeria that have instituted Sharia law in part or in full. Under Islamic law, homosexuality can be punished by death by stoning.
Western governments, including the U.K. and United States, condemned the 2014 law when it was passed. The then-U.S. Secretary of State John Kerry said that the law was "inconsistent with Nigeria's international legal obligations," while the British High Commission said it "infringes upon fundamental rights of expression and association" guaranteed by the Nigerian constitution.
A 2016 report by Human Rights Watch found that incidents of mob violence against purported homosexuals had increased since the law was passed, and the Nigerian police had arbitrarily arrested and extorted people they accused of being gay.
Despite the outrage among Western observers and rights groups, the law appears to be largely reflective of views among Nigerians. A 2013 Pew Research Center study found that 98 percent of Nigerians believed society should not accept homosexuality—the highest percentage of any of the 39 countries surveyed.
This story has been updated to include comments from Ben Ikeokwu.