Shiites Criticize Nigeria Over Sheikh Zakzaky Detention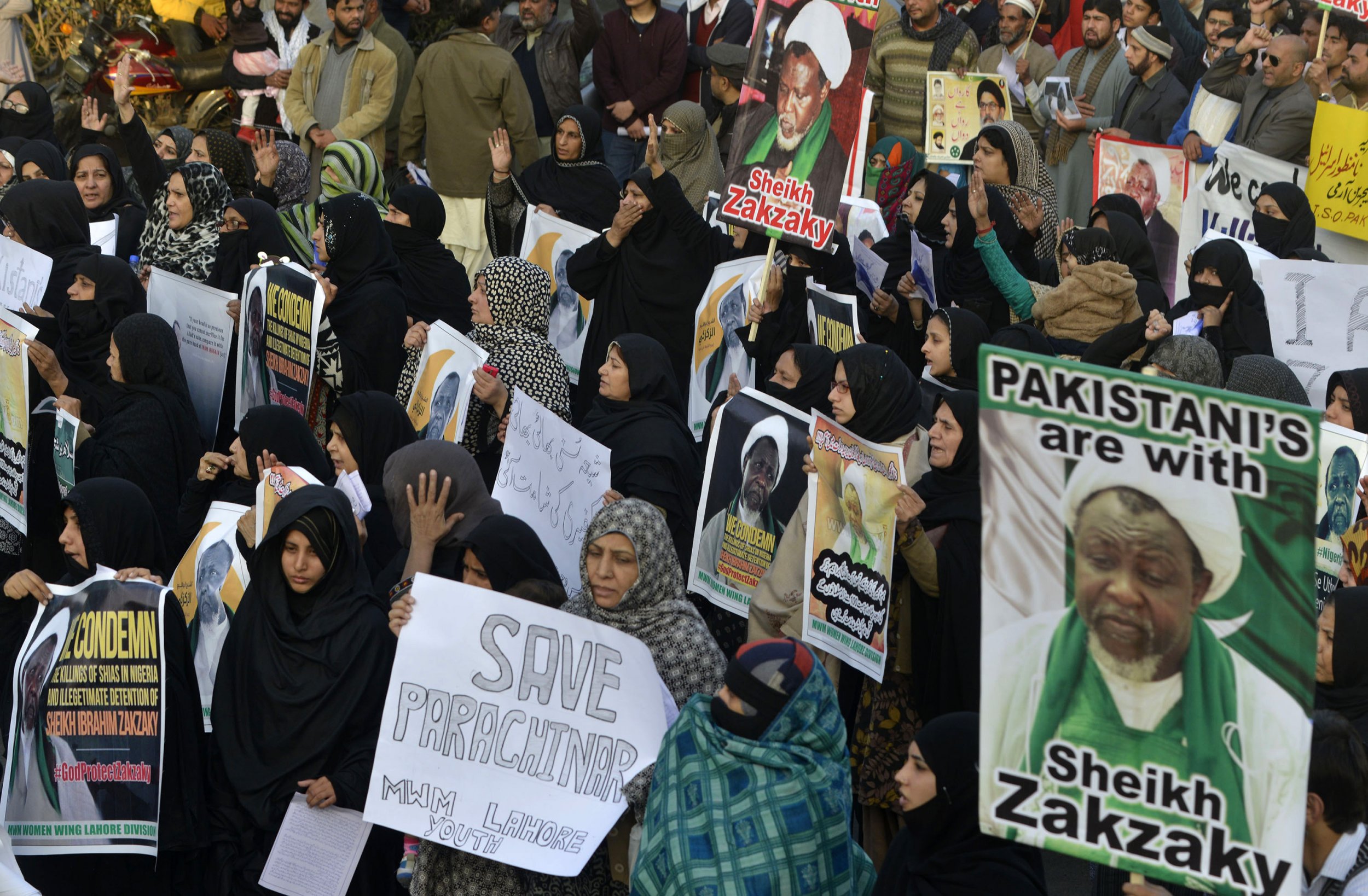 Nigeria's main Shiite group has lashed out at the country's authorities for detaining its leader Sheikh Ibrahim Zakzaky for more than two months without charge.
Nigerian security forces arrested Zakzaky, the influential leader of the Islamic Movement in Nigeria (IMN), during clashes between members of the movement and the Nigerian army between December 12-14, 2015. Zakzaky has been in detention since then and the IMN claims it has been unable to contact him.
At least 300 IMN members were killed in the conflict in the northern city of Zaria, Kaduna state, according to Human Rights Watch (HRW). The events were "a brutal overreaction" by the Nigerian military, at best, and at worst "a planned attack on the minority [Shiite] group," according to HRW's Africa Director Daniel Bekele. The Nigerian Army has not released a death toll but said the fighting started because IMN members had tried to assassinate the chief of army staff, Lieutenant General Tukur Yusuf Buratai. Army spokesman Colonel Sani Usman has previously told Newsweek that the military "[is] not targeting Shiites or any ethnic group or religious group."
The IMN also said on Monday that it rejects the composition of the judicial commission of inquiry that the governor of Kaduna established to investigate the events, claiming that some of its members are biased. The commission is due to meet again on Monday.
Zakzaky's detention and the clashes between Shiites and authorities have sparked international outcry. Iranian President Hassan Rouhani reportedly called his Nigerian counterpart Muhammadu Buhari in December 2015 to request an investigation of the killings. One of Nigeria's top Muslim authorities, the Sultan of Sokoto Muhammad Sa'ad Abubakar, warned the Nigerian authorities to deal carefully with the issue or risk radicalizing Shiites in the West African country. Boko Haram, an extremist Sunni militant group that has conducted a six-year insurgency in northeast Nigeria, turned violent in 2009 after its then-leader Mohammed Yusuf was killed while in police custody.
In a statement published on its Facebook page on Monday, the IMN claims that Zakzaky has been held in detention for more than 70 days, without being charged or given access to his legal team and personal physicians. "Our country and its laws do not sanction detention without trial," the statement said. "We are convinced that there is a grand conspiracy to destroy the leader of the Movement and the Movement itself."
Nigerian prosecutors charged nearly 200 IMN members earlier in February with illegal possession of firearms and causing a public disturbance. The hearing took place inside the central prison in Kaduna, where the suspects are being held. All pleaded not guilty and the trial will resume on March 29.