Nigerian Army Tweets Trump Video to Justify Shooting Protesters
Threatening comments made by President Donald Trump toward migrants heading for the southern U.S. border are being used to justify the shooting of protesters in Nigeria.
The Nigerian army on Friday tweeted a video of Trump, in which he warned U.S. troops would shoot any migrants throwing stones if and when they reached U.S.-Mexican border crossings. The video was accompanied with the message, "Please watch and make your deductions."
On Thursday, Trump said of the migrants, "We're not going to put up with that. They want to throw rocks at our military, our military fights back…. I told them to consider it a rifle. When they throw rocks like what they did to the Mexican military and police, I say consider it a rifle."
The president has been condemned for his inflammatory remarks toward the migrants, who he claims are hoping to rush the border and break into the U.S. The caravan is still more than 1,000 miles from the U.S. frontier.
But the Nigerian army has apparently taken to heart from Trump's comments following the killing of Shiite protesters during a march by the Islamic Movement of Nigeria (IMN) in the capital Abuja on Monday, according to a CNN report.
Nigerian defense spokesman John Agim told Agence France-Presse (AFP) the army posted the video as a reaction to allegations its forces had acted illegally in dispersing the demonstration.
Amnesty International said Wednesday that at least 45 people were killed in the shooting, which it claims was carried out by police and soldiers wielding automatic weapons. The organization called the incident an "unconscionable use of deadly force by soldiers and police." The army claimed only six people were killed.
"The video was posted in reaction to the Amnesty International report accusing the army of using weapons against pacifist Shiite protesters," Agim told AFP. "Not only did they use stones, but they were carrying petrol bombs, machetes and knives, so yes, we consider them as being armed."
Agim explained: "We intervened only because the IMN members are trying to harm our people, they are always meeting us…at security checkpoints and trying to provoke us, they even burned a police vehicle."
On Thursday, the U.S. embassy in Nigeria called for an investigation into the violence and said it was "concerned" at recent developments.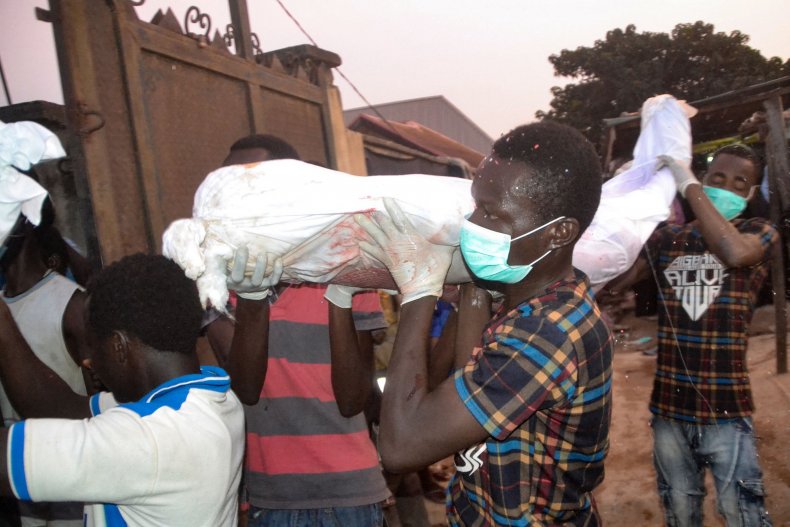 Monday's bloodshed was the second violent incident in three days. Clashes erupted Saturday as Shiites took part in the Arbaeen—a commemoration of the death of Prophet Mohammad's grandson and third Shiite Imam Husayn ibn Ali in 680. Violence reportedly erupted when the marchers met a police checkpoint just outside the capital.
Army spokesman James Myam said in a Facebook post that the troops opened fire to "extricate" themselves from the area after violence broke out. He also said that IMN members attacked a military convoy forcing soldiers to open fire. At least three people were killed and two soldiers injured, the army said.
Wednesday's march was to protest the weekend deaths and call for the release of IMN leader Ibrahim Zakzaky, who has been in custody since 2015, when an army crackdown killed 300 of his supporters. Zakzaky is facing a culpable homicide charge related to the deaths.