Nigeria: 65 Biafra Separatists Arrested After Holding Pro-Donald Trump Rally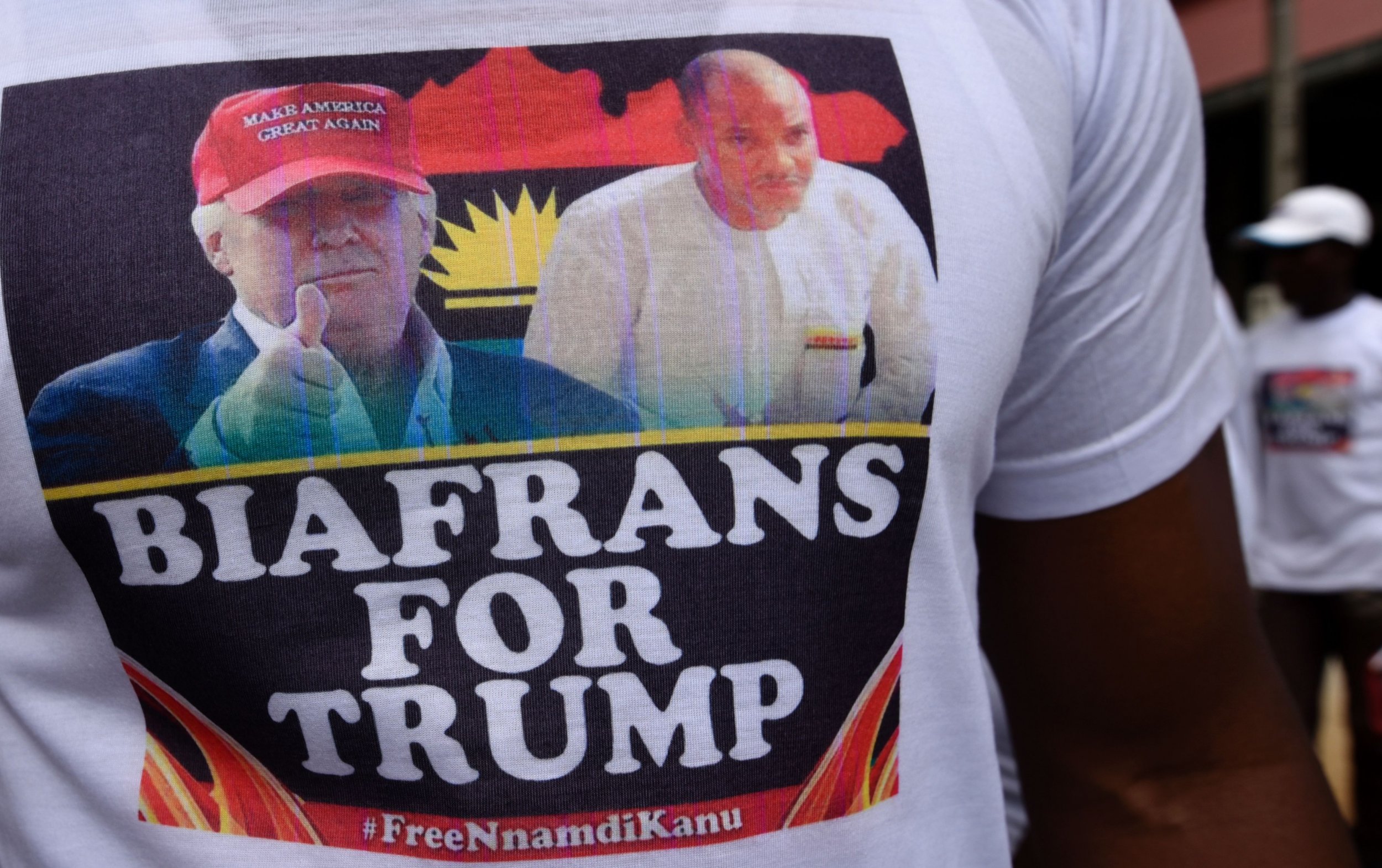 Nigerian police arrested 65 people at a rally held by pro-Biafra separatists to celebrate the inauguration of U.S. President Donald Trump, a deputy police chief said Sunday.
The Indigenous People of Biafra (IPOB)—an activist group calling for the creation of an independent republic in southeastern Nigeria—organized Friday's rally in Port Harcourt in Nigeria's southern Rivers state.
But the state's deputy police chief Ahmed Magaji said that the protest was "unlawful" and had disturbed the public order, AFP reported. Magaji added that "suspected" IPOB members were arrested, some carrying the movement's flag, and that tear gas was used to disperse the crowds.
A spokesperson for IPOB's U.K. branch, Emma Nmezu, tells Newsweek that more than 200 protesters were arrested and that "scores of our people were killed." Newsweek was not able to independently verify whether any deaths occured during the rally, and Magaji did not mention any deaths in his statement.
Biafra existed as an independent republic in Nigeria between 1967 and 1970. The declaration of Biafran independence in 1967 by military officer Odumegwu Ojukwu sparked a three-year civil war with the Nigerian army, in which more than 1 million people died. Many of the victims starved to death as Nigeria blockaded the newly-established state's borders.
Separatist sentiment among supporters of Biafra has risen in recent years following the October 2015 arrest of IPOB leader Nnamdi Kanu in Lagos. Kanu remains in Nigerian custody and is facing trial for treasonable felony. His trial has suffered multiple delays.
Activists campaigning for Kanu's release and Biafran independence have clashed on several occasions with Nigerian police and soldiers; Amnesty International said that at least 60 people were killed during a May 2016 protest and accused Nigeria's security forces of carrying out extrajudicial executions of some of the activists. The Nigerian Army said it exercised "maximum restraint" in dealing with the protest.
Pro-Biafra activists celebrated Trump's election victory in November 2016. Kanu's wife, Uchechi Okwu-Kanu, told Newsweek at the time that the movement believed that Trump would defend its right to self-determination. Groups backing Biafran independence also celebrated the U.K.'s vote to leave the European Union, calling for a referendum on whether to create a separate state in Nigeria.