Nigerian President Says He Is Not Dead and Not a Clone: 'It's the Real Me'
Nigerian President Muhammadu Buhari has been forced to deny claims he has been replaced by a Sudanese doppelgänger, finally addressing a wacky conspiracy theory that has been making the rounds on social media for several months.
Buhari spent five months in the U.K. last year receiving treatment for an unknown illness, according to The Guardian. There are numerous theories as to why he was in the U.K., but proponents of one of the more extreme explanations suggest he actually died during this period and was replaced by a look-alike called Jubril.
Though no concrete evidence has ever been provided, conspiracy theorists have published multiple videos on YouTube, Facebook and Twitter detailing their claims. The videos have been viewed thousands of times.
Buhari was in Poland this weekend to attend a conference. Speaking during a town hall session with Nigerians, the president was asked about the Jubril theory. He replied: "It's the real me, I assure you. I will soon celebrate my 76th birthday, and I will still go strong."
Some of his colleagues could be seen laughing alongside him as he went on: "A lot of people hoped that I died during my ill health. Some even reached out to the vice president to consider them to be his deputy because they assumed I was dead. That embarrassed him a lot, and, of course, he visited me when I was in London convalescing."
Buhari said those spreading the rumor were "ignorant and irreligious" and suggested, "If I am getting harassed by anyone, it is my grandchildren, who are getting too many."
Buhari's comments were sent out by his office in an emailed statement titled "It's Real Me, President Buhari Responds to Cloning Allegation." The video of the president dismissing the theory was also posted to Buhari's Twitter account and pinned on his profile page.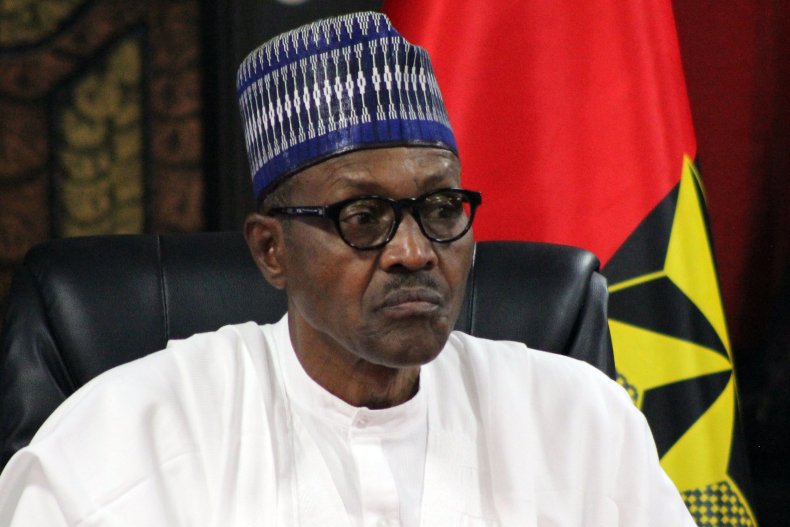 According to The Guardian's Nigerian affiliate, the doppelgänger conspiracy theory owes much of its traction to separatists hoping to establish an independent state called Biafra in the southeast of Nigeria.
Nnamdi Kanu, the leader of the Indigenous People of Biafra organization—one of the most prominent groups in the Biafra struggle—is a major proponent of the Jubril allegation. He claims the imposter is nearly identical to Buhari, with the exception of a cleft ear, a broad nose bridge and suspiciously young-looking hands.
According to Agence France-Presse, the earliest mention of the imposter conspiracy was in a video posted by Twitter user @sam_ezeh on September 3, 2017. The video has since been shared more than 5,000 times on Facebook and Twitter.
In the video, Kanu tells a crowd, "The man you are looking at in the television is not Buhari…. His name is Jubril, he's from Sudan. After extensive surgery, they brought him back."
According to the Daily Post website, Kanu responded to Buhari's speech by declaring, "I said Jubril is an impostor. [The conspirators] brought him in to act and behave like the 'dead' Buhari. I never said he was cloned.… The introduction of cloning into the narrative was a ploy to confuse the people."
The rumor has reportedly been fueled by the mysterious death of a Nigerian diplomat in May. Habibu Almu was found stabbed to death in the Sudanese capital of Khartoum, and a Sudanese woman of Nigerian origin was arrested on suspicion of involvement.
Local police said the killing did not appear to be politically motivated, but conspiracy theorists took it as evidence of a Sudanese-Nigerian effort to cover up the Jubril plot.