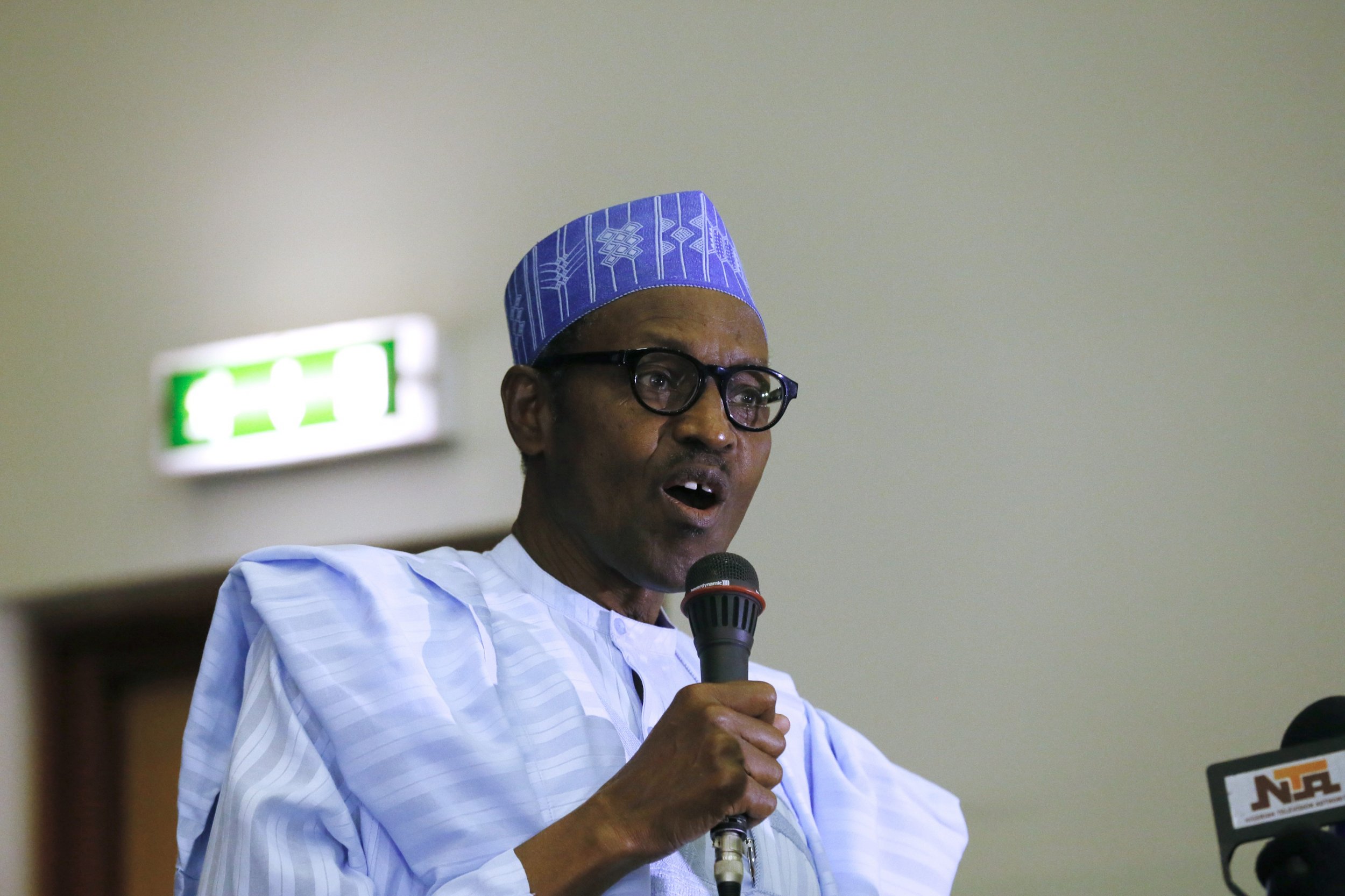 Nigerian opposition leader Muhammadu Buhari has pledged to drive Boko Haram out of Nigeria if he is elected in the upcoming presidential vote, in a speech delivered at London's Chatham House today.
Buhari, 72, arrived into London on a "charm offensive" in order to ease Western fears about his rule if he comes to power, meeting with high-level British officials such as former prime minister Tony Blair.
In the key speech of his London visit, All Progressives Congress (APC) leader Buhari did not mention his counterpart, People's Democratic Party (PDP) leader and incumbent president Goodluck Jonathan, but criticised a lack of leadership in the fight against Boko Haram as the militant group continue to wage their insurgency in the country's northeastern regions.
He pledged to change the fight against the radical Islamist militants by sufficiently equipping the Nigerian army with the training and ammunition required to defeat them.
"What has been consistently lacking is the required leadership in our battle against insurgency," he said. "Our soldiers have neither received the necessary support nor the required incentive to tackle this problem. Let me assure you that if I'm elected president, I vow to change that," he added.
"We will give them adequate modern arms and ammunition, we will improve intelligence gathering… we will be tough on terrorists and tough on its root causes... in the affected areas."
He promised to restore the prestige of the Nigerian army as he would ensure Nigeria "lead from the front" in "regional and international efforts" to combat terrorist activity. "No inch of Nigerian territory will ever be in the hands of the enemy."
In comments made to the BBC, he also ruled out any negotiations with the terror group. "Boko Haram is not interested in peace - if they are interested in peace how can they kill 13,000 Nigerians?"
He also used the speech to counter fears about alleged abuses committed by his regime when he ruled Nigeria from December 1983 to August 1985, saying that he took "responsibility for whatever happened under my watch" but he was now a "converted democrat".
"Let me say without sounding defensive that dictatorship was military rule, though some are less dictatorial than others," he said. "I take responsibility for whatever happened under my watch. I cannot change the past but I can change the present and the future.
"So, before you is a former military ruler and a converted democrat who is ready to operate under democratic rules and is subjecting himself to the rigours of democratic elections for the fourth time," he added. "I will, if elected, lead by personal example."
The former military general has failed on three occasions (2003, 2007 and 2011) in his bid to return as Nigerian president since the country moved from a series of military rulers to a democratic system in 1999.
The PDP has won every election since Nigeria since the end of military rule and is the favourite heading into the 28 March election, which was delayed from February 14 due to heightened security concerns following the military's launch of a six-week operation against Boko Haram, whose insurgency has lasted six years.
While Buhari has pledged to shift the balance in the fight against the terror group, the Nigerian military is already claiming successes in their counter-terror operation, recapturing the Borno town of Baga and detaining a number of militants disguised as women in the last week.
The Council on Foreign Relations' Nigeria Security Tracker estimates that the terror group have killed up to 10,404 people since January 2014 and have already reportedly killed over 2,000 people this year already following a massacre in Baga, which the Nigerian military claimed to have recaptured last week.
Local Nigerian media indicate that the Nigerian military is set to reward soldiers involved in the operation to liberate the town from the radical Islamist group, including those killed, with promotions.
The Hunt for Boko Haram, an in-depth ebook on the terrorists tearing Nigeria apart by Alex Perry, is available now from Newsweek Insights.