Nigerian Troops Kill Three Female Suicide Bombers Near Maiduguri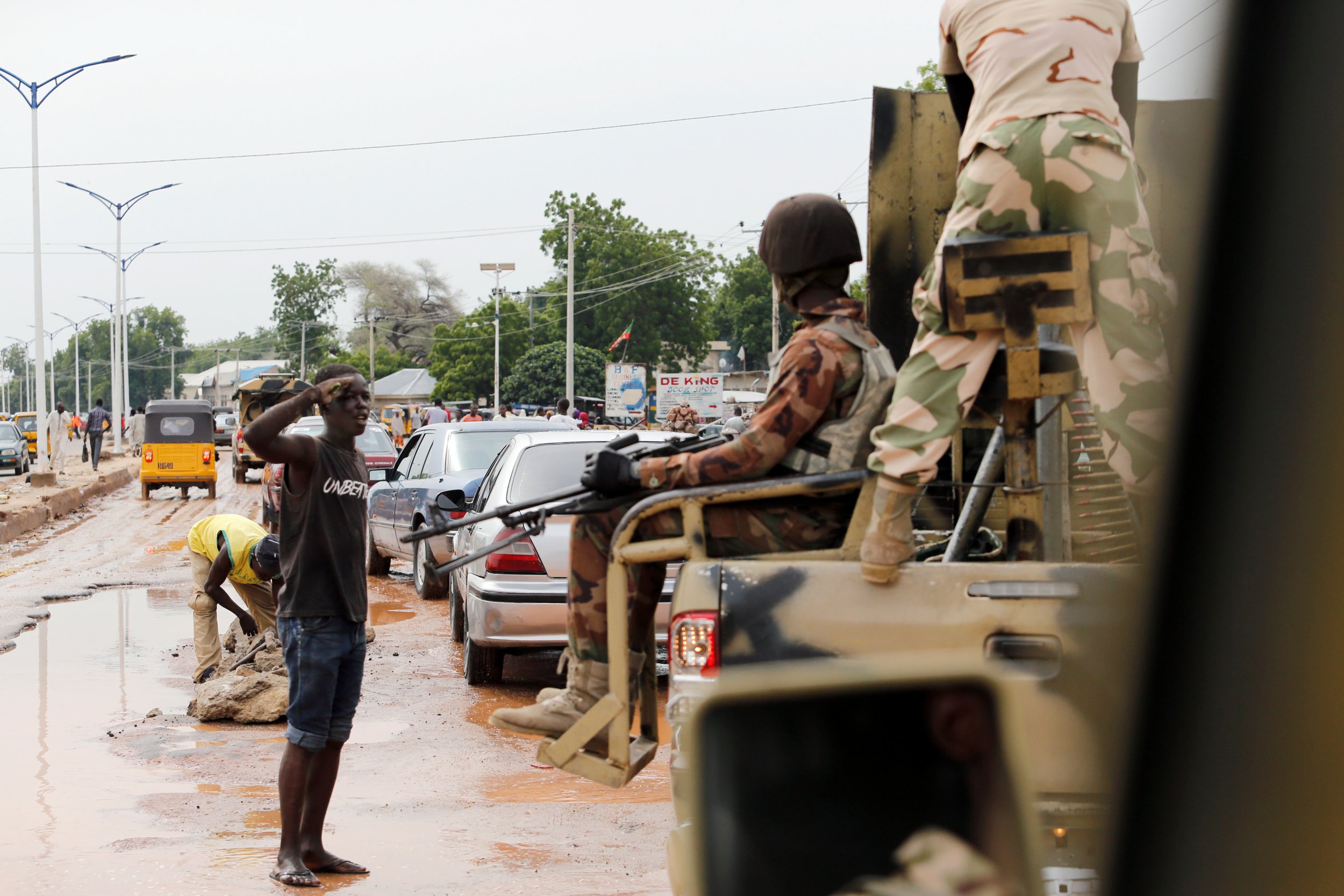 Nigerian soldiers have killed three female suicide bombers who were attempting to breach the northeastern city of Maiduguri, the birthplace of Boko Haram.
The suicide bombers were spotted Friday in a village along the road connecting Maiduguri and Damboa, a local government area in Borno state. The women had improvised explosive devices (IEDs) strapped to their bodies.
The soldiers shot at the women, prompting the IEDs on two of the bombers to explode, killing all three, Borno police spokesman Victor Isuku said, according to Nigeria's Channels TV. The third woman's device was rendered safe and disposed of by a bomb disposal unit.
Boko Haram launched an armed insurgency out of Maiduguri in 2009 following a brutal military crackdown that resulted in the death of its leader, Mohammed Yusuf. The Islamist group, which has ties to the Islamic State militant group (ISIS), has gone on to kill thousands and displace more than 2 million people in northeast Nigeria and the surrounding Lake Chad basin.
The group recently split into factions after ISIS appointed a new leader for Boko Haram—which the Syria-based group refers to as Islamic State in West Africa Province (ISWAP)—in August.
Boko Haram has frequently used female and child suicide bombers to mount guerilla attacks, particularly in the past year, as a Nigerian and regional military crackdown has stripped the group of territory it once held. An April report by UNICEF found that one-fifth of Boko Haram's suicide bombers in 2015 were children, and that 75 percent of these were young girls.
The age of the attempted bombers involved in Friday's foiled attack has not been disclosed.
Borno state has borne the brunt of Boko Haram's insurgency. Since May 2011, more than 26,000 deaths have been reported in the state—10 times more than the second-highest death toll in Adamawa state—according to the Council on Foreign Relations.
Nigerian Troops Kill Three Female Suicide Bombers Near Maiduguri | World