Nigeria's Buhari 'Embarrassed' by Cameron's 'Fantastically Corrupt' Comment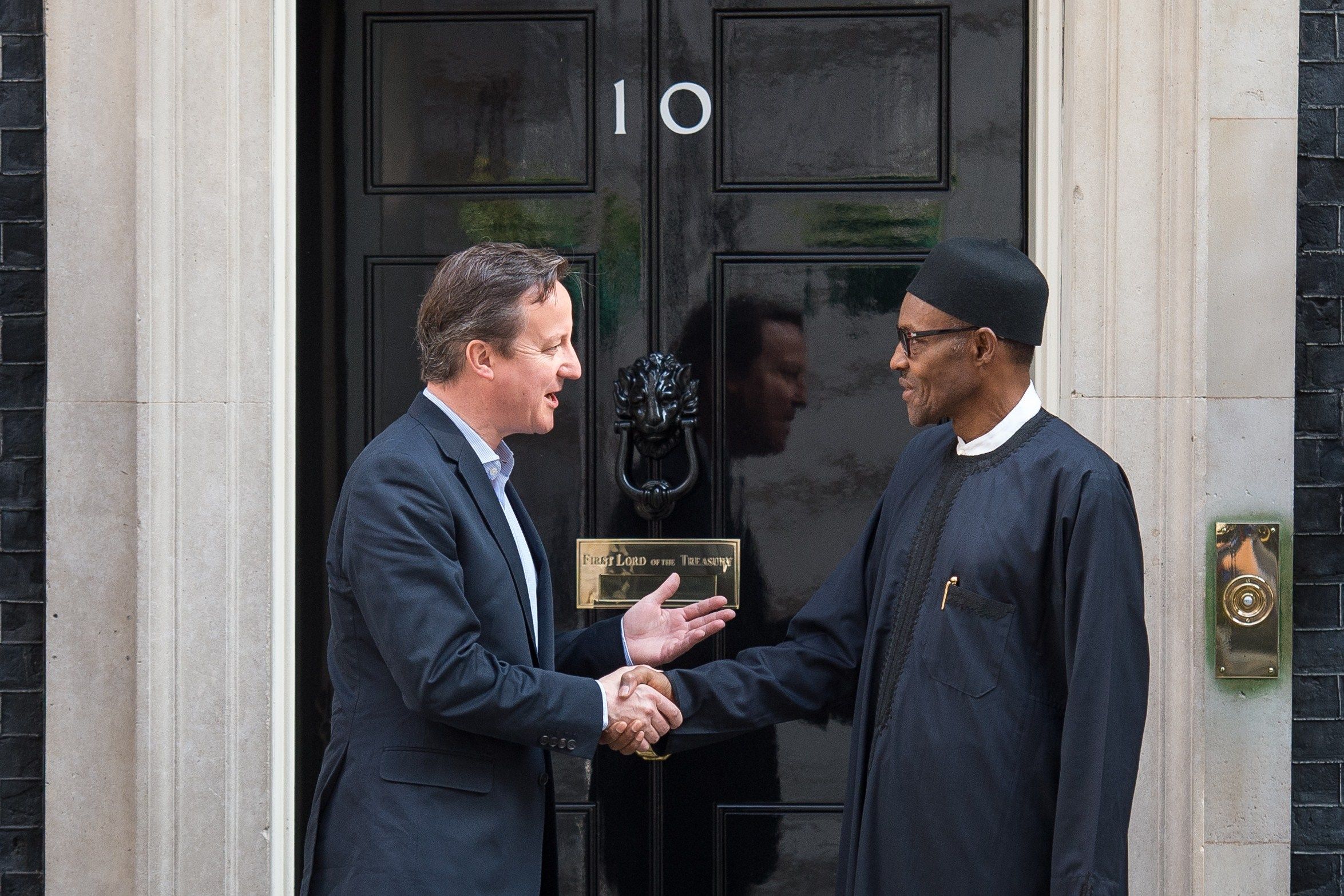 Nigerian President Muhammadu Buhari is "embarrassed" by British Prime Minister David Cameron saying the country is one of the most corrupt in the world, according to his spokesman.
Cameron made the comments on Tuesday while being filmed at a Buckingham Palace reception for Queen Elizabeth II's 90th birthday. Speaking ahead of an anti-corruption summit in London on Thursday—at which Buhari will speak—the prime minister told the Queen: "We've got some leaders of some fantastically corrupt countries coming to Britain."
He went on to describe Nigeria and Afghanistan as "possibly the two most corrupt countries in the world," before Archbishop of Canterbury Justin Welby interjected to defend Buhari, saying that "this particular president is not actually corrupt."
"The prime minister must be looking at an old snapshot of Nigeria," said Buhari's spokesman Garba Shehu on Tuesday. The spokesman added that "the eyes of the world" were watching Buhari's anti-corruption drive in Nigeria and that "things are changing with corruption and everything else" in the West African country.
The Nigerian president—who was elected on an anti-corruption ticket in March 2015—has himself lamented the country's association with corruption and crime. Buhari told The Daily Telegraph in February that Nigerians' reputation for criminality, especially drug and human trafficking, meant that Europe and the U.S. were reluctant to receive Nigerian migrants.
Buhari has also vowed, however, to uproot corruption from the country. He has requested greater cooperation from the international community in returning Nigerian public funds stolen by officials and hidden abroad, including more than $300 million stored in Switzerland by the late Nigerian military ruler Sani Abacha. The president has also ordered the arrest of a number of high-profile figures—including former national security advisor Sambo Dasuki—in connection with a $2 billion scandal in which state funds earmarked for procuring arms to fight Boko Haram were diverted elsewhere.
Nigeria was ranked 136th out of 168 countries in Transparency International's Corruption Perceptions Index 2015, the same position it held in 2014. In a December 2015 report, Transparency found that 75 percent of Nigerians felt that corruption in the country had risen in the previous 12 months.