Nigeria's First Lady: I May Not Back Husband Buhari At Next Election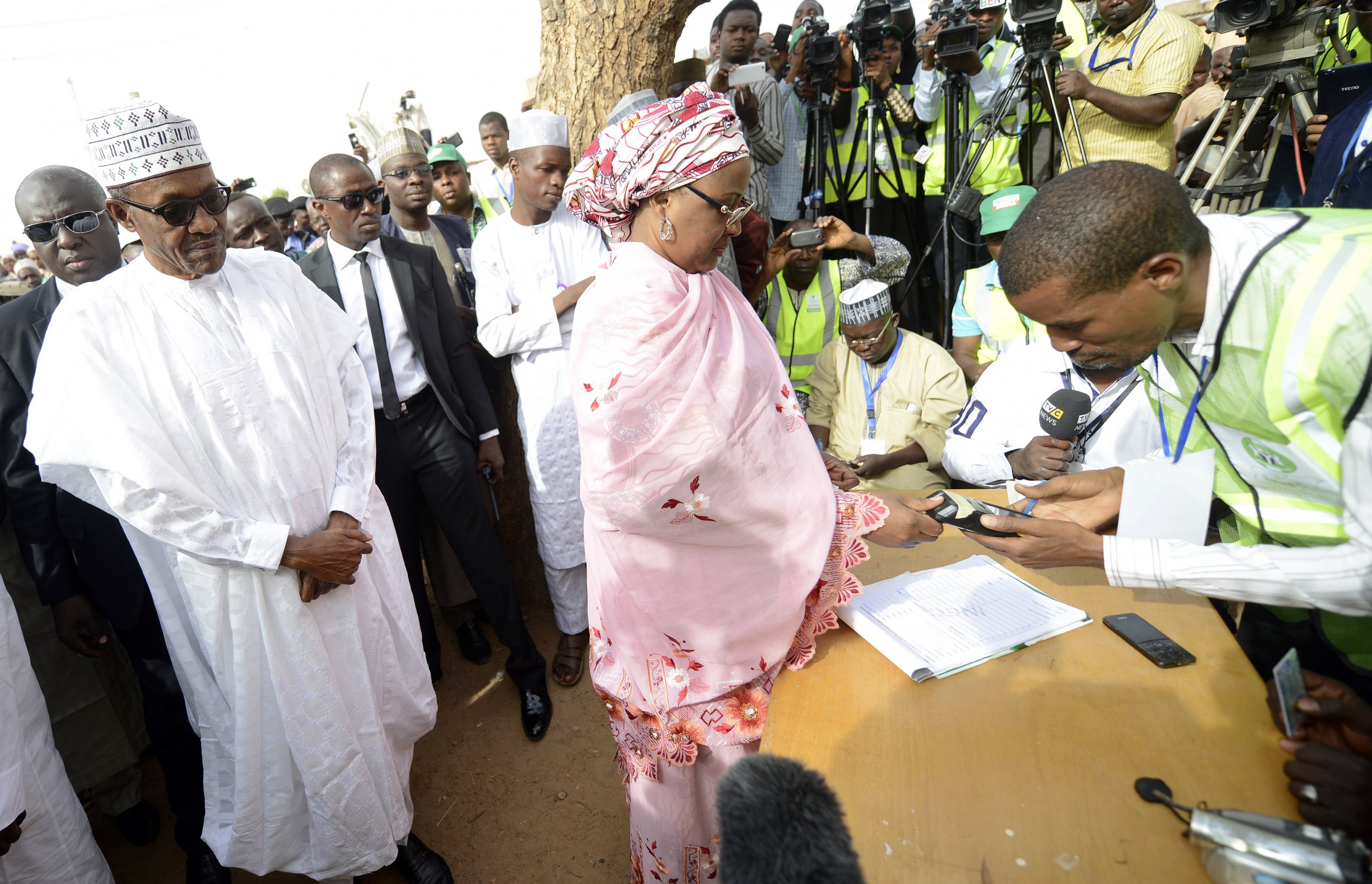 Nigeria's first lady has said she may not back her husband, President Muhammadu Buhari, at the next election in 2019.
In an interview with the BBC, Aisha Buhari said that her husband "does not know" the majority of the ministers and government officials he has appointed.
The first lady also said that she had received "complaints upon complaints" from concerned party members that certain ministers Buhari had appointed "did not know the party manifesto" of the All Progressives Congress (APC), Nigeria's governing party.
The interview has provoked strong reactions on social media, with some echoing Aisha Buhari's concerns and one user even suggesting she could switch allegiances to the opposition People's Democratic Party.
Buhari defeated former president Goodluck Jonathan in the 2015 election and promised to crack down on corruption and nepotism in government. Buhari also pledged to eliminate Boko Haram, the militant group that has waged a deadly insurgency in northeast Nigeria since 2009.
Aisha Buhari said that her husband had not yet told her if he intended to run for re-election in 2019. But she stated that should the administration continue on its current path—where ministerial appointments are influenced by a "few people"—she would not campaign on behalf of her husband and the APC.
"He is yet to tell me but I have decided as his wife, that if things continue like this up to 2019, I will not go out and campaign and ask any woman to vote like I did before. I will never do it again," she said.
Aisha Buhari married the former Nigerian army major in 1989. She heads up an initiative that promotes women's and children's health and is also working to assist the more than 2 million internally displaced persons (IDPs) in Nigeria, most of whom Boko Haram forced from their homes.
The first lady said that her husband's major achievement so far had been circumscribing Boko Haram. A Nigerian military offensive, backed by regional forces, has forced the Islamist group back into the remote Sambisa forest in Borno state. But the group still carries out guerrilla attacks, including suicide bombings and car bombs.
Boko Haram also just released 21 of the more than 250 girls kidnapped from a school in Chibok in April 2014, a major publicity coup for Buhari's administration.
"No one is complaining about being attacked in their own homes. Thankfully everyone can walk around freely, go to places of worship, etc. Even kids in Maiduguri have returned to schools," said Aisha Buhari, referencing the capital of Borno state, previously the headquarter of Boko Haram.
But the first lady suggested that Buhari was not in control of ministerial appointments and urged him to shake up the government. "The president does not know 45 out of 50, for example, of the people he appointed and I don't know them either, despite being his wife of 27 years," she said.