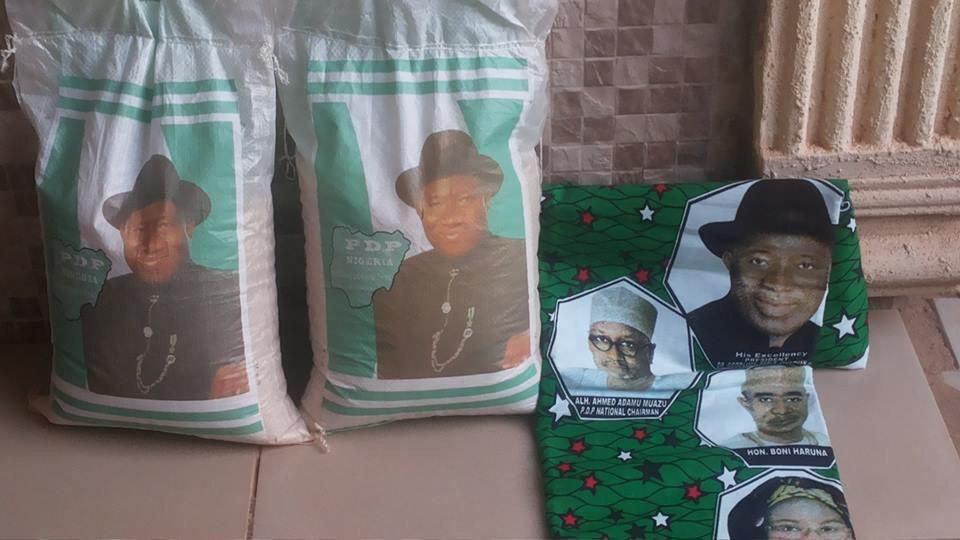 Nigeria's two main political parties are delivering bags of rice, etched with the faces of candidates, to voters in an attempt to sway the polls in their favour ahead of one of the closest elections in the country's history.
Amid accusations of vote-rigging and vote buying by the country's political elite, this tactic, by both incumbent president Goodluck Jonathan's People's Democratic Party (PDP) and opposition leader Muhammadu Buhari's All Progressives Congress (APC) party, is an open attempt to persuade voters into casting their ballot in favour of the respective candidate.
Nigerians have been circulating photos on social media of bags of rice piled up and some which read "Goodluck / Sambo [Nigerian vice-president] 2015 - Transformation For Better Nigeria". One user defiantly tweeted Thursday: "Collect the rice, bread, Garri, money whatever if you must. But DO NOT let it decide your vote. Be wise."
Manji Cheto, vice-president at political risk consultancy Teneo Intelligence, says that the direct handouts are attractive to Nigerian voters as the majority remain in poverty and cannot afford goods such as rice.
"60% of Nigerians are considered to sit below the poverty line. It boils down to who votes in Nigeria and most are working class Nigerians," notes Cheto. "It matters to them that somebody is offering them food that they ordinarily can't get. Rice is a staple Nigerian diet but it's quite an expensive commodity."
Working class Nigerians do not believe that the government do anything for them so the enticement of voters through a concept known by Nigerians as 'stomach infrastructure' becomes a direct relationship, says Andrew Walker, the BBC's former Nigeria reporter and independent analyst.
"The deal is very much 'If you want me to vote for you, what are you going to give me?' It's a very direct relationship of giving out short-term, small things in return for the means that allows them to maintain their position at the trough, as it were," Walker says, adding that other goods such as motorbikes and hairdressing kits have been delivered to voters in past elections.
"They call it politics of the belly and this is basically its purest form, giving someone a sack of rice. They are just handouts, straight bribes." Much of the rice is imported from countries such as Thailand, Vietnam and India but on some occasions, home grown and stale rice is delivered to the voters, Walker adds.
The election, one of the closest since Nigeria transitioned from successive military rulers to a democratic voting system in 1999, pits Jonathan against former military general Buhari. Buhari has criticised Jonathan for failing to tackle the six-year insurgency until recent months. The PDP party has succeeded in every election since 1999 and remains favourite heading into the election.
Ahead of tomorrow's vote, the two candidates yesterday signed a peace agreement to prevent the onset of violence in the election's aftermath. Both promised to honour the outcome and called on their supporters to not resort to violence, coming after the 2011 election which saw unrest leave more than 800 people dead.