Meet the 'Night Teeth' Cast and Characters
Night Teeth on Netflix is the new vampire thriller set to get you ready for Halloween and potential vampire-themed nightmares.
The film follows the story of Benny (played by Jorge Lendeborg, Jr.) a chauffeur who picks up two mysterious women who are hitting up all of the parties they possibly can across L.A.
However, things are not what they seem and he finds himself dragged into their dark underworld of vampires.
Newsweek has everything you need to know about the cast of Night Teeth.
Meet the Cast and Characters of Night Teeth
Benny — Jorge Lendeborg Jr.
Jorge Lendeborg, Jr. stars as Benny in Night Teeth, a young college student who moonlights as a chauffeur to earn some extra cash.
However, when he comes face-to-face with Blaire (Debby Ryan) and Zoe (Lucy Fry), his world is turned upside down (literally) and he finds himself knee-deep in an underworld, vampire war fighting for his life and to save his city.
Lendeborg, Jr., is best known for playing Peter Parker's classmate Jason Ionello in Marvel's Spider-Man: Homecoming and the upcoming film, Spider-Man: Far from Home starring opposite Tom Holland and Zendaya.
He is also well known for playing Nick in Love, Simon, alongside Nick Robinson and Katherine Langford.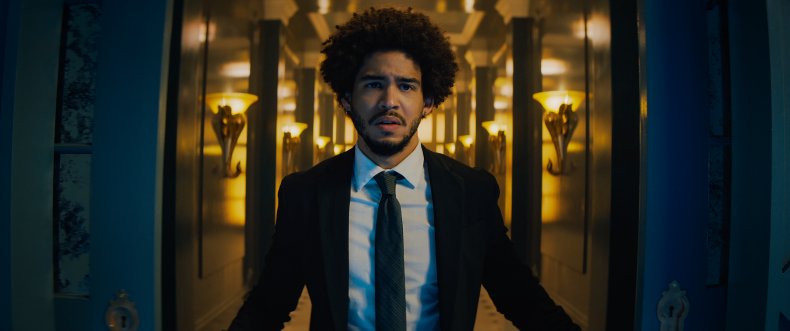 Blaire — Debby Ryan
Debby Ryan plays the role of Blaire, a century-old vampire living in present-day L.A.
Ryan rose to fame as Bailey Pickett in Disney's The Suite Life on Deck and as part of the folk band, The Never Ending. Most recently, she starred as Patty Bladell in Netflix's Insatiable.
She is also well known for playing the titular character of Jessie in the Disney series of the same name and Holli Holiday in Sing It!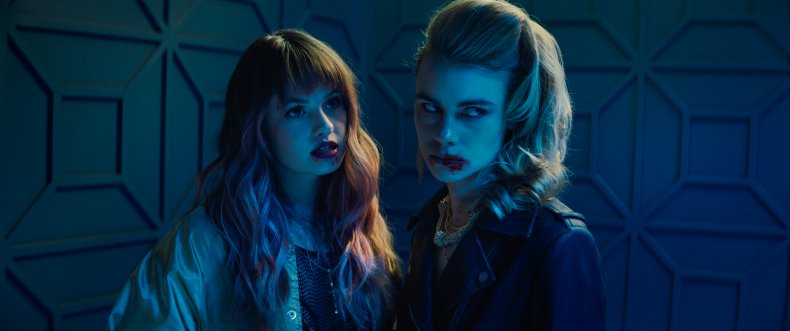 Zoe — Lucy Fry
Australian actress Lucy Fry stars as Zoe, Blaire's closest friend and accomplice, who also happens to be a century-old vampire.
Zoe is the more impulsive of the two, with Blaire trying to prevent Zoe from losing control.
Fry is no stranger to horror and the vampire world, having starred as Lisa Dragomir in Vampire Academy and Marina in Hulu's Stephen King miniseries 11.23.63.
She is currently starring as Stella in The Godfather of Harlem, alongside Forest Whitaker, Luis Guzman, and Nigél Thatch.
Jay Perez — Raúl Castillo
Raúl Castillo takes on the role of Jay, the older brother of Benny.
While Benny takes over Jay's journey as a chauffeur for the evening, Jay is actually at war with Los Angeles vampires.
Castillo is best known for his role as Richie Donado Ventura on the HBO series Looking.
His other well-known credits include We The Animals, Cold Weather, and Special Correspondents.
Victor — Alfie Allen
Alfie Allen stars as vampire leader and villain Victor.
Full of boredom, Allen takes it upon himself to kidnap Jay's girlfriend and deliberately break the truce between humans and vampires in Los Angeles, causing chaos.
Allen is best known for his role as Theon Greyjoy in Game of Thrones, Isaac Pincher in Harlots, and Finkel in Jojo Rabbit.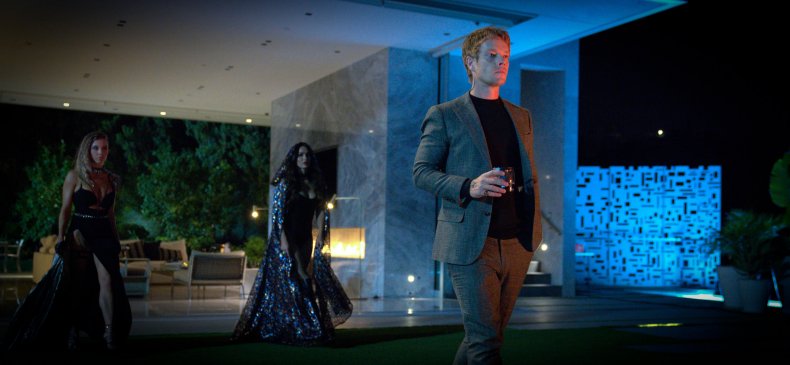 Grace — Megan Fox
Megan Fox portrays Grace, Victor's boss who is more than furious he broke the truce with humans.
Fox is also no stranger to the horror world, having starred in the cult-classic Jennifer's Body as Jennifer, a demonically possessed high school student, and murderer.
She is also well known for her role as Mikaela Banes in the Transformer's films and as Reagan in New Girl.
Rocko — Alexander Ludwig
Canadian actor and singer Alexander Ludwig plays vampire club owner, Rocko.
Outside of Night Teeth, Ludwig is best known for his role as Bjorn Ironside in Vikings and Cato in The Hunger Games.
Night Teeth is streaming on Netflix now.