Nightclub Avoids Coronavirus Lockdown Restrictions With 'Drive-In Rave'
A nightclub in Germany is circumventing coronavirus lockdown regulations with drive-in raves.
These pandemic-era affairs, billed as "Auto Discos", are hosted by Club Index, a dance hall and live performance space located near the Germany-Netherlands border. As advertised on the company's Facebook page, Club Index has thrown several events of this sort over the past week and has scheduled additional drive-in discos for evenings to come.
Photos taken during one of its recent Auto Disco events and later shared to Instagram show hundreds of cars lining the venue's parking lot, all facing an elevated platform that musical guests can use as a stage.
"Dance into May," the photographer wrote in German, captioning a series of snapshots that picture neon light displays and costumed performers weaving their way through rows of stationary vehicles. An aerial shot included in the collection sees Club Index's parking lot packed to capacity.
In past Auto Disco announcements on Facebook, the venue has stated that it caps ticket sales at 250, with one ticket required for a vehicle's entry and a maximum of two people permitted per vehicle.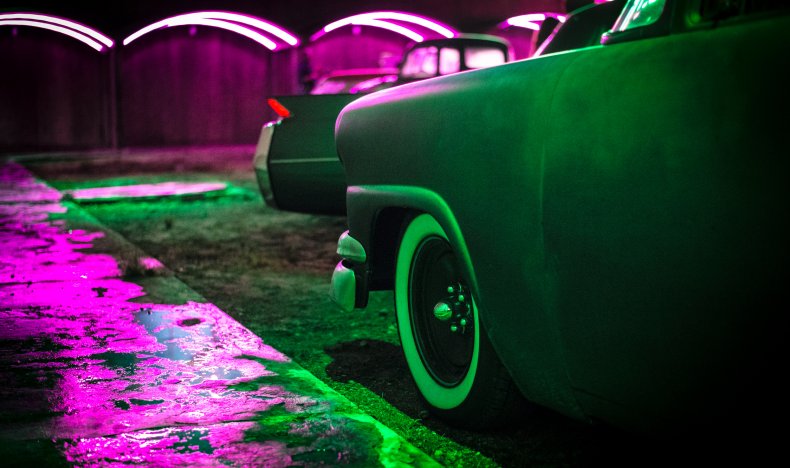 "Make history with us and get a car ticket for the very first AutoDisco in the world," the nightclub wrote in a message posted to the social networking platform ahead of its first drive-in rave, which took place on April 25. Since then, subsequent Auto Discos have featured appearances from artists like David Puentez and ICE, known for their electronic and house music. Per Club Index's Facebook page, at least one of the events has sold out early.
Dutch DJ Devin Wild performed during Thursday's Auto Disco and shared a video of his set to Instagram. In it, guests honk their horns while his music plays.
Club Index is not Germany's only nightlife venue to rejigger its approach to event planning amid the nation's ongoing social distance mandates and regulations against large gatherings due to the new coronavirus outbreak. World Club Dome, a large nightclub based Frankfurt, hosted a similar drive-in event on April 30 and has others set to take place in upcoming weeks.
Germany has recently started to reopen segments of its economy, with some businesses and classrooms permitted to resume in-person activity last week, while complying with heightened sanitation guidelines. Social distancing orders remain in place, and nightclubs are not able to operate in the traditional sense.
Behind the United States, Spain, Italy, the United Kingdom and France, Germany has confirmed the sixth-highest incidence of coronavirus infections compared to 187 countries and regions impacted worldwide. According to Johns Hopkins University's tracker, the nation has diagnosed at least 165,786 cases and 6,893 deaths from the disease as of Monday afternoon.