Nightflyers releases Dec. 2 at 10 p.m. EST on Syfy. The first five episodes will premiere at the rate of one a day, a quick release model somewhere between Netflix binge drop and weekly appointment television. The finale of the ten-episode season premieres Dec. 13, making Nightflyers something of a rapid-fire television event.
Syfy is doing its best to get Nightflyers in front of as many eyes as possible, so you can already watch the first two episodes of the series online, no sign-in required.
Of course, if you prefer to catch Nightflyers live, there are also a lot of options. Signing in with your cable provider allows for streaming live Syfy from your browser (here's the full list of Syfy cable providers).
The Syfy App is also a great option, which has full episodes available the day after air. The Syfy App is available for iOS, Android, Apple TV, Xbox One, Fire TV and Roku.
Syfy describes Nightflyers as a psychological thriller, following a crew of scientists aboard the most technologically-advanced ship ever built, the Nightflyer. At the edge of the solar system they are meant to make first contact with an alien species, but things get strange from there, driving the crew insane (telepaths are involved). "True horror isn't waiting for them in outer space—it's already on their ship," reads the Syfy description.
The crew includes Captain Roy Eris (David Ajala), who doubles as the CEO of the Eris Corporation. He only ever interacts through screens and lives on his own private deck aboard the Nightflyer. Sounds a little suspicious. Also aboard is Lommie (Maya Eshet), a genderfluid technician closer to the ship's computers than any of the humans; Karl D'Branin (Eoin Macken), astrophysict; psychiatrist Dr. Matheson (Gretchen Mol); Auggie (Bryan O'Bryne), Chief Engineer and Eris enforcer; xenobiologist Rowan (Angus Sampson); the deadly psychic Thale (Sam Strike) and genetically enhanced cadet Melantha Jhirl (Jodie Turner-Smith). If there's one thing that's already obvious about Nightflyers, it's one of those shows where everybody has a secret.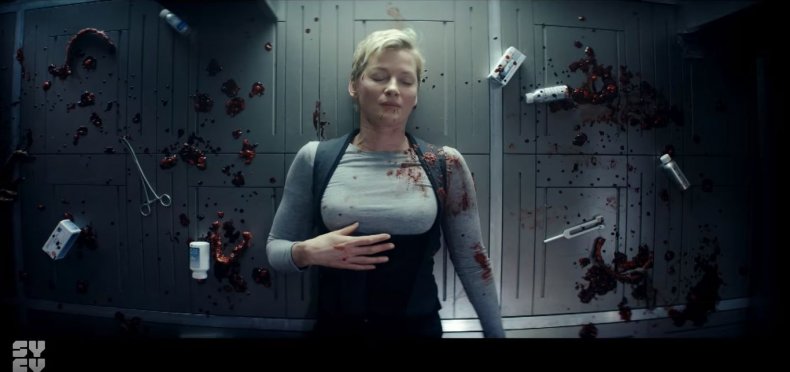 It also sounds like a dark perspective on our possible future as a species.
"Any beings that intelligent would see the human race for what we are," Rowan says in the first episode. "We're a virus that has killed its host and is looking for a new host to infect… They're probably going to exterminate us."
Nightflyers is based on a sci-fi novella by George R.R. Martin, author of the A Song of Ice and Fire series, originally published in 1980. There was a 1987 film adaptation, too, though it wasn't exactly a success.
With the Syfy App, in-browser, or on live TV, there are a lot of ways to watch Nightflyers, but the the main premiere release date is Sunday, Dec. 2 at 10 p.m. EST.