Nightmare Norwegian Cruise Was Like a Floating Construction Site
Hundreds of cruise ship passengers have vented their anger and frustration after the Norwegian Cruise Line (NCL) luxury vessel they spent two weeks on was under heavy construction for the entire journey.
Holidaygoers who paid thousands of dollars for the 15-day cruise on board the Norwegian Sun vessel from Miami to Los Angeles said they were informed upgrades would be taking place only after it had set sail on March 16.
However, the full scale of the refurbishments soon became all too apparent. Passengers complained that entire areas of the ship were cordoned off, constant deafening noises came from the jackhammers and other power tools being used, and construction dust and sanding was being blasted all across the ship.
Some even spotted potentially harmful chemicals and other debris being littered across the decks, with many fearing they would become ill after breathing in hazardous materials. Others said they experienced respiratory problems, diarrhea, vomiting, sore eyes and skin irritation while on the boat.
Four days before the vessel docked, a Facebook group called Panama Canal Sun was launched for the disgruntled passengers to upload photographs of the construction on the ship and to keep in touch with others while they began the complaints procedure.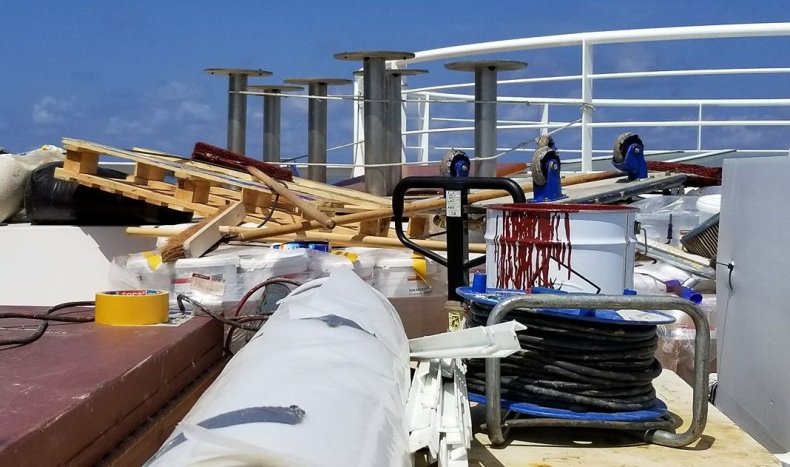 Annie Barber, one of those on the cruise, wrote how NCL had left a note in passengers' rooms to inform them of the "revitalization program" taking place during the voyage.
"At that point, we were not particularly worried," she said. "However, by Sunday 18th March we were shocked at the level of work that was being carried out.
"Old deck flooring was being removed and new liquid flooring laid and then polished. Existing metal supports were also rubbed down when old decking was being removed. Debris from this work was constantly falling everywhere on the ship and airborne particles were very evident.
"There was a strong smell of chemicals for long periods during the cruise, not only in the public areas but also in our stateroom," Barber said.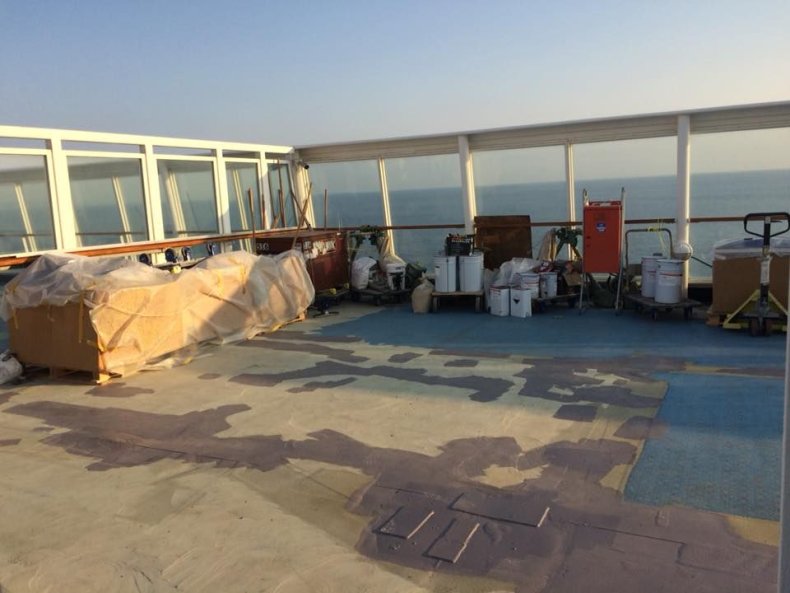 Passengers also noted how the workers on the ship wore protective masks and clothing, which was not provided to the passengers.
Following the furor, NCL said it had offered passengers a 25 percent discount on their next cruise, valid until March 31, 2019.
A spokeswoman told Newsweek, "At Norwegian Cruise Line, we continuously aim to offer the best vacation experience for all our guests. As part of our Norwegian Edge program, Norwegian Sun is currently undergoing enhancements to better serve our guests. The program is a significant investment designed to ensure every ship across the fleet delivers a consistently high-quality experience to all of our guests."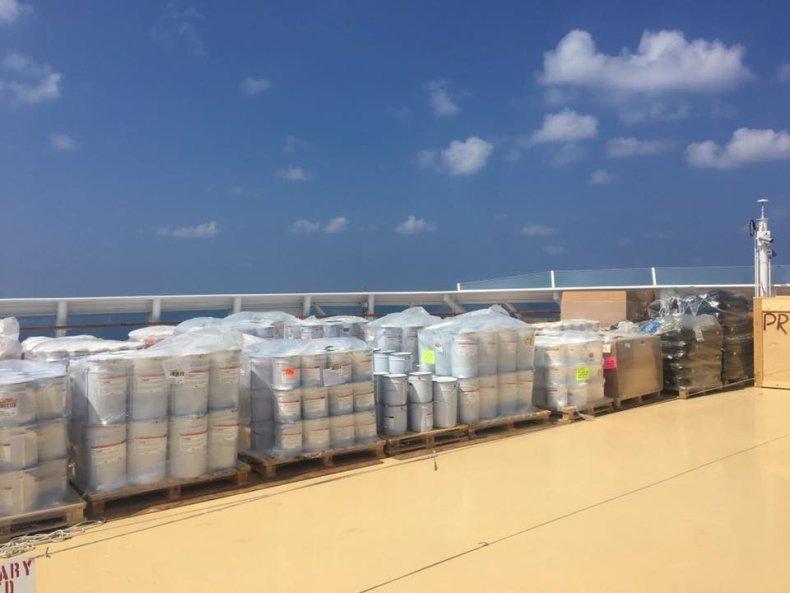 She continued, "While we do our utmost to minimize any impact on the guest experience when these enhancements are taking place, we recognize that in this situation our guests experienced some inconvenience."
Passengers described the one-year 25 percent discount as "totally unacceptable" and are seeking a full refund as well as compensation.