NIH Director Says There's 'No Need to Mask at Home,' Earlier Message 'Garbled'
National Institutes of Health Director Dr. Francis Collins clarified his comments on mask-wearing in front of children Tuesday, saying he "garbled" an earlier message on CNN.
"No need to mask at home," Collins tweeted later on Tuesday. "Let me clarify the masking message that I garbled on @NewDay this morning. Vaccinated parents who live in communities with high COVID transmission rates should mask when out in public indoor settings to minimize risks to their unvaccinated kids."
Tuesday morning, Collins appeared on CNN's New Day where he answered COVID-19-related questions collected from the public, including those about protecting children who are too young to be vaccinated.
"The recommendations are for kids under twelve that they avoid being in places where they might get infected which means recommendations of mask-wearing in schools and at home," Collins stressed, saying "Parents of unvaccinated kids should be thoughtful about this and the recommendation is to wear masks there as well. I know that's uncomfortable, I know that seems weird, but that's the best way to protect your kids."
Later in the segment, CNN anchors pressed him to further explain his position, and Collins answered:
"If you are parents who have small children under 12 at home they are susceptible for getting infected. And if the parents are out and about and might themselves be carrying the virus and you don't want to pass that along," he said. "So, many parents with that recommendation consider wearing masks for families at home to reduce this risk as long as the kids are unvaccinated, especially if you're in a community that has very high transmission at the present time."
New Day anchor Brianna Keilar tweeted Collins' original comments after his reversal.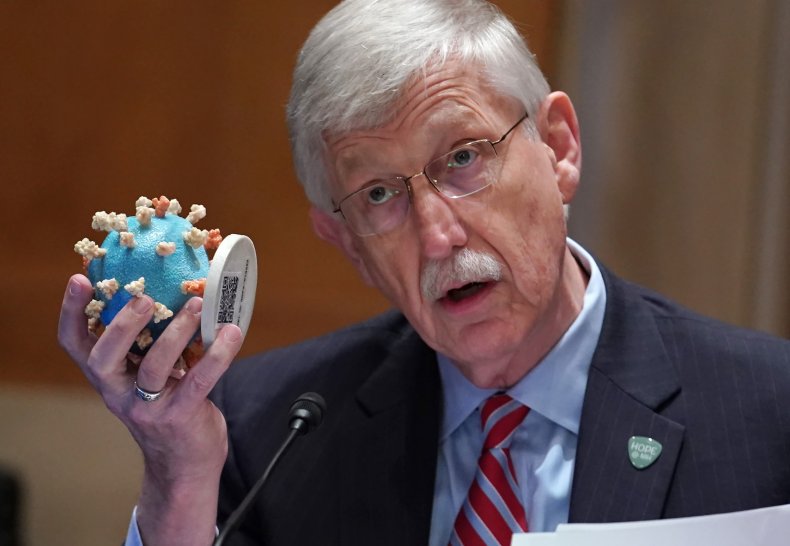 Many people interpreted Collins' remarks as meaning parents should wear masks inside their own homes when they're alone with their families. Several conservative news outlets, including Fox News and The Federalist, picked up the story, and it spread quickly on social media.
In response to Newsweek's questioning whether Collins' updated statement was a reversal of recommendation or an update to correct a miscommunication, Renate Myles, Acting Associate Director for Communications and Public Liaison for the NIH, said in an email that, "It was a miscommunication."
Tuesday's masking guidance controversy comes less than a week after one of the Republican National Committee's Twitter accounts inaccurately claimed that Surgeon General Vivek Murthy said, "vaccinated parents should wear masks at home with their kids and outside."
What Murthy actually said, was: "if you happen to have a lot of interaction with folks who are unvaccinated, let's say you're a parent like me, who has young children at home who are not vaccinated, that's a circumstance where being extra cautious and wearing that mask even if you're fully vaccinated, wearing it outside when you're in indoor public locations, is an extra step to protecting those at home."
In another case of inelegant wording, "What the Surgeon General said is that parents of unvaccinated kids can wear masks in public places to avoid bringing infection home to their kids," Murthy's communications director, Alexandria Phillips, told CNN, "so they don't have to wear masks at home with their kids."